Best of the Best: Outer Banks Women Show Their Muscles in Wide Range of Sports
-Photos by Ryan Moser
-Story by Michelle Wagner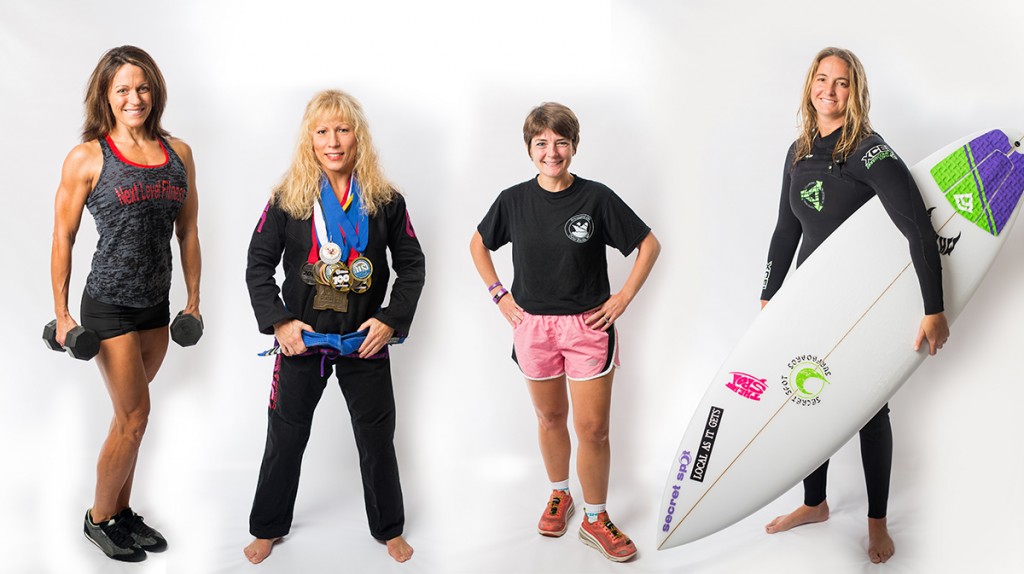 There is no doubt that to make it on the Outer Banks requires a certain amount of toughness, perseverance and determination. But these islands not only draw strong women to them, they cultivate them as well.
From triathletes, surfers and jiu-jitsu fighters to body builders and ultra marathoners, women athletes who live, work, play and train on the Outer Banks are strong in body, mind, and spirit. Not to mention, these women really kick ass.
Here's a sampling of four who stand out as some of the strongest and most athletic the Outer Banks has to offer.
Kate Rupert
There was a moment seven years ago when Currituck resident Kate Rupert recalls struggling to lift a 40-pound bag of dog food.
Says Rupert, "I remember thinking: 'I should really be able to do this.'"
Well, things have changed quite a bit in seven years for Rupert, a mother of three and avid horseback rider.
She could probably lift that bag of dog food with one hand now.
Rupert is a pro in the International Federation of Physique Athletes (IFPA), a drug free athletic association. In other words, this 45-year-old momma is a body builder, and a pretty impressive one at that.
In six short years of weight training with coach Mario Todorov, she has reached professional status and has placed high in numerous national competitions. Rupert holds the record in the state for the bicep curl in her age division and regularly competes in power lifting meets.
She first began weight training at Kilmarlic Health and Racquet Club. Rupert quickly realized she enjoyed it and was also quite good at it. Every goal her and Todorov set, she was reaching.
She entered the National Physique Committee contest in Virginia Beach and did well. Her passion for strength training just grew from there.
The key to successful bodybuilding, she says, is a combination of good nutrition and training. The sport, and particularly as one nears a show, is really all about the science and understanding how to fuel, cut body fat and build muscle.
Rupert possesses a level of discipline trainers don't often see, Todorov points out. Her regime typically consists of four or five days of strength training a week and lots of self-control at the dinner table.
"Many women have the misconception that if you lift weights, you will have huge muscles, but that's not the case. It's difficult to build muscle, and strength training helps maintain your bones and joints later in life."
For Rupert, it's more than just about a workout or a competition. "That's my therapy," she says pointing to the gym. She adds that there's an empowerment knowing that she can do things for herself. "My goal now is to do 10 pull ups in a row."
Rupert says she often hears from other people that they could never do what she does. "My answer is always, 'Of course you can.' Sometimes people can be intimidated by women who have a little muscle, but I love the way I feel. I like being strong and I have a feminine side to me, too. It's fun and it's something I never thought I would do."
Rupert and Todorov co-own Next Level Fitness located just over the Wright Memorial Bridge. Next Level is an outfitted weight room and fitness center that provides personal weight training and nutrition programs.
Wendy Murray
Wendy Murray of Southern Shores will tell you she's always been a runner. She'll tell you she ran the mile when she was on the cross country team in high school and even ran in the Mayor's Midnight Sun Marathon in Anchorage, Alaska back in 1997.
But just let her settle into the conversation a little before she casually mentions how that race morphed into a lifestyle of ultra distance running where jogging from sunset to sunrise is all just in a day's workout.
Or listen to her explain how her race crew, who meets her at designated spots during a race, needs to be fellow runners who "get it." As they prep her for the next stretch of miles, she needs them to keep her focused and motivated.
Murray's first venture into ultra distance racing, which is categorized as anything more than 26.2 miles, was a 50K in Virginia Beach. It was during that race she fell in love with the endurance sport, which tends to focus less on fast goals and more on perseverance. Ultra-distance events, she says, also have less commercialism and fewer people than lower-mileage races. "Ultra runners have a different mentality, I guess. And yes, we may be a little bit crazy, too."
A typical training weekend for Murray can include a 30-mile run beginning at 10 p.m. Friday evening, coming home to shower at 2 a.m. and then meeting the next group at 6 a.m. for another 20 or so miles.
One race that sticks out in Murray's mind was "A Race to Nowhere" where she describes being taken in a van blacked out with a shower curtain and dropped off with a dozen or so other runners at a random location somewhere outside of Maysville, N.C. with nothing but a compass.
The group had to follow clues and figure out riddles to find their way to an unknown finish line. Twelve hours later, she and her running partner for the day won the race.
But Murray's favorite event was the Mattamuskeet Death March, a 66-mile race in July in which runners had to carry an ammo bag with six golf balls.
She has since competed in races that have included the Graveyard 100, which stretches from Corolla to Hatteras, and a 100-miler in Pennsylvania. She is currently training for the Tarheel Ultra in November. It's a 367-mile race that begins at the Carova/Virginia line and stretches to the state border with South Carolina.
During races, she often depends on food such as peanut butter and jelly, pretzels, potato chips, animal crackers and soup.
Murray is part of a tightknit local group she trains and runs many of the races with. She averages one race a month.
A mother of two, Murray credits her step back into the running world to the local Go Far program. When her family first moved here six years ago, her daughter, Caroline, joined the group and fell in love with running.
"Coach Samantha Lock really took Caroline under her wing and between the ages of 8 and 9, Caroline ran 26 races. It introduced me to the local running community."
Now president of the Outer Banks Running Club, Murray says, "I give Go Far all the credit for me being where I am today and helping me meet other people in the community who were also runners."
Leanne Robinson
Leanne Robinson grew up surfing with the boys on Hatteras Island. Beginning when she was 11-years-old, she taught herself how to ride the waves and recalls surfing alone until she felt she was good enough to go to the popular breaks.
Few girls surfed back then, but Robinson said getting in the lineup with the boys definitely made her more competitive and helped her to improve more quickly.
"When one of the older guys tells you to go, you'd better go," she says. "They pushed me harder."
Those early years and her drive to push the limits in women's surfing paid off when Robinson took first place in the women's division of the Eastern Surfing Association's Easterns Championship, held on the Outer Banks this past September. She will go to San Diego in June to compete in the U.S. Championship.
"I think I am a little more aggressive than most girls because I grew up surfing with the guys," says Robinson, a 32-year-old mother of one. "I am more radical. I don't go with flow and cruise. I short board and like to get barreled."
Robinson, co-owner of the Secret Spot Surf Shop in Nags Head, has been competing in the Eastern Surfing Association league since she was 12. She attended UNC-Wilmington to stay close to the ocean. "I knew if I didn't get accepted there, I didn't want to go anywhere. I had to surf."
Despite her long history of competing, Robinson says it's not her strong point. "I get out of breath and anxious. I never surf as well during competitions and am not big on people watching me. I'm a Hatteras girl. I just love to surf."
Robinson began managing Secret Spot after she graduated from UNC-Wilmington in 2005 and continued to surf the local breaks. She eventually took over operation of the shop in 2012 with Shawn and Nikki Deane.
Now Robinson has a good group of local women she goes out and surfs with and has traveled to surf in places like Nicaragua, Puerto Rico, Hawaii and Indonesia.
What she loves most about surfing, she says, is being out there and the feeling of being one with the ocean. "I love how nature reacts to a surfboard. It's pretty amazing and it's a feeling that can't be replicated anywhere else."
This year marked the first time Robinson has won Easterns. "It's something I've always wanted to do."
Surf conditions were big during the competition and Robinson said her comfort level in big waves definitely helped her.
She plans to keep competing so she can continue to be a role model to the young local groms who are just getting into the sport.
One piece of advice Robinson would give to girls getting into the sport is to always be themselves. "Don't follow the crowd," says Robinson. "And don't let competition take the joy of surfing away from you."
Amy Eaton
While Amy Eaton has been athletic all of her life, her real passion didn't emerge until she stumbled upon the martial arts at 40-years-old.
The mother of two had competed in fitness and figure competitions before having her children, but when Eaton joined the then Knuckle Up gym in Kitty Hawk at 40, the spark was ignited again.
She began competing in a Get Pumped for Pink bench press/run competition and took home first place. That began a series of competitions that included the Tri-Fitness Challenge in Tampa where she again brought home a blue ribbon in her age group and weight class in 2011. She was also breaking records in the bench press.
But where Eaton found her true passion was in the martial arts. Kickboxing eventually evolved into Brazilian jiu-jitsu, a combat sport that teaches a smaller person how to defend against larger adversaries using leverage and proper techniques.
Eaton, now 44, is now a blue belt in the art, the second highest adult rank, and has earned 11 wins and three losses in her weight class in national and international level competitions.
Her head coach, Paul Creighton, is based out of Atlanta, Ga. Eaton travels to train with him once a month. At home, she trains three or four times a week and continues weight training.
Eaton says she loves the self-defense aspect of the sport. She regularly holds seminars for groups of women and offers one-on-one training in the art.
"I mainly compete just to get better and as close to real life situations in a controlled environment so I can best teach other people." Aside from developing a women's curriculum at The Gym in Kitty Hawk, she also started a kid's program.
Eaton, a medical service corp officer in the U.S. Air Force Reserve, completed a five-week commissioned officer training at Maxwell Air Force Base in Montgomery, Ala. when she was 41. Out of a group of 200 women, she received the top female athletic fitness award for performing the best overall on the physical fitness test.
Eaton, who is also a licensed massage therapist and owner of Atlantic Massage, says she hopes her healthy lifestyle will serve as a good example to her children and others. Most importantly, she wants to continue teaching women self defense. "I want women to have the confidence that they can protect themselves if they were ever in the unfortunate situation where they needed to."
Wherever their passions have led them, these four committed women athletes—all mothers—have raised the bar in their individual sports and have no doubt paved the way for others to follow.