Southern Shores Flat Tops, A Rare Outer Banks Gem
By Jeff Scott – 
Photos by Lori Douglas Photography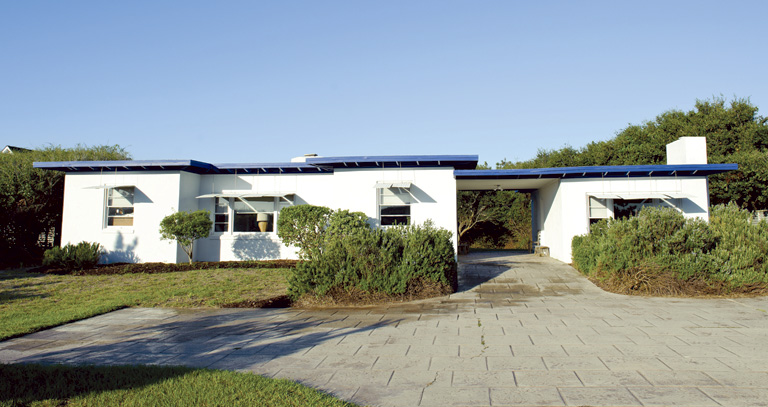 There is a growing interest in the old style flat top beach cottages on the Outer Banks. Just walking into one of these homes and smelling the tongue and groove juniper interior walls reminds people of idyllic vacations years ago. The Outer Banks has changed dramatically over the last sixty years, and these homes are one of the few reminders of a simpler time.
According to the Outer Banks Community Foundation, the flat top design was created by Frank Stick, the original developer of Southern Shores. In 1947 he and his partners purchased approximately four miles of land from the ocean to the sound just north of Kitty Hawk.
Getting building materials to the beach at that time was not as easy as it is today. In a 1990 interview, Billy Gray, who was a contractor when many of the flat tops were built, stated that a concrete block factory was established in Kitty Hawk near Southern Shores. They mined the gravel for the block right near the beach.
Each block weighed 42 pounds and would be too expensive to haul in from out of the area. You can still see shells in some of the exposed concrete blocks used in these homes. To further keep homes affordable, they also used local lumber. Juniper treese from the Currituck mainland were harvested for interior walls, doors and cabinets.
These flat tops were first constructed along Ocean Boulevard in Southern Shores. The majority of the remaining Southern Shores flat tops can be seen along this road today.
One of these homes is 113 Ocean Boulevard. The land for this property was purchased from the developers in 1952 by George and Cornelia DeBusk from Nottoway County, Virginia.
Dare County records show they built their home in 1955 and sold it for $10,000 in 1962. Back then, the paved road ended near the house. Vacationing at this home in the 1960s must have felt like you were at the edge of a vast seashore wilderness.
The home was enjoyed by many families over the years and traded hands at least five times until the former owners purchased it in 1999. The family hailed New York and already owned a home in Duck, but they decided to purchase the property because it reminded them of growing up vacationing on New York's beaches. Also they saw the uniqueness of this style of home disappearing from the Outer Banks.
1999 was the beginning of another Outer Banks building boom and many of the old flat tops sitting on highly desirable lots were being torn down. Their son was formally trained in furniture making and woodwork, so they allowed him to renovate and restore the house. He incorporated many modern features while keeping with the original style of the house. Some great features include fully tiled bathrooms with glass shower doors and a kitchen with a floating mahogany range countertop and shelves.
Recently donated to Woods Hole Oceanographic Institution, the property was put up for sale. With the help of some staging from Nancy Pugh and Daniels Homeport, the property went under contract in less than a week for more than expected. It could have been sold four or five times over to people wishing to preserve this rare gem of a home. It's good to see these monuments to a different Outer Banks era gaining new interest.
If you would like more information about the history of Outer Banks flat tops, or would like to help preserve a piece of this Outer Banks history, then contact the Outer Banks Community Foundation. They have a Flat Top Preservation Fund and can be reached at 252-261-8839.
Jeff Scott is President of Scott Team Realty, Inc. He is also author of "Living the Dream" a comprehensive guide to buying, owning and selling Outer Banks real estate. You can reach Jeff at jeff@ScottRealtyOBX.com or toll free at 866-438-8382.