Diving the Towers
By Michelle Wagner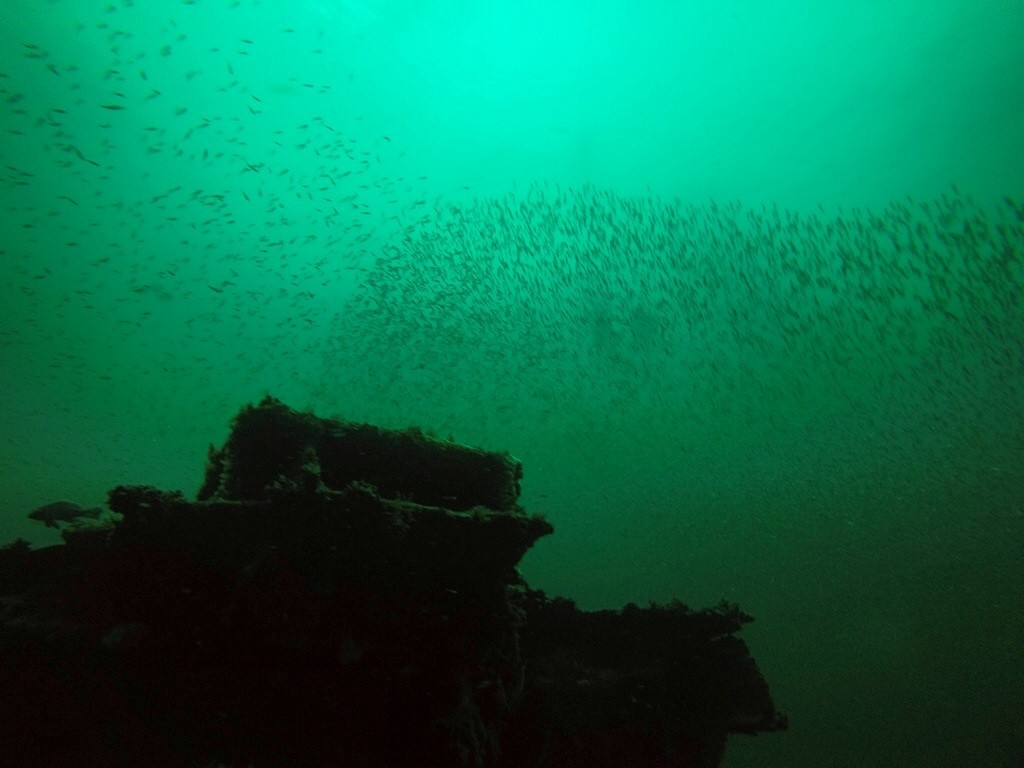 You might liken Charles Hardy and his mates to a band of saltwater cowboys—free-spirited, free diving spear fishermen who head miles out to sea so they can dive down and hunt for fish around abandoned naval towers and deserted wrecks.
Hardy ties his boat to a tower and then, with a spear in hand and using only a mask, snorkel, weight belt and pair of fins, the band's members dive down into the deep looking for their catch.
When you are free diving while spearfishing, your time is limited. Every second counts. "You take a deep breath, swim down about 30 feet, shoot the fish with your spear, pull in the line attached to the spear and head back to the surface," Hardy explains.
The group wouldn't want to do it any other way, and to them, spearfishing with scuba gear just isn't appealing.
"First and foremost, it's more of a challenge doing it our way and it gives the fish more of a fair advantage. If I have a tank on my back, I could sit there all day and wait for a fish to show its head," says Hardy.
For most of the divers, they have about a minute to a minute and a half to go down, flush the fish out and get back up to the surface.
Another advantage of not having a tank, Hardy points out, are the lack of bubbles. "If the fish see bubbles, they know you are something different. But if you are down there and you are holding your breath as you swim around, they assume you are just another big fish. It's more natural for them and for us."
One rule Hardy has on his boat is this: nobody shoots any more fish than they can clean or eat.
"This isn't catch and release. You shoot a fish, you kill it."
Some days they could get 20 fish each, but they don't. "Usually we take four or five to clean, eat, freeze or give away," says Hardy.
The hot spot for Hardy's group is one of the four abandoned towers that are anywhere between 12 and 30 miles offshore. The towers, standing in 100 feet of water, shoot about 70 feet above the surface.
Originally starting with two or three divers six years ago, Hardy has about 10 to 12 he will text when he is headed out to the towers and other offshore wrecks. Around the wrecks, the group catches sheepshead, triggerfish and tautog. At the towers, the fishermen typically bring in amberjack and spade fish.
The Dangers That Lurk
Free diving can be very dangerous, says Hardy, but the group always stays together and looks out for one another. And, he adds, they don't push their limits like competitive free divers do.
"You can go down a little too far for a little too long and then blackout and drown unless someone is there to grab you. So we always know where each other are."
Plus, he says, most of the divers don't go deeper than 30 to 40 feet.
Fellow spear fisherman Jeremy Wilkins compares free diving to running. "You can't just stop for a while and just start up again. It requires breath endurance and takes a while to get back to where you were. And as you learn the skills, you can go down for a longer period."
Wilkins says he goes out on the boat about 10 times during the season, which usually runs from May to early November.
Wetsuits are typically always worn, even in warm water. They protect divers from jellyfish, sharp edges of the towers and wrecks as well as from cold water.
Hardy says he and one other diver also wear what's called a shark shield, a battery-operated band that goes around the ankle and emits an electrical current that irritates a shark's nose.
The divers have seen bull, hammerhead and tiger sharks out by the towers, as well as large barracuda. But so far, Hardy says, the sharks have been uninterested in the fishermen.
Beauty at the Towers
Hardy will be the first to tell you that fishing at the towers is more than just about catching fish. "It's not always about what you shoot, it's about what you see. It's amazing being in the ocean and seeing all the things that are out there."
With clear Gulf Stream waters, Hardy describes tiny multi-colored fish that bump up against his snorkel. He's seen sea turtles swimming and a 10-foot wide manta ray break the surface of the water. Hammerhead sharks have swum overhead and a group of pilot whales were once just 10 feet from the group at one point during a trip.
"People don't realize how clear the water is out there. Some days we can see 20 to 30 feet."
The best conditions come when a northeast wind blows for several days, blowing the bluer, deeper water and then stops so the sediment settles.
It is then Hardy and his fellow divers can see not only the fish they are after, but a panoramic view of a watery world many never have a chance to experience.