Swim Happy, Swim Outside: Outer Banks is the Perfect Venue for Open Water Swimming
By Michelle Wagner-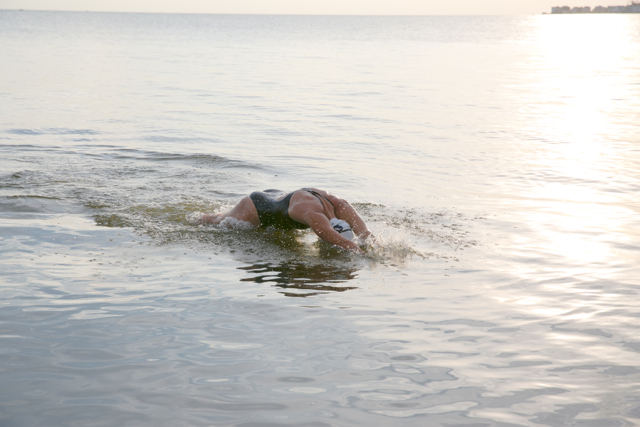 "You feel sunshine warming your back, see shafts of sunlight illuminate the water below, hear the song of the wind and the waves, and as you swim, you hear the rhythms of your hands and feet as they catch and move water," she writes. "You hear the music of your body and your breath as the wind, current, swell, and tide change and the sounds of your body changing with it. You are immersed in this water song, and each day is different."
Lynne Cox, open water swimming world record holder and author of Swimming to Antarctica describes the lure of the open water in her recently published Open Water Swimming Manual. 
"You must be that person who swims by my house every day."
It's definitely not a statement many are used to hearing, but it was part of a conversation Colington Harbour resident Kathleen Morgan recalls having with a woman at the pool this summer.
"I guess she must have recognized my brightly colored cap," says Morgan, a former triathlete who has discovered the zen of swimming in the waters right in her own backyard. Nearly every day, she heads out to the canals and sound waters for a workout.
It is worlds always from the chlorinated lap lanes of the YMCA and with a wet suit, Morgan can swim in the open water for the better part of the year. "The other day I was so lost in my thoughts and the feel of the water that when I looked up, I realized I was under my own dock." At 59, Morgan is lean and full of energy. Her broad shoulders and well-defined arms are a telltale sign that she is someone who spends a lot of time in the water.
Morgan developed a deep passion for the sport of open water swimming after an injury unexpectedly ended her triathlon career. In doing so, she discovered that plunging into the open water isn't just exercise.
It is not only good for the body, but it is also good for the soul.
"When you are out there, you can let go. You become an extension of the water. You don't have to think about running into the pool wall, either," Morgan says. "It's peaceful and not noisy like a pool is. And the waves are symmetrical in a way that you can time your breathing and stroke with them."
In the pool, she says, it's just another swim.
But to get out into the open water is a chance to commune with the natural world. "It's more of a challenge and everything feels cleaner."
While water may make up more than 70 percent of the Earth's surface, from the perspective of an Outer Banker that percentage appears to be much, much more. So it is no surprise that the sport of open water swimming has made its way into every body of water on these barrier islands.
Swimmers are leaving the confines of the lap lanes, strapping on goggles and plunging into Mother Nature's watery world.
The reasons are as varied as the swimmers themselves. Some are training for the next big race, while others are searching for that zen experience open water swimmers know so well.
OWS race director, local triathlete and seasoned swimmer Robert Trivette echoes Morgan's sentiment. He describes swimming to be a lot like yoga, and many swimmers will tell you that feeling is only intensified in the open water.
"Because swimming cuts your senses off from the rest of the world, you can get into a very relaxing zone. Afterward, you have all these endorphins cruising around in your bloodstream and you feel great," Trivette explains.

"Swimming open water just adds all the interesting, great aspects and conditions Mother Nature can throw at you in addition to that great feeling. Whether the elements are calming and peaceful, or adding a wild and wooly component caused by the wind, waves or current, it just makes the whole experience seem more stimulating and you feel more alive."
Local open water swimmer Jessica Lehman was a competitive swimmer through college but became burned out on the sport until she began training for triathlons three years ago at the age of 35.
"It rekindled my love for swimming and made me realize it was not the swimming I disliked, but the structure in which I was swimming that killed my passion for the sport. I swim happy outdoors without walls – and I enjoy the fresh air."
Hands down, her favorite place to swim is the ocean because she doesn't get to do it that often. "Ocean swimming is a treat for me. But it is tough to find a partner and is a bit too risky to go alone."
Lehman says there is a sense of freedom swimming in the open water that just can't be found in the pool. "You get to go for a long swim without counting laps and staring at a line on the bottom of a pool. Currents, wind and waves all play a part in your workout. Sometimes you need to dig pretty deep to get where you are going in tough conditions."
Debbie Luke, owner of the Outer Banks TriSports, says she has seen a growing interest in the sport among athletes coming into her store.  Luke, who sponsors an open water swim workshop every fall, also co-sponsors a new Aquathlon series with Runcations. Held in Corolla, it includes a 400-meter ocean swim. And in July, the Outer Banks Swim Club held its second annual Open Water Swim on Roanoke Island.
"There are a lot of reasons people are going out into the open water," Luke says.  "The pool is often crowded but with the open water, all you have to do is grab a wetsuit and go."
Open Water Swim Safety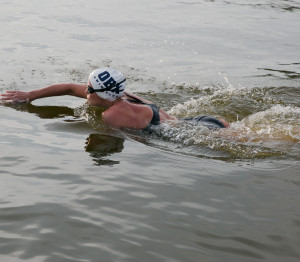 Lynne Cox, open water swimming world record holder and author, writes this in the Open Water Swimming Manual: "Going from pool swimming to open water swimming is like going from a fish tank to the ocean. The swimming pool is a stable and controlled environment, and in the open water, anything can happen."
In her manual, she explains that open water swimmers always need to be aware, alert and in tune with what is happening around them. "It is a dramatic, exciting, and thrilling world," but she adds that swimmers need to be able to evaluate risks, know how to mitigate them and decide when it is safe to swim.
Cox recommends studying the water before you go, talking to local lifeguards and being familiar with the tides, waves, currents and water temperature. Hazards in the open water include dangerous marine life, fog, boats, jet skis, windsurfers, kite surfers and surfers.
Having someone to kayak or paddle board nearby is a bonus for open water swimmers because the watercrafts allow for more visibility and are on hand if the swimmer becomes injured or fatigued. Swimming with a friend or group is also a plus.