Across the Water: Young Currituck Entrepreneurs on Both Sides of the Sound
By Lindsey Beasley Dianna
Pictures by Kati Wilkins Photography and Brooke Mayo Photography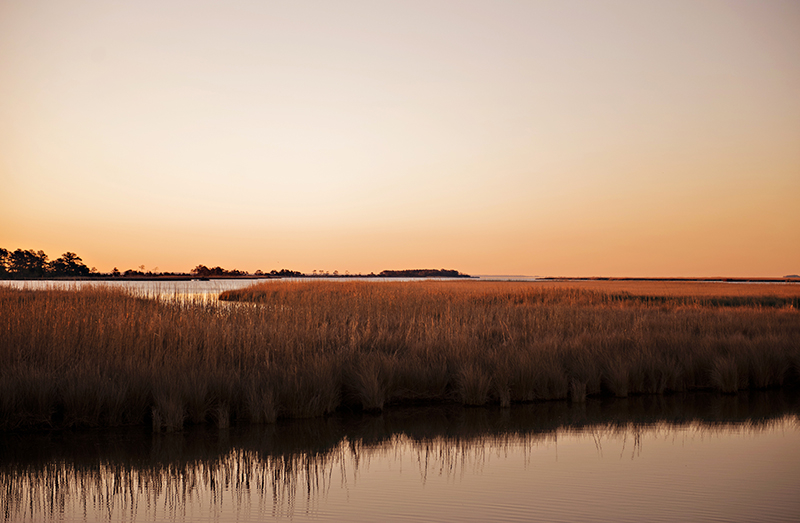 On both sides of the Currituck Sound, young business owners are breathing new life into areas already rich with history and culture, building on the charm that exists to deliver the best of both worlds. Meet some of the many young entrepreneurs who are shaking things up for the better in Currituck County.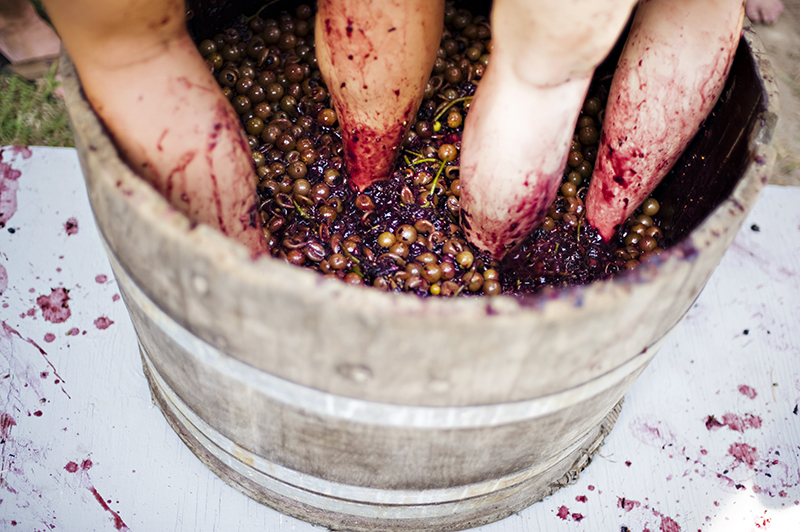 About twenty minutes north of the Wright Memorial Bridge, the town of Jarvisburg lies hidden in plain sight.
The Cotton Gin, a bright red barn-style building on the bypass, opened as a retail business in 1978 and is the most recognizable beacon of the Wright family's estate that spans acres of farm and land on the Currituck County coast. With a growing wine business, the family is building on the tried-and-true family farming tradition and evolving to change with the times, as any farmer must do to survive.
The Wright family has been in Currituck County for seven generations; by any standard (of which there are many and all contentious), they are truly "as local as it gets." In the 1850s, settler Jacob Wright shipwrecked on the shores of Duck; about a century later, descendants John and Mabel Wright were selling produce at a stand behind what now is The Cotton Gin.
Mabel came to the area from Tabor City, Md., to take advantage of the outstanding teaching programs set up by Joseph P. Knapp, and later became one of the founders of the Currituck Historical Society after she and John were married. Their sons, Tommy and Jerry Wright (now co-owners of the estate encompassing Sanctuary Vineyards, The Cotton Gin and more), grew corn, beans and wheat—and still do today. They grew potatoes into the 1990s and sold them to Frito Lay and Cape Cod Chip Company. They also grew cotton, the namesake of the beautiful red building off of Highway 158, until around the year 2000. The brothers came up with the idea to grow grapes after a visit to Moonrise Bay on Knotts Island, and began their latest farming endeavor, grapes, in 2002.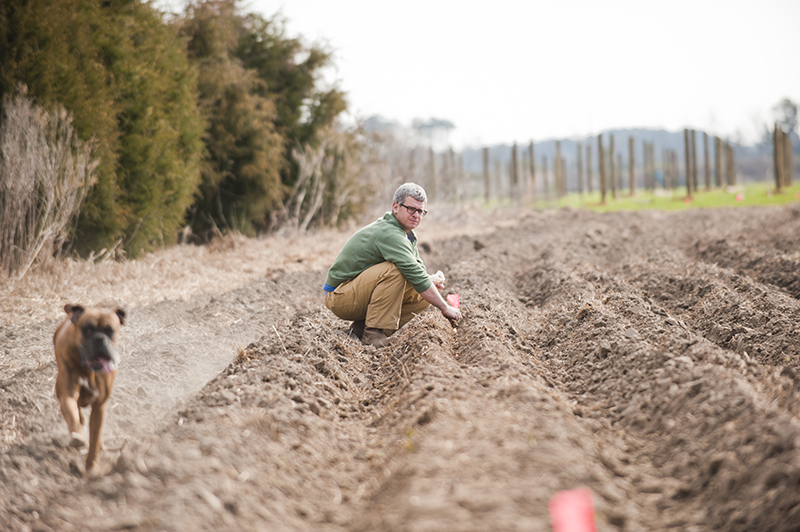 John Wright
Sanctuary Vineyards,
The Cotton Gin, and
Thyme & Tide Cafe
John Wright, 35, is the son of Tommy and Candy Wright and grandson of Mabel and John Wright. He is the general manager of The Cotton Gin and Sanctuary Vineyards, and he has been making a splash in Jarvisburg with his expansions to the business. John went to Moonrise Bay Vineyard on Knotts Island, under the tutelage of its owners and winemakers Richard and Kate Morris to get a hands-on education in the winemaking industry. He earned a degree in Viticulture and Enology (the study of grapevines and winemaking, respectively) from online University Davis, finishing his science requirements at College of the Albemarle.
In 2004, the land and vines were still suffering from Hurricane Isabel, not yet having good winter reserves; from 2005-2009 he brought wine he made from grapes grown at Moonrise Bay back to sell locally. To date, John has 15 years of experience in the grape growing and winemaking business; his parents have supported his vision and new endeavors, open to changing with the times while maintaining the integrity of an evolving family tradition.
Casey Matthews, 35, is the winemaker for Sanctuary Vineyards; he and John met at the NC Winegrower's Annual Conference in 2010. At that time he was making wine at Raffaldini Vineyards & Winery in the Yadkin Valley of Virginia, owned by a corporate hedge fund manager. The experience of making wine at Sanctuary, he says, is a true collaboration and "much more of a two-way street." Casey says that while he's relatively new in his career, he is up to the challenge and excited for the opportunity to see what the two can accomplish together.
In 2009, they began hosting Acoustic Sunset events, where the mostly local crowd—thankful for some entertainment close to home—enjoys live music outside while drinking local wine in breathtaking scenery. Sanctuary Vineyards hosts two seafood and wine-centered festivals annually, Crabdaddy and Curri-shuck.
This year, the Wright family opened Thyme & Tide Café inside The Cotton Gin. Open for breakfast, lunch and dinner, the bistro-style restaurant is a welcome change for folks looking for a departure from the more traditional southern and coastal fare in the area. Run by managers Clint and Aileen Betts, veterans of the restaurant industry, the local feedback has been consistently positive. Serving the public and also facilitating onsite events, Clint says he considers himself "a chef, a cook and a consultant." They are hoping to one day expand into a full-service catering business but have a full plate as they continue to experiment and improve upon their scrumptious menu offerings.
Weddings are a big business on the Outer Banks; Sanctuary Vineyards has hosted about 50 so far. Though the demand grows each year, John says, "We will always be a vineyard and winery first and foremost." For those who manage to score a vineyard wedding, they also get to have use of the farm, winery and the surrounding buildings for a unique experience.
To add to that, some of them book acclaimed photographer Brooke Mayo—who just happens to be John's wife. Brooke and photographer Candace Owens take advantage of the unique setting. Brooke photographs the couple on the farm and back by their creek while John sets up a timeline for "whatever adventures they would like," including trips on boats and kayaks. John's family helps them set up the major props—one time including a full-size piano for a bride and groom who were both musicians. "I drive them bananas, but they tolerate me!" Brooke giggles.
The Wright legacy is still going strong, after centuries of adaptation in farming and business practices. John, Brooke, and their two younger daughters Peaches and Poppy bring a youthful and modern element to the old-timey feel of the family land. Looking forward, it's fun to imagine what the next generation of Wrights might have in store for mainland Currituck County.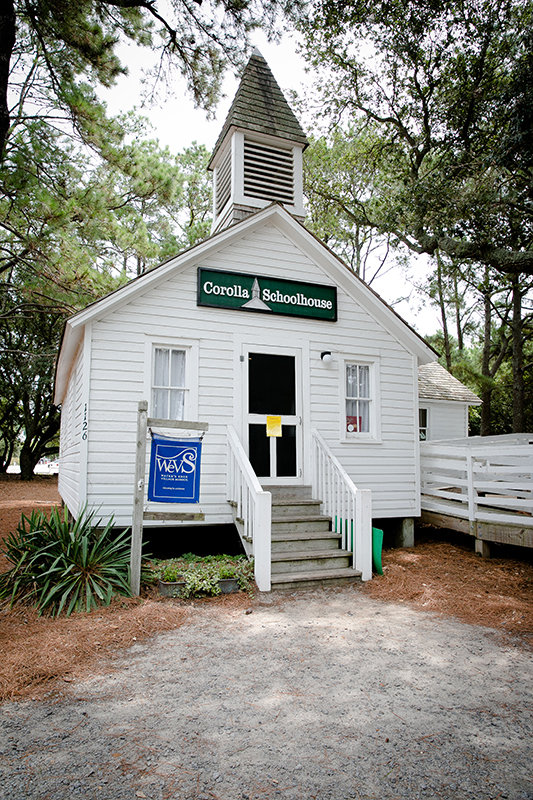 Just past the Currituck Beach Lighthouse in Currituck County, the quaint Historic Corolla Village lies near the end of the road in Corolla. In recent years, young business owners have opened up some hip and happening establishments. Here, in perfect harmony, new school meets old school… literally.
One of its more famous landmarks is a schoolhouse that originally opened in the 1800s before closing in 1957. Now it holds the Water's Edge Village School, educating local children once again. Just a few leisurely steps away are the Corolla Chapel, the Corolla Wild Horse Museum and the Island Bookstore. Doug and Sharon Twiddy of nearby Twiddy & Company Realtors, along with the non-profit Outer Banks Conservationists, have taken great care and effort to preserve and restore the Historic Corolla Village for the enjoyment of all who are lucky enough to experience what this spot has to offer.
Set aside ample time for a visit, give in to the slower pace, and you won't regret it.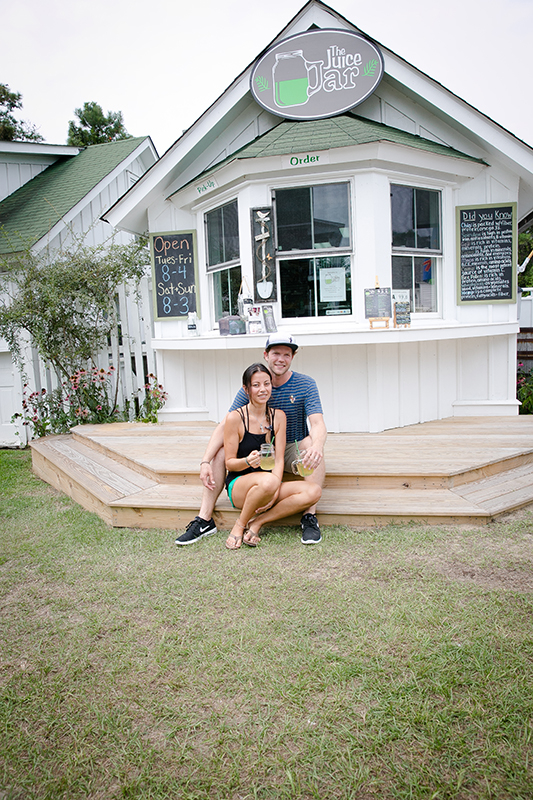 Tatiana and Ben Wolfe
The Juice Jar
Mind-body-juice is their slogan, and it well represents what will be nourishing you if you happen upon the coolest little hut in town run by Tatiana and Ben Wolfe. The Juice Jar is the newest hip and healthy addition to the village. Tatiana, 28, and Ben, 30, have lived and worked in Corolla for about seven years and it is where they met in 2008. They married on top of the Currituck lighthouse the following year while Hurricane Bill was off the coast and made yet another dream a reality when they opened The Juice Jar this year.
When asked what type of experience they would like for their clientele to have, it's more than just happy taste buds: "We want our customers leaving happy and content, knowing that they can still find a healthy breakfast or lunch while on vacation. And if they can enjoy that and their time together in a relaxed outdoor setting, then that's the icing on the cake."
Tucked behind the book store and yoga studio and adjacent to Lovie's, The Juice Jar has quickly become a local favorite, with "creations" ranging from juices and smoothies to wraps, salads, sandwiches and organic acai and pitaya bowls made fresh daily (you could Google that, but I'd highly recommend you try one instead!). They harvest ingredients such as kale, tomatoes, blueberries, mint and basil from their lush 350 square foot garden, which Ben calls "a work in progress." Their pamphlets invite you to "admire our garden while you nurture yourself with the goodness of the Earth!" or enjoy picnic style on the soft green grass, the latter a rare treat on our little sandbar.
They were drawn to the village in which they both live and work by its historic charm and relaxed atmosphere, and say it's a great spot for nature lovers. "It's nice to walk down the street in the morning and listen to the birds and see all these butterflies, and every once in a while you might be surprised to catch sight of a deer, an osprey or an eagle. The live oaks are really nice, too."
The community has welcomed them with excitement and frequent patronage, excited for a "healthy and wholesome" alternative. The most challenging aspect of their business is the traffic (a familiar story for anyone visiting or working in Corolla). As for their favorite part of having a business in the village, they say it's hard to pick just one: "The relaxed vibe of the village, its history and the locals! So many characters and good stories."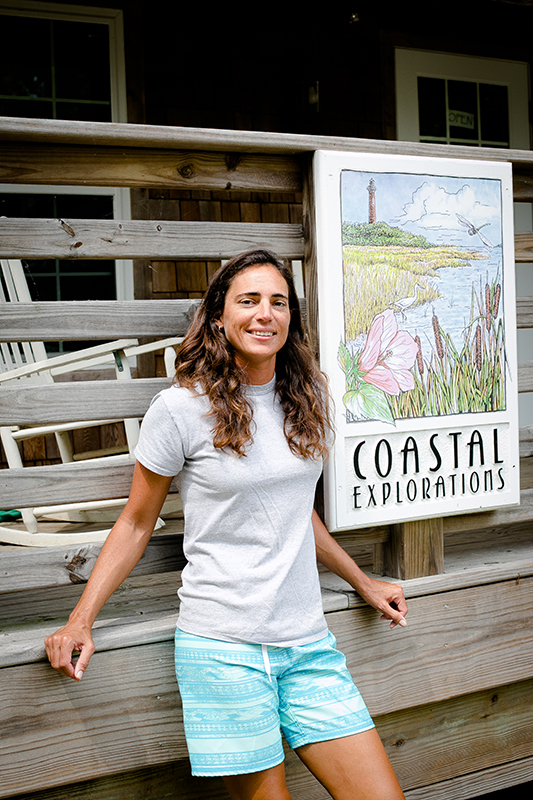 Hadley Twiddy
Coastal Explorations
If you're in the mood for an adventure or to witness the raw natural beauty of the Currituck Sound up close and personal, Coastal Explorations, founded by Hadley Twiddy, is the place to be. Hadley, 34, is the second generation of Twiddys to have a hand in both preserving and transforming Historic Corolla. Raised on the beach, the outdoor enthusiast in 2008 opened Coastal Explorations, tucked back on the Currituck Sound across the street from the schoolhouse.
Coastal Explorations is an outdoor touring company "dedicated to providing adventure and education inspired by our coast." You can rent kayaks, stand-up paddleboards, and bikes through their office, or take guided kayak and SUP tours, crabbing charters, and boat trips. Hadley's family helped her to discover the village; with their undertaking of restoration projects there, she says it was a natural fit. "I love the slow pace and the authentic feel for what Corolla may have felt like years ago," says Hadley.
Both Hadley and her business are well received, and she cherishes the tight-knit community, adding that one of the best things about the village is that the other business owners are also her friends and neighbors. "We really try to work together to support the village concept," says Hadley. "I hate to use the word 'synergy', but that's really what we're going for."
There are challenges to running a business in the village, of course, including the shorter tourist season and being subjected to the elements. "People have a hard time finding us 'off the beaten path' tucked back off Highway 12, but once people discover us back here, they remember us," says Hadley.
Her favorite part of being in the village is the laid-back atmosphere. "Even in the busy summer months, the pace just seems to drop when you're walking down these little back roads. I think people really enjoy that feeling. They see small businesses where people are smiling and barefoot, and chickens wander down the streets and among the trees, and they know it's real and not an act," says Hadley.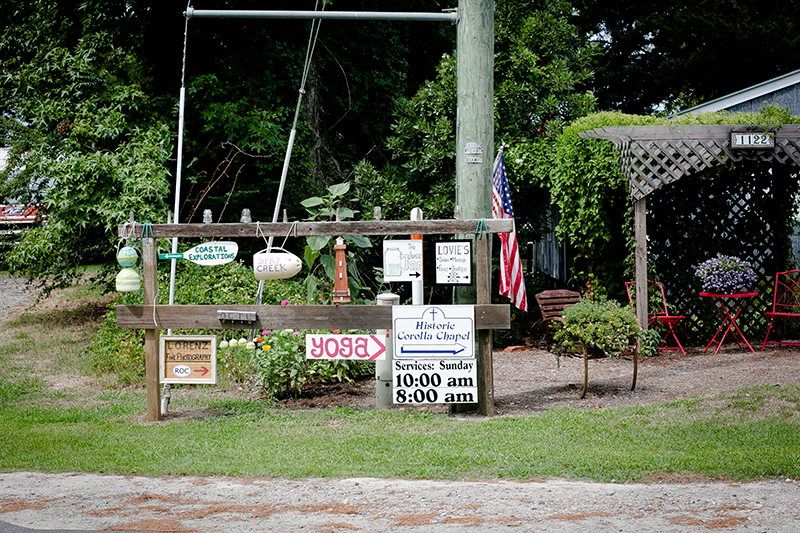 Michelle Madden Smith
Outer Banks Yoga
Nestled behind the Island Bookstore and next to Lovie's, Outer Banks Yoga offers a nurturing space in which to improve mind, body and spirit in the heart of Historic Corolla Village. Michelle Madden Smith, now 45, took ownership of Outer Banks Yoga in 2006 at the Kitty Hawk location. In 2012, with studio manager Anne Howard, she founded the Amalaam School of Yoga, the first Yoga Teacher Training program on the Outer Banks. They opened their studio in Corolla Village in June of 2014, receiving a warm welcome.
Michelle finds the village to be one of her favorite places on the whole East Coast. "It has this nostalgic, warm vibe that feels a little bit like you are stepping back to a time when things were slower, easier–perfect for vacation, right? It feels like a small town with simple country goodness. Plus, there is just something dreamy about our little corner of the village with Alicia at Lovie's doing hair- plus they offer massage and facials. The Juice Jar offers up such delightful and healthy nourishment options, and then we have our little studio doing its thing. It's as if we've created a unique little independent spa experience. Plus the yard is just so sweet."
She finds the drive up to be absolutely beautiful and one of her many favorite things about being in the village. "Sharing the space with so many wonderful people during classes, sending that good energy out into the world, then getting a post-teaching smoothie at The Juice Jar…the list goes on and on and on. Plus I love all the little shops—so great for gift-giving."
Possibly as early as this year, Michelle hopes to stay open through the winter to have a year-round presence in Corolla (they were open May through October their opening year), and would also like to offer a weekly meditation class. "And we'd love to hear from the locals regarding what they want and need from us over the winter!"
Staying tuned in to both her own mind and body and those around her, Michelle's warm and inviting nature spills into her studio. She'll have you craving a deeper mind-body connection in a charming spot. Sweet, indeed.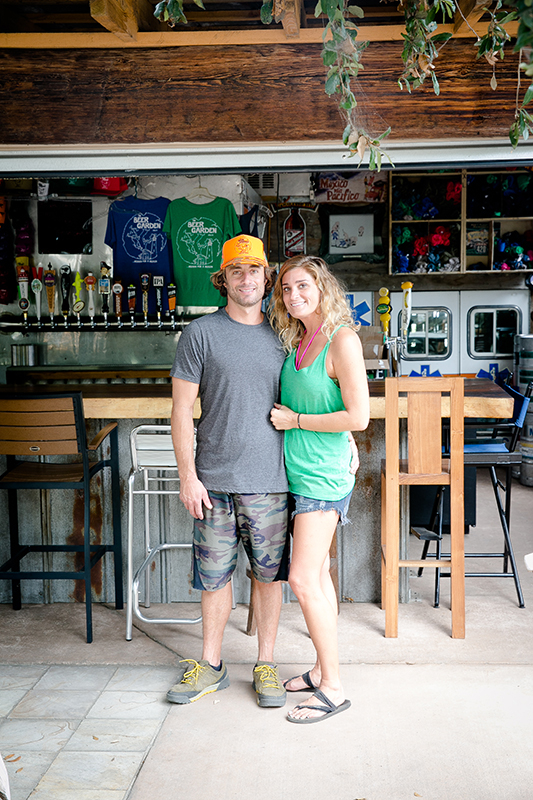 Kelly Rodriquez
and Matt Soriente
The Shack Coffee Shop
& Beer Garden
Hidden for a reason, this is one funky little Shack that's worth seeking out, day or night. Engaged couple Kelly Rodriquez and Matt Soriente opened The Shack Coffee Shop & Beer Garden in 2010, drawn to the village by its "small town vibe." Most days you can find Kelly, 35, in the coffee shop; Matt, 36, runs the beer garden out back from 12 p.m. until they call it a night.
Adorned in surf art, buoys, auto parts and various odds and ends they've collected over the years, everywhere you look there are stories waiting to be told. Add in the insanely beautiful furnished pieces they handpicked from Indonesia, and they have successfully created the eclectic atmosphere they were seeking to set them apart. The Shack serves locally roasted coffee and espresso drinks, teas, smoothies, pastries and snacks; the Beer Garden features more than 50 different beers, including craft brews and local selections, with 17 rotating taps and up to 24 when the beer truck is operating in tandem. They have live music four nights a week, and most evenings you'll find folks of all ages—locals and tourists alike—chillin' under their big live oak. "It's a very laid-back, come-as-you-are scene," says Matt. "We like for our customers to have a visit that's filled with good drinks, vibes and an overall memorable experience that keeps them coming back year after year!"
The area had its own unique draw for the pair. "We love that the village is one of the few places left on the beach that is untouched and has maintained the integrity, character, and originality that has drawn people to Corolla over the years. It's a great way to get away from the hustle and bustle of the shopping centers and experience small town Outer Banks life," says Kelly.
A seasonal business, they wish the summer would last longer, and say it can be tricky getting some people to come that far north. The best part, they say, is the support they've received. "The camaraderie within the local community makes it a great place to work and own a business," says Kelly. "Many of our patrons and friends are business owners within the community and have supported us from day one. One of the greatest things about working and being in Corolla is the closeness of the community and how business owners all support each other either by frequenting each other's establishment or through recommending visitors to them. That's been an integral part of our success and a significant part of helping us grow and thrive over the years. "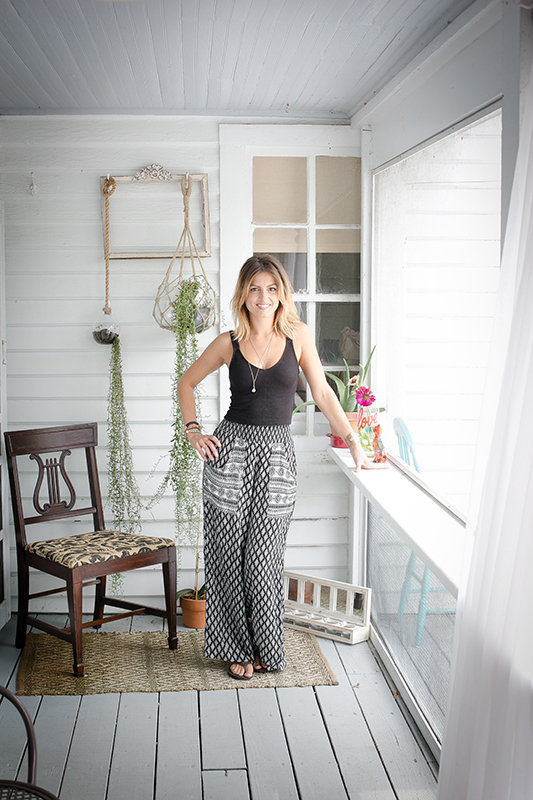 Alicia Arranz
Lovie's Salon and Spa
Planted in between the yoga studio and The Juice Jar, Lovie's Salon & Spa is a cozy haven that is aptly named; owner Alicia Arranz, 31, is a force of nature, and her positivity is positively contagious. After styling hair for John Allan's in The Big Apple, she was ready for a new adventure and radical change of scenery when she came to Currituck County in 2012. After freelancing hair services locally, she opened Lovie's Salon and Spa in June 2014.
The building, once the home of a woman named Lovie, has been beautifully restored and houses an eclectic mix of vintage and modern furnishings, filled with décor that is both eye candy and food for the soul. Inspirational messages are hand written, painted, etched on plaques, and drawn on the chalkboard. She and her team of associates (Assistant Kelly Ives, Massage Therapist Emily Cooper, and Aesthetician Jennifer Yell) set the tone for an experience that leaves their clients feeling more beautiful inside and out. Open year round, they cater to a large clientele of visitors as well as locals, with some regulars coming from as far as Buxton and Manteo. "We love pampering all of these beautiful women while sharing such a special part of their lives."
When asked what drew Alicia to the charming village where she now lives and works, she is all smiles and very Zen—typical of the vibe you feel after spending any amount of time in Lovie's. "Can I say that a series of serendipitous events literally led me here? I'm laughing, but it's absolutely true. Not to mention when I first moved here, I found myself strolling this charming little village often. I loved the feel and it immediately became one of my favorite hidden gems on the Outer Banks."
She has received a warm welcome from the tight-knit community, crediting them with a huge role in Lovie's success. "I believe most of the locals have had the 'Lovie's experience' multiple times by now! I couldn't be more thankful for their support!"
Her biggest challenge was staying optimistic and not giving into doubts and fears. "I was told many times, 'Alicia, I just don't know—there's no year round business in Corolla' or 'Alicia, no one drives from Nags Head to Corolla in the summer, or really ever.' Well, I had to tell myself different, believe in what I was seeing, and surround myself with people who believed in me as well. I guess anything is possible right? Thankfully I stayed focused."