What I Learned at Stay-at-Home Mom Camp This Summer: Newton's Third Law of Parenting
By Lindsey Beasley Dianna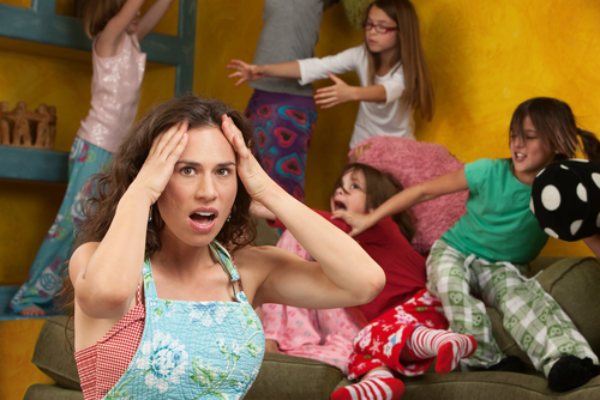 This summer, I successfully proved Newton's third law (because obviously the jury was still out on this one). For every action there is an equal and opposite reaction. In other words, Fun, Go-with-the-Flow Mom equals Terrible Adult, and vice versa. This train wreck confessional serves as a compelling argument for year-round schooling.
After three months of Endless Bend the Rules Days, we are collectively a red-hot mess. We've lost basic social skills. Shoes? Shirts? Bathing? Eating with utensils? What do you mean those are normally required expectations? Each day the lot of us gets more and more inappropriate, and my inability to control my reactions to their ridiculousness isn't helping matters one bit. Through clenched teeth and giggles, all I can do is scream, "Get appropriate! Find your school manners! You won't last a day outside of the house like this!" Effective parenting techniques, these are not.
We have done the fun—oh man, have we ever: lemonade stands, sleepovers, long beach days, road trips and summer camps. But fun is really hard work.
The trade-offs are many. A homemade dinner usually means kids passing out on the couch while I do dishes, whereas beaching it until sundown all but guarantees another crappy frozen pizza. I mean, they love this pizza, and probably will for the next 200 years as I'm certain there are enough preservatives in there to keep them alive for centuries to come. Summer camps sound amazing—and they totally have been—but they are not the respite and oasis of the "me time" of my fantasies. Transporting, packing, unpacking and managing what's left of played-out children once I pick them up just adds to our already abundant chaos.
With all of our time spent making memories, the house has gone to—what is the PG word for it—ah yes, crap. I haven't had this much trouble finding child-appropriate vocabulary since my new-parent days some 10 years ago; my already flimsy filter is just plain destroyed by this point. I am sadly on par with my 3-year-old in this department; she is constantly taking stock of what is and isn't ok to say out loud. "I never, ever say dammit. I say darn it, dang it, shoot, oh my gosh, oh my goodness. Can't say dammit and stupid!" she screams. She's in full parrot mode these days, which is both hilarious and terrifying. I breathe huge sighs of relief when the worst thing she screams is: "I AM VEWY DISAPPOINTED IN YOU, BUTTHEAD!" It's what she's not saying that is the scariest, because God knows I've uttered worse things before, giving unintentional vocabulary lessons—so much ducking worse. (Thank you, autocorrect!)
I don't want to know the ratio of outdoor fun to technological gluttony we've achieved this summer. By summer's end, I reached the point where I said "yes" to my son's request of downloading Goat Simulator without knowing what the hell it was—and without supervision (gasp!). I had a post-yes panic attack as I ran to the computer praying it wasn't some twisted bestial nightmare—and got lucky with that, this time. Between this parenting fail among the bevy I've accumulated, and needing bullhorns to break their tech-induced trance at times, I have been a huge fan of my new threatening tag line: "I swear we're about to go Amish up in here, don't you test me!"
Thanks to Netflix's keen marketing strategies, the kids have been exposed to some sweet new tag lines themselves, my favorite of which is "Get Hard!" from the new movie featuring Will Ferrell and Kevin Hart. Teachers, other parents, please know they haven't watched this nor are they aware of the double meaning…honest. I can already feel my buns squeezing into a child's chair as I sit in the principal's office stammering a clumsy and inadequate explanation.
I'm thankful for the memories, and have enjoyed this summer's free-for-all, but for the love of all things holy, I want to get off the crazy ride for just a minute. The pull of going with the flow in an alternately lazy/action-packed summer hasn't lost its appeal one bit since childhood. In fact, I may have leaned in a bit too aggressively. But I've got some serious adulting to do, and this family is desperate for structure, hoping to rediscover appropriateness and civilized living in whatever ways we can muster. With impressive suntans and fractured cognitive states, we creep toward The First Day of School Finish Line.
So, begrudgingly, I say bring on the homework meltdowns, the carpools and drop-off lines. I will try not to complain, at least through the end of September. By next summer I'm hoping that someone will invent Autocorrect While Parenting, a new app I can place squarely over my mouth, the internet, and the mouths of my cherubs.