Welcoming Everyone-Rooster's Southern Kitchen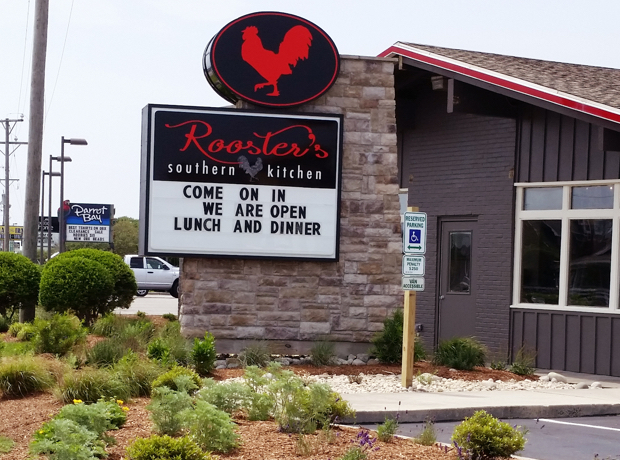 Sometimes what's old is new and sometimes what's new is really tradition with a little panache and new way of thinking. That certainly seems to be the case with Rooster's Southern Kitchen, that just opened in Kill Devil Hills.
For 25 years John and Sue Woolard had been operating the Western Sizzlin'. But when the franchise agreement expired, their family realized that the marketplace and the Outer Banks guest had changed significantly during that time and they figured a new direction was needed. "We had a great run with the Western Sizzlin' franchise and are proud of that journey, yet we were also ready to make a change. Late in 2014, we met two very talented people in (General Manager) Michelle Parrish and (Executive Chef) Ray Fiorello," Sue Woolard said. "We spent several months getting to know them. And the idea of creating Roosters came about through that relationship. We became re-energized and truly inspired by their energy and passion."
Fiorello, a classically trained chef, has been on the Outer Banks for the past two years. For him, Rooster's offers the chance to spread his creative wings. "I like to be creative . . . and work with what's around," he said. "It's easy here because I've got a whole new palette to play with. I've got eastern North Carolina barbecue, seafood and local produce for some new creative ideas. We're going with the southern motif, but our specials will vary and change. I'm just trying to take advantage of what is fresh and local."
That creative flair has found its way onto the menu. The Bacon 'n' Eggs are anything but traditional—smoked pork belly, hand crafted deviled eggs and pepper jelly glaze. And then there's the soft shell Crab Napolean—a soft shell crab, fried green tomatoes, house made fresh mozzarella with a balsamic reduction.
Consistent with Southern tradition, Roosters smokes their own meat. Fiorello is using hickory and in keeping with sourcing things locally, he's also using the cuttings from Sanctuary Vineyards' grapevines. The smoked meats have a subtle, slightly sweet smoky flavor and on the Cuban sandwich, it creates a perfect blending of flavors.
The renovation of the interior is startling, in a way, breathtaking for anyone who had been to the Western Sizzlin. Open and spacious with a great use of color, it's the kind of place that is ideal for meeting a friend for a lunch or a dinner date or a place to bring the whole family to one table.
When the Woolards crafted the menu, they also added a bar and under General Manager Parrish's guidance it is sure to be one of the more inviting places to come for a cocktail or a beer. "We have 20 beers on tap," Parrish said. "We knew we wanted a large bottle beer selection. With 40 bottles, we have 60 choices of beer in all." There are also a number of signature drinks. "The majority of those are my own recipes," she said.
To go with the bar, there will be live music nightly during the summer. "We're booked through the end of September," Parrish said. "We're committed in the fall to do Thursday through Sunday." The musical emphasis is on acoustical.
There is one more characteristic about Rooster's Southern Kitchen that bears mentioning. "In the South, hospitality is all about the welcoming aspect of the table and all about the kitchen," says Sue Woolard. "We're trying to create a culture that is welcoming to everyone, a place to call home."