The Summer Seven
Seven things you never knew about the Outer Banks. Until now.
1. Step up
You have to climb 248 iron steps up the spiral staircase to get to the top of the Cape Hatteras lighthouse. That's the equivalent of climbing 12 stories! If you're up for it, the lighthouse is open from the third Friday in April through Columbus Day. Climbing hours are 9 am to 4:30 pm daily in the spring and fall, and 9 am to 5:30 pm the Friday of Memorial Day weekend through Labor Day. Tickets are required and can be purchased on site.
2. Name game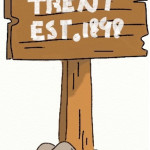 The town on Hatteras Island named Frisco was originally called Trent, or Trent Woods. It received its new name in 1898 when the post office arrived, and those from Hatteras still might occasionally be called Trenters.
 3. Conch out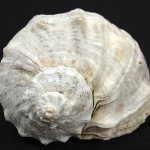 You know those shells that you are supposed to hear the ocean in if you hold them to your ear? OBX peeps call them conch shells, but they are actually whelk shells, as conchs typically live in more tropical waters. Both conchs and whelks are basically large sea snails, with a few differences: conchs have eyeballs, and whelks are carnivores. Yup, carnivores, and like many of us they particularly love clams and scallops.
 4. Critter quiz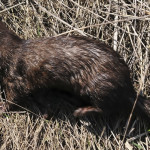 Sharing Ocracoke Island with the tourists, ponies, ferries and fishing boats is a rather unexpected critter: the American Mink. A mink looks a lot like a ferret with a dye job. Good luck spotting one though, unless you like to hang out in the coastal marsh around twilight.
5. Woods in the hood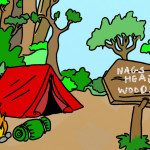 There is a forest in the middle of the beach. Ok, so maybe some of you know about Nags Head Woods, but did you know that it used to be a bustling village complete with churches, farms, a school and a gristmill? There are few reminders of the village today, but you will find hundred-year-old trees, over 50 species of birds and miles of glorious hiking trails. One of the few maritime forests left in its natural state, hiking trails are open dawn to dusk every day for foot traffic only.
6. Live large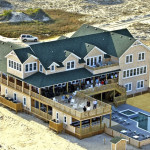 The largest house on the Outer Banks has 20 bedrooms, two elevators, a heated pool, and seats 55 in the dining room. You'll need a 4-WD to get to The Wild Horse in Swan Island Estates, because it's nearly six miles north of where the road ends in Corolla. For your trouble, you can enjoy 20 acres worth of privacy and panoramic views of the sea.
7. Old Buck stops there
About a week after the rest of us have taken our trees down, the good folks down in Rodanthe celebrate Old Christmas. Back in 1752 the English Crown adopted the Gregorian calendar, which moved Christmas from January 5th to December 25th. The story goes that Hatteras Islanders didn't get the memo until years later, and by then didn't feel like changing things. A highlight of this holiday celebration is the appearance of Old Buck, a legendary beast with the head of a wild bull and a blanket covering a couple of good natured fellows acting as his legs.

Hidden Outer Banks is the lovechild of longtime local Dawn Church. She reminds locals and visitors alike to explore the rich history and local color that exists beyond the bright lights of the Bypass. Find HOBX at hiddenouterbanks.com and facebook.com/hiddenouterbanks.
John Herbert and Old Buck. Photo by Aycock Brown, David Stick Collection