The Outer Banks Beach Fairy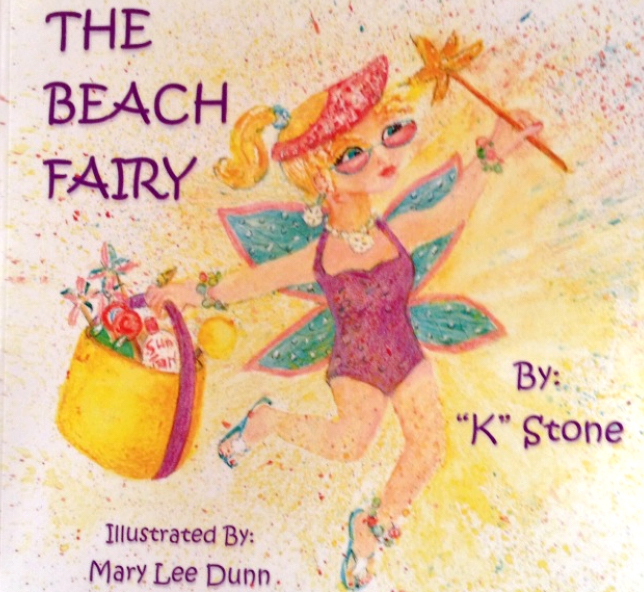 A little know but important fact of Outer Banks life is the Beach Fairy, a retired tooth fairy who crossed the Wright Memorial Bridge to follow her dreams. There may be more than one beach fairy floating around, but the one we are introduced to by Kay Stone in her book "The Beach Fairy" is Tessie.
Kay—or KK as her grandchildren know her—is a retired teacher with 30 years in first, sixth and seventh grades, most of that time spent teaching 7th Grade English in Chesapeake.
The story of Tessie came to light when KK's oldest grandchild, Georgia, couldn't seem to go to sleep when she was at her grandmother's Southern Shores home.
"When I couldn't get her to go to bed that night, I just made it up," Kay recalls. "I was being sprinkled with fairy dust according to the book, but I didn't know it then. I said, 'If you don't get out of bed again, I bet the beach fairy will come see you.'"
That sparked some interest. "KK, what's the beach fairy?" Georgia asked.
"I got sprinkled again according to the book, and I told her, "She's a retired tooth fairy who came down to the Outer Banks to follow her dreams, and do something no fairy has ever done,'" she told her granddaughter.
That was couple of years ago—Georgia is 13 now, but the tradition of getting into bed so Tessie will visit is still a part of family lore. "There was a tradition born that night and we've practiced it for years," Kay says.
The book, which wonderfully recounts how the Tessie the Beach Fairy came to KK and Georgia's house, is beautifully illustrated with a touch of whimsy by another teacher, Mary Lee Dunn, who is an art teacher in Newport News schools.
There are a few very important rules of beach fairy behavior. Beach fairies do not come every night; children must behave during the day; and beach fairies very rarely leave large gifts.
Sometimes the beach fairy will go the bank and get one of the lollipops banks hand out. Other times, KK would work with the Beach Fairy. "Anything from shells I found on the beach, to feathers," she says.
And perhaps most importantly: "The book is totally true."
Telling a story of love and family with dose of fantasy, the book ends with clear instruction on how any child can entice a beach fairy to visit them. "All it take to attract a beach fairy is to love the beach, to go to bed on beach vacations with a fuss, and to believe in things that cannot be seen."
The Beach Fairy is available at area book stores.