Swim . . . Bike . . . Run—Results from 3rd Annual Outer Banks Triathlon Festival
Press Release from Outer Banks Sporting Events –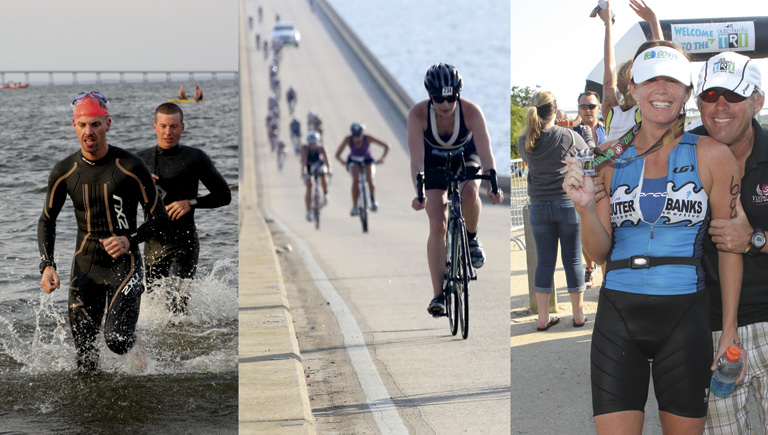 This past weekend, September 22-23, was a two day event of triple dares and deeds as Outer Banks Sporting Events hosted the 3rd annual Outer Banks Triathlon Festival. Presented  by OBX  Bank and sponsored by  City Beverage and in part by the Outer Banks Visitors Bureau, the event was held on Roanoke Island, between the NC Aquarium and Dare municipal airport. A total of 836 athletes from 22 different states with ages from 16 to 70 came to compete.
Saturday events included the "Olympic" and the "Half" events.
Olympic athletes swim 1500 meters, bike of 24.5 miles and a 10K.
Half participants train for a 1.2  mile swim, a 56 mile bike, finishing with a 13.1 mile run.
Competition began with the starting gun at 7:00 a.m. and the first wave of Olympic swimmers entered the waters of the Albemarle Sound. Then, out of the water . . . on to the bike . . . off the bike . . . out for a run.
All athletes were able to celebrate their accomplishment at Saturdays' post-race party with free beer in the beer garden courtesy of City Beverage, free food and awards! Younger athletes also had food and free beverages available.
Sunday morning featured a Sprint triathlon with 400 athletes participating. 400 "Sprint" athletes ran into the water. Swimming 750 meters, biking 13.1 miles, and running a 5K. Sunday athletes enjoyed their own post-race party, of beer, food and awards.
The races are grueling. Athletes train for months to participate, training for a variety of reasons. Some to win, some for their best personal time and for some it's a personal goal on their bucket list.
OBSE particularly thanks our remarkable volunteers, (AKA "race crew"). Their energy and efforts are a major factor in the success of the Outer Banks Triathlon weekend.
Planned and hosted by Outer Banks Sporting Events, This race was made possible by hundreds of volunteers and the support of the Outer Banks Visitors Bureau, as well as loyal sponsors.  OBSE sincerely thanks all who give their time, donations, and efforts to make this event possible.
100% of the proceeds from this event is shared by two local non-profits: the Dare Education Foundation, working to maximize student potential by providing resources to benefit students and teachers in all Dare County Schools, and the Outer Banks Relief Foundation, providing financial assistance for families in crises.