Reduce, Reuse, Recycle
By Jeffrey Ballard, GC –
Historically, Americans have been a "disposable society"–out with the old and in with the new. But lately the trend is to "go green" and the focus is on reducing, reusing and recycling the things we already have. As a builder, I see one way to go green is by reusing buildings and building products.
Historic restoration, and restoration in general, is not just for the early 1900s farmhouse out in the country, but can happen here on the beach, as well. I've seen many old buildings ripped down that might have been saved and restored. The Carolinian Hotel and The Coastland Times building are just a couple of examples.
Recently I was hired by the Dare County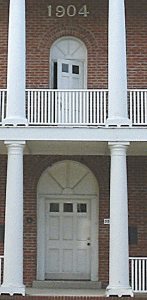 Arts Council to help renovate and restore the first floor of their location in Manteo, the historic Dare County Courthouse.
The Courthouse, built in 1904, most definitely has its own set of older building problems and deficiencies, yet it's not only historic, but structurally sound. Years of "updating" the building by paneling over brick walls, painting over woodwork and drilling holes through walls for telephone and computer cables has taken a toll on its old school integrity.
For me, there is nothing more satisfying than to take a well-constructed structure that is showing its age and making it shine again. It's a win-win; the community regains the gem at the center of town, and we've saved valuable resources and reduced our carbon footprint in the process.
In my experience, restoring structures 50 to 100 years old could have more value than building something new. Typically, homes from the 1900's to the 1960's were constructed well, which means that if it is given a little TLC, that home could be around even longer than a structure that's 50 years newer.
Here on the beach, one way to reuse may mean relocating the structure. This process isn't as hard or costly as you might think. It does my heart good to see an old Nags Head style cottage being trucked down the road to a new location. Rescued from a dangerous spot on an eroded beach, a little piece of history is picked up and set on a new (and drier) piece of sand to live a new life out of harm's way.
Some folks thought it was silly when the "Nights in Rodanthe" movie house, Serendipity, was saved from the ocean by moving it. They said why waste all that time and effort when you could build a new one for the same cost? But that's exactly the point! Why not save our resources at no extra cost?
Sometimes I am hired to make something new look old – it seems there is a taste for the old style. These days we can use technology to research and find information on how to recycle and restore and old item, or to find some new old item to use in our new or renovated space.
I recently worked in a home whose first floor was paneled with knotty pine paneling salvaged from the old Carolinian. For the same cost as installing new paneling, the owners were able to save something else from the landfill, and preserve a bit of Outer Banks history.
The recent crash of the housing market is an example of how the old "disposable society" paradigm ran into trouble. Many homeowners could have repaired or added on to their current homes for less cost in the long run. Most of the new homes being built weren't necessarily needed, just wanted. It seemed no one wanted to deal with the remodel process when it was easier to borrow what seemed to be free money for something shiny and new.
Not all structures can be saved, and renovation isn't for everyone, but don't give up on your old building without trying. Get some professional advice. There are local builders that specialize in and are qualified to do this type of construction.
Many companies competing for work have dropped their pricing on remodeling these days, making it more affordable. We have some brilliant designers here on the beach who can help you with reworking your space or entire home, inside and out.
If you're willing to put up with a little mess and some displacement, the end results should be more than satisfying. Always compare prices and go in with a plan…and hiring a local contractor is never a bad idea.
Jeffrey Ballard is a local licensed building contractor and the owner of Ballard Custom Designs, a division of B&B Contractors. Contact him at 252-489-9551 for questions, quotes or consulting. Check him out online at www.ballardcustomhomes.com.