Raising Will Ferrell (Every Night Live!)
By Lindsey Beasley Dianna-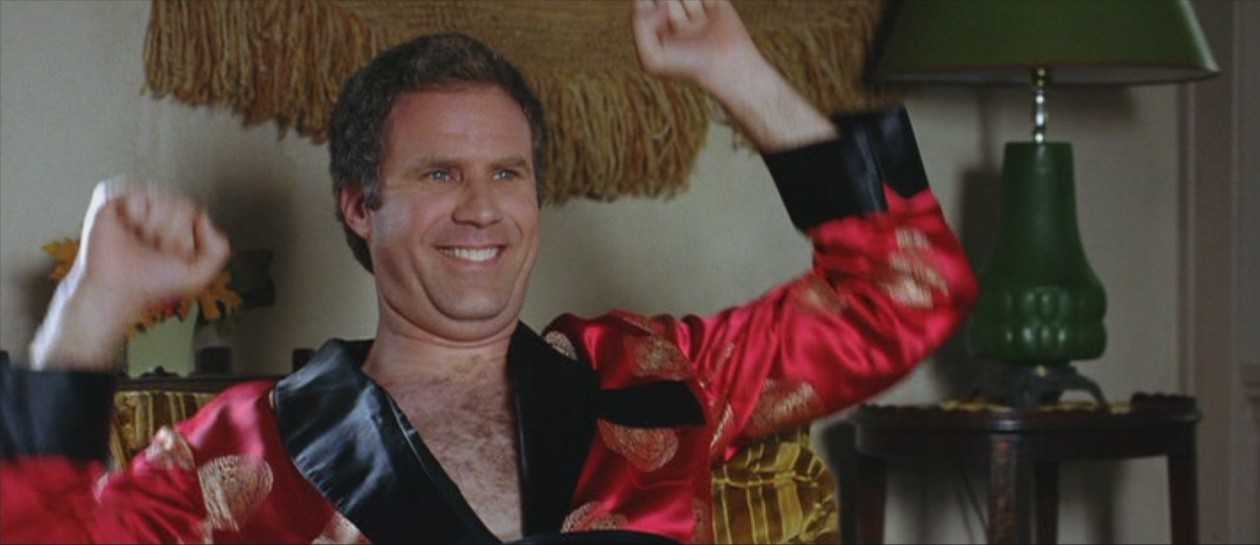 My youngest child has recently turned two, and while I've "been here, done that" twice before, it's kind of like watching the conclusion of a predictable trilogy—even though you know what's coming, the raw intensity of this stage is not something one tends to get used to. Plot twists and character development keep me on my toes, but there is a definitive theme emerging. Two is an age that is ridiculous, hilarious, outrageous and possibly offensive—all descriptors, not coincidently, which describe Will Ferrell's greatest comedic roles. We are all characters in our own undocumented reality show, Raising Will Ferrell: The Terribly Hilarious Twos.
The more I look at my blue eyed, curly haired kewpie doll in action, the more I see a miniature female version of Ferrell's movie and television characters. There's a lot of yelling and thrashing about, and even though you think you're being yelled at, you're still highly entertained. Let's explore some similarities.
One of the movie Old School's more memorable scenes showed Will Ferrell's naked hiney as he jogged down an empty street at night, proudly announcing: "We're going streaking!" In my house, there's usually not an announcement, and the event may or may not follow the moment she strips down and then rips off her diaper, hurling it across the room, probably in my general direction.
There's the infomercial spoof from Saturday Night Live that promotes Ferrell's sure-fire method for training his dog, based entirely on shaming and humiliation. I'm realizing that not only have I implemented this same strategy with my own dog, but that little people have been taking mental notes and are now using said strategy on me when I attempt to lay down the law: "No, Mama! You sit! Bad girl, my cookie! This notcho milk! Uh oh, nonononono. Sit down, Mama. No barking!" and so on.
When my two-year-old is trying to convey a point she channels a scene from Anchorman with a nonsensical monologue complete with indecipherable curse words and violent hand gestures. Her physical comedy reminds me of Saturday Night Live's cheerleader sketches, where someone is usually hurling themselves every which way in the direction of imminent danger.
The most striking resemblance, as of late, has been to Ferrell's character in Wedding Crashers, earning my youngest child the nickname Chazz. There is a particular scene (YouTube it—you won't be sorry!) in the movie that aptly describes most mealtime scenarios around here: A middle-aged, hairy man-boy in a velvet robe councils a desperate man on the nuances of picking up women at funerals, entertaining his company in his mother's house where he resides—as he puts it, "Living the dream." He decides to offer his company some food by barking orders at his mother without enunciating clearly, cussing and screaming:
"Hey Ma! Bring us some meatloaf…HEY, MA! THE MEATLOAF! WE WANT IT NOW! What is she even DOING back there…I never know what she's doing…MA, THE MEATLOAF! F&%$!"
Aside from costume changes and the entire movie plot, the resemblance to Mealtime Reign Of Terror in my home is uncanny. The equivalent version of my house for at least 80% of my very own Chazz's meals:
Chazz: "Hey-yo, Mama! Gimme Eggo, wight now!"

Me: "Ask Mama nicely. Say please."

Chazz: "HEY MAMA GIMME EGGO NOW! YOU GIVE IT ME! NOOOOOW! PEEEEEASE! WHAT DA HECK?!?"

Me: "Use your whisper voice. Nemo is sleeping. Anna and Elsa are sleeping. The doggie and kitties are sleeping. Everyone in the whole world is sleeping, so shhhhhh. Say please quietly."

(Full disclosure; nobody is sleeping. This is a lie I tell her dozens of times a day when I'm trying to turn down her volume.)

Chazz, in a strained whisper-shout, with one eyebrow arched in protest: "YOU GIMME EGGO AND COOKIE AND DRINKIE NOW MAMA PEEEEEASE. NO TALKA ME YOU NO LOOKA ME! GO-WWAY!"

Me: "I don't negotiate with terrorists. Stop yelling at Mama. Be sweet. Use a gentle…"

(Lindsey, just look away—disengage, disengage!)

Cherub: "Sweet, sweet! I wuv you much."

Me: "I love you, too, you little…"

Sailor-in-Training: "WHADDAFORK? DAMASHOOT! MY DRINKIE! Eggoeggoeggoeggoeggo. WELCOME. TANK YOU. MINE!"
I still can't tell if I won or lost that battle, which sums up the "terrible twos" pretty nicely.
In my improvisational theater cafe, the biggest challenge in playing the role of Mom is keeping a straight face. If I slip up and crack a smile while she's wagging her finger in my face and reading me the riot act in her own language, I'm dead meat. I'm inviting her to bring it on, and I see in her eyes the reflective glow of the neon "Applause" signs, for her family, her live studio audience.
Each time one of my children has reached this age I have seriously contemplated moving to Hollywood so that I could at least make a profit off of what was happening. Unfortunately, I'm pretty sure that I would be a hideous stage mother in the face of ugly competition, because nobody puts Baby (Will) in a corner.