There's a Chill in the Air
By Phyllis Cole/Photo by Lori Douglas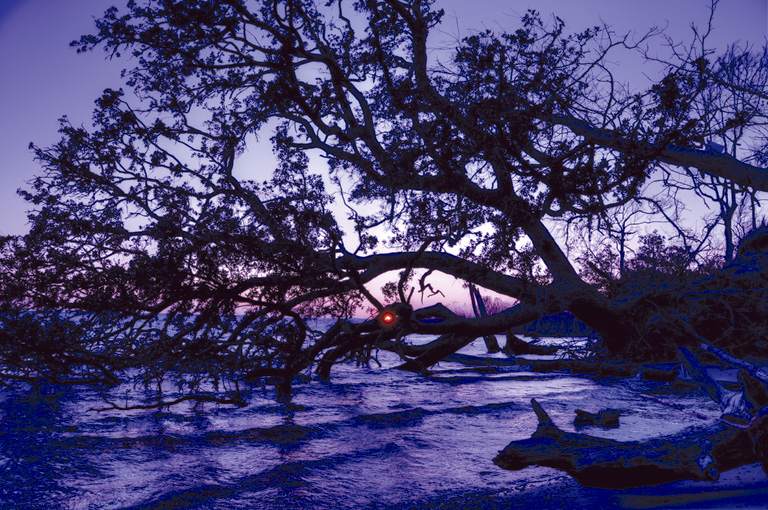 Fall weather always elicits a certain chill, and not just from the weather. The romantic coastline of the Outer Banks lends itself well to ghost stories. The windswept dunes, the crashing surf, the elegant lighthouses, pirates, shipwrecks and old graveyards all conjure images of ghostly apparitions and their inexplicable comings and goings. As far back as the Lost Colony, these tales and lore have served to inspire chills and thrills.
Local Lore
Virginia Dare was the first English born child in the New World. As a member of the Lost Colony, her true fate is unknown. But, legend has it that she was turned into a white tail deer by a scorned lover who was also a sorcerer. One myth says she continues to frolic as a deer in the woodlands of Roanoke Island.
Nags Head sported the famed Seven Sisters duneline at MP14. The Seven Sisters appeared after a group of seven African slave women were freed at the end of the Civil War. Wishing to return to their homeland, they packed up and disappeared without a trace one night. The next day a huge storm came ashore and left seven large dunes in its wake, and the locals named them after the seven women who disappeared that night.
The Gray Man of Hatteras is the spirit of a man who drowned in a hurricane in the early 1900s and only appears at the Lighthouse when a storm is coming. And, of course, there are always tales of beautiful young women in flowing white gowns wandering around the Outer Banks lighthouses or Life Saving Stations waiting for their men to return from the sea.
A Hair-Raising Good Time
For those who'd like to delve into the Outer Banks ghost lore a bit deeper, there are spooky tours available to put a shiver in your timbers. Ghost Tours of the OBX, out of Manteo, offers three different options for a fabulous fright night: Ghost Tours of the OBX, Graveyard of the Atlantic and Ghost Tours, Too. Their website at www.ghosttoursoftheobx.com has all the details for a chilling good time.
The Whalehead Club in Corolla offers daylight and evening versions of their famed Ghost Tour. Their website at www.whaleheadclub.org recommends a flashlight for the evening version.
No matter the tale, most ghost stories have their basis in tragedy or tales of heroism. The Outer Banks offers an atmosphere that's conducive to the telling of scary tales, and this fall is the perfect time to get your spook on!