Outer Banks-A Caring Community
Sawyer Sanchez is 16 years old, a junior at First Flight High School. He loves fishing and surfing…and he has AML—Acute Myelocytic Leukemia. It is a condition that will require a bone marrow transplant and the community has responded, coming out in force at First Flight High School to offer Buccal swabs—a saliva swab taken from the cheek—to see if there is a match.
The disease was found this summer when he was visiting his grandparents in Albuquerque. There was nothing particularly odd or different about his illness at first, according to his father, Dr. John Sanchez. "At first it was just sore throat and fever and it just didn't get better. And he just kept getting worse and just kept getting tired," he said.
The bloodwork came back, indicating a problem. "Sawyer was diagnosed with leukemia about six weeks ago," Dr. Sanchez said.
Sawyer seems to be responding to his care, although it may be a long journey to full health.
"He's had one cycle of chemotherapy treatment followed by a bone marrow biopsy and he's done very well," Dr. Sanchez said. "Most of the leukemia is gone through his bone marrow. He'll still have to go through at least one more cycle of chemotherapy in the hopes he'll go into remission."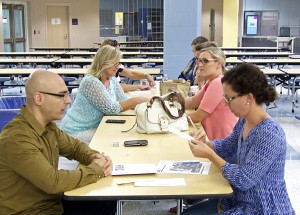 That is certainly good news, but AML is an aggressive form of the disease. "Once he's in remission his type of leukemia is pretty tough to treat," Dr. Sanchez said. "So once he's in remission he goes quickly to a bone marrow transplant and as long as there's a match somewhere, then that process goes quickly."
And that is where the problem may lie. "The worst thing that can happen is that if he is in remission and there is no match and he'll have to continue (taking treatment to remain) in remission," Sawyer's father said.
A bone marrow match is far more complex than matching blood types, Bettsie Letterle of Be the Match, of the National Marrow Donor Program, explains.
"It can be extremely difficult," she said. "A matching donor is not a blood type match, it is a tissue type match. There are eight blood types out there, but there are thousands and thousands of tissue types. So it's like finding a DNA twin."
Although family members have the best chance to match tissue type, even that is a long shot. "They'll look at brothers and sisters as the best possible match. Brother and sisters only match about 25% of the time," she said. "And then they'll go to the registry (looking for a match)."
The swabs the volunteers are giving in support of Sawyer will go into a national data base so that if someone does need a bone marrow transplant almost anywhere, there is information available.
Sawyer's grandmother, Jacque Alameddine, was on hand, coming from Albuquerque to lend a helping hand. She sat at the entrance to the school cafeteria where the samples were being gathered and talked about how her grandson was doing.
"He has good days and he has bad days, but he's unbelievably positive," she said.
She tells a story about Sawyer and Sara Lee, a therapy dog at King's Daughter in Norfolk, where he is getting treatment. "Saywer wants to be a vet," she said. "He and the dog really have a connection. He's been teaching her new tricks."
"He's trying not to focus on himself but on other people and the things he loves," she went on to say. "He is a remarkable young man."