Off Beat Beers for an Oft Beaten Palate
By Eric Reece – 

There's a beer for every taste, especially when summer comes around.
Let's face it IPAs are the draught horse pulling the craft beer cart. And that's fine, I love big hoppy beers, but summer is upon us and I—call me weak—need something a bit different going on to beat the heat.
That's the beautiful thing about beer: it's brewed all over the world with a style to match every climate, temperature, mood; you name it there's a beer for it. That being said, and brewers being the adventurous spirits that they are, there are some wild brews available that pair wonderfully with the Outer Banks humid swamp summers. Granted, I had to range out a bit from our Tarheel state for this one because some of the more esoteric styles and creations never make the package form and are found only on tap at your local brewery—so check it out!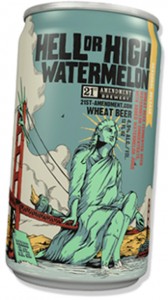 Hell or High Watermelon Wheat Beer—21st Amendment Brewing, San Francisco
I'm not a fan of over-the-top fruit flavors in beer but this one is subtle enough to be enjoyable, not too much in the aroma department but you can taste it, and the wheat beer underneath is decently carbonated, tart and crisp. (4.9% alcohol by volume)

Raspberry Window Pane—Mother Earth Brewing, Kinston, NC (limited edition)
This is expensive and in big 750ml bottles but if you enjoy a complex wheat beer this will light your fire because behind the raspberries are definite oak, chardonnay, and pinot noir tones from the barrel aging. (8.3%)

Ta Henket—Dogfish Head, Delaware (750ml bottle)
By far the wildest beer of the bunch this beer was brewed from ancient Egyptian hieroglyphics and middle eastern ingredients! I can't begin to explain za'atar , doum fruit or emmer farro but this nuttiness is actually very drinkable with a pronounced chamomile twang to it while being light and refreshing. (4.5%)

LemonGrass Wheat —Outer Banks Brewing Station
You'll either love it or hate it, but you will definitely have an opinion because this is an exceptional Bavarian style wheat beer infused with pure organic lemongrass oil intensity that gives it an edge when it comes to pairing with spicy or Asian food. (5.2% )

Aventinus—Doppelbock  Wheat—Schneider Weisse, Germany
I had to include this classic dark wheat because it has the perfect balance of malty sweetness with that wheat flavor along with those German yeast banana and clove esters while being light on the palate but providing a whollop at 8.2 % alcohol.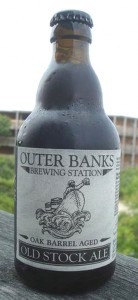 Vitus Reductus Porter—Outer Banks Brewing Station (limited edition)
The most intense of the group is the fourth release in Brewmaster Scott Meyer's Barrelage Run series,Vitus Reductus Porter is artfully blended from a smooth, rich stout with a wine-barrel aged strong ale fermented with Brettanomyces Lambicus and primed with a reduction of North Carolina grown Muscadine grape juice. A complex aroma reminiscent of black pepper and leather rises over a core of caramelized grapes and is balanced with a chalk and slate-like texture that lingers. (8.5%)
With co-owner Aubrey Davis, Eric Reece opened the Outer Banks Brewing Station in 2001, bringing innovative brewing and revolutionary cuisine to the Outer Banks. Eric can be reached at 252-449-2739 or thecrew@outerbanksbrewingstation.com.