NC History of Surfing at Jennette's Pier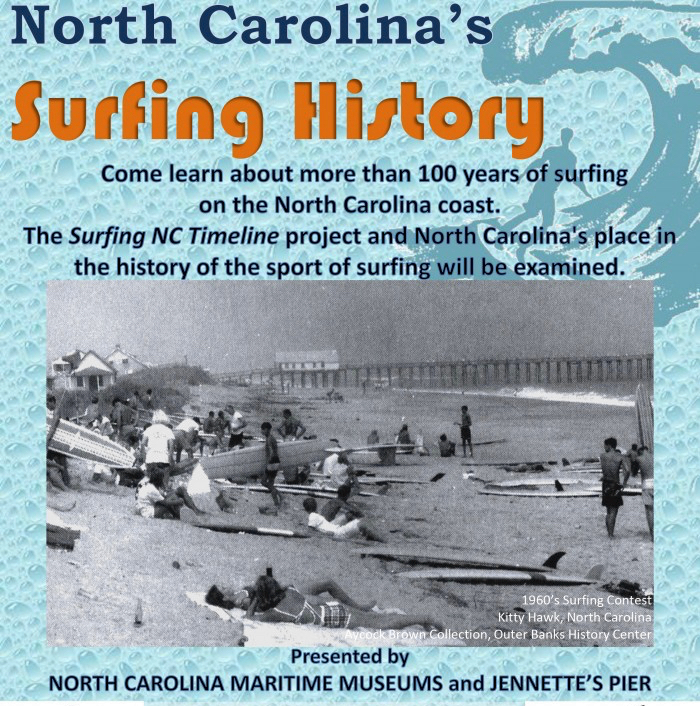 A first person to surf the waters of North Carolina certainly exists, but as John Hairr Education Curator for the North Carolina Museum of History explains,"We don't know who the actual first person was and I guarantee we never will know." What his research has shown, though, is a longer history of surfing that has originally been suspected.
"North Carolinians have been engaged in surfing for a really long time," he said.
The Wednesday evening presentation by the North Carolina Maritime Museum of the state's surfing history was a fascinating look into a slice of local stories and lore that seems to have been largely overlooked by historians.
There is no smoking gun, no letter that says, "Hey we had a great time surfing on the Outer Banks in 1902." What there is, though is a surprising amount of circumstantial evidence pointing to early 20th century activity.
In 1894 an article in the Watauga (Boone County) Democrat the writer reports that on a vacation trip to Wrightsville Beach he observed people ". . . riding the waves."
Even more compelling is a 1917 postcard from Wrightsville Beach that shows someone sitting on what appears to be a large wooden board. Although that would seem to be definitive proof that surfing had arrived in coastal North Carolina at the time, Hairr is careful to cite the image as definitive.
"The . . . thing that makes this problematic, and you can't say with 100% that they were surfing out there, back around the turn of the 20th century, they would substitute scenes from different photographs. What they would do is basically cut and paste," he said.
If there is no definitive evidence pinpointing when surfing came to North Carolina and the Outer Banks, by the 1950s surfing was a part of the summer scene and by the decade of the 1960s it was well-established throughout coastal North Carolina.
In the 1960s professional diver and historian, Jim Bunch, who has written about his dives on U85 and the discovery of a Nazi enigma machine, was a college student with a camera, a love for surfing and on summer break from University of Miami.
"I started surfing down at Kitty Hawk Pier the summer of 1964. Then . . . after that there were lots and lots of surfers out there in 64, 65, 66," he said.
In the summer of 1966 an active hurricane season created ideal surf conditions and surf legend Dewey Weber came to the Outer Banks.
"They were down at Kitty Hawk Pier on an especially good day," Jim recalls. He had his camera ready and the footage, although a little grainy is remarkable.
The break was long and even that day with wave heights that looked about 5-6'. Everyone was on longboards—9/12 to 10'. Shortboards hadn't been invented yet. The skill of Dewey Weber stands out as he dances out to the end of his board then back.
Bunch's film was a precursor to the fame that would come to the North Carolina surf scene. The following year Atlantic Surfing magazine featured the southern part of the state in an article, and by the 1970s North Carolina was a regular part of the competitive surf world.
The more recent surfing history was discussed by Ben Wunderly, the Associate Museum Curator for the Maritime Museum.
A consistent theme that seemed to run through his discussion was how innovative the local residents were. Not always able to afford their own boards, they took to making their own, and juniper, naturally water resistant and light in weight became the material of choice.
An ad placed in the Coastland Times has the late author and real estate developer David Stick selling juniper surfboards as early as 1951.
Wunderly also talked about Hatteras Island pioneers. He talked about Buddy Hooper, Johnny Conner, Doug Meekins and John Ochs in the 1960s.
"I talked to Buddy and he said they tried out some hand me down boards. Surfing was already on Hatteras Island,"he said,noting that surfing was already a part of Hatteras Island.
Hooper got his first real board after a trip to Virginia Beach, but he and his friends felt there were other ways to get the boards they need.
"Being the creative kind of guy that he is, and the resourceful Hatteras Island nature that exists down there, he decided he could make his own surfboard. They did that for a little while and were selling them at Conner's Market in the summer time," Wunderly said.
The history of surfing in North Carolina is an ongoing project and Wunderly and Hairr continue to research the subject. Both researcher can be reached at at the North Carolina Maritime History Museum at (252)728-7317.