Mid Currituck Bridge-A Troubled Future
By Kip Tabb –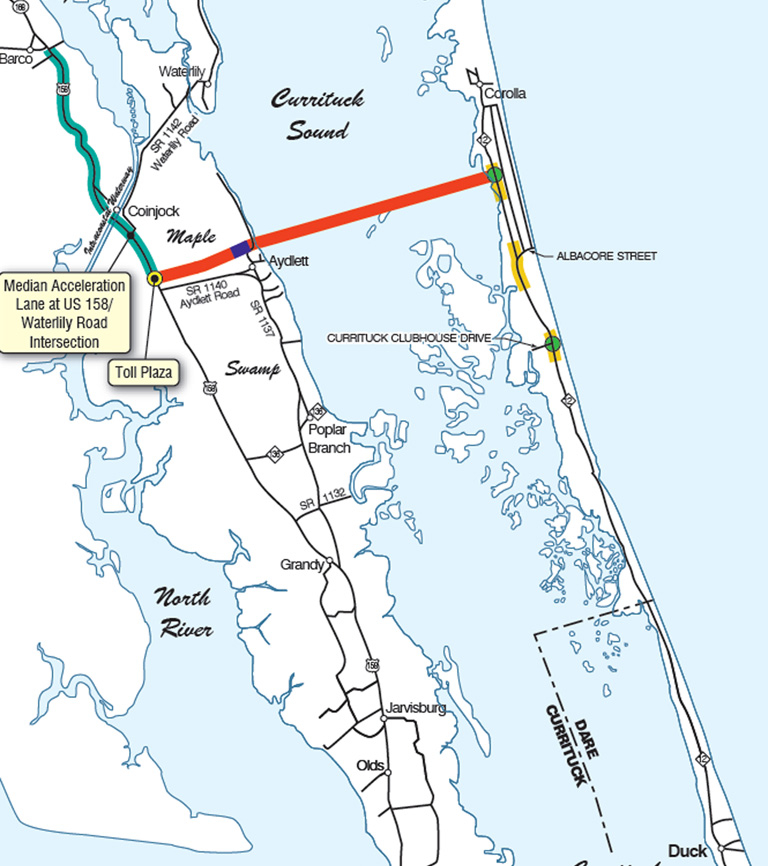 It looks like the Mid Currituck Bridge is dead in the water–or perhaps dead and not crossing the water, although a final decision has not yet been made.
In some form of planning for over 20 years and first conceived in a 1978 planning document presented to Currituck County, proponents of the bridge feel it would reduce traffic entering and exiting the Outer Banks in the summer and significantly decrease evacuation times.
The recently passed Strategic Transportation Investments (STI) Law requires NCDOT to evaluate all state projects based on nine criteria:
1. Benefit cost.
2. Congestion.
3. Safety.
4. Economic competitiveness. 
5. Freight.
6. Multimodal.
7. Pavement condition. 
8. Lane width.
9. Shoulder width. 
The project is then rated on a scale of 1-100 and ranked accordingly.
The Mid Currituck Bridge scored 23.4 points out of a possible 100, placing it 178th on the list of state priorities.
There are also separate regional and divisional rankings. The bridge project did not fare much better in them.
The evaluation document is complex and will take a time to fully analyze. As an example, safety is a part of the evaluation but the factors that go into the 49.97 rating are not indicated.
The evaluation just issued by NCDOT is a preliminary finding and public input and additional study will be included in the final ranking due out in June of 2015.