Manteo Welcomes OBX Springtime
What a great way to kick off springtime on the Outer Banks. April first was the premier First Friday of the season in Manteo and with a couple of ribbon cuttings, mild weather and some great music the season got to as good a sendoff as there could be.
Belinda and Juraj Pleva had been working all week to make sure their newest Big Buck's Ice Cream was ready for the 4:00 o'clock ribbon cutting. Belinda admitted she was pretty beat, but it all seemed worth it.
Unlike their other two locations at Buccaneer's Walk in Kitty Hawk and Timbuck II in Corolla, the Manteo location on Sir Walter Raleigh Street has a little bit more of a coffeehouse feel. All the wonderful daily made ice cream and sherbets were still there, of course, along with a full array of coffee drinks.
It didn't hurt that the opening special pricing was $1 on everything. And yes, the butter pecan ice cream was pure delight.
An hour later, Cory Hemilright cut the ribbon on his Bluegrass Island Store in the Phoenix Shops in Manteo—a box-office storefront that Cory felt had become a necessity as the festivals and music he is promoting has become more popular.
He noted that when he first came to the town of Manteo with his Outer Banks Bluegrass Island Festival idea, he was thinking it would be a nice small festival in the fall. "But it's now the premier bluegrass festival out there," Cory said.
The 2016 Festival is September 21-24 this year.
After the ribbon cutting Drifting Sands stood in a played a few tunes. Fantastic musicians, when they get together it always seems more like a group of friends getting together and having some fun with music. The sound is tight and the harmonies are on point, but for some reason it never sounds rehearsed.
About the time the banjo cake was all consumed at Bluegrass Island, First Friday had officially begun.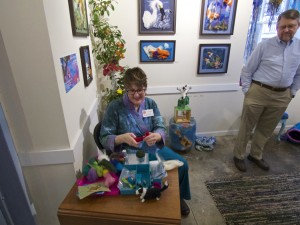 The evening was overcast but mild—perfect for strolling along the waterfront of Manteo.
The Dare County Arts Council always uses First Friday to showcase their artist of the month in the vault at the old County Courthouse. For April it is Valerie Johnson's "Wool & Whimsy" an amazing example of what can be done with wool felt and some imagination. Really worth checking out.
Stopped by the outdoor taco table at Ortega'z and for a $3 tuna taco—which was very tasty, talked to some friends and headed home.
A wonderful way to start thinking about how great the spring and summer can be on the Outer Banks.