Maggie Cox
By Cathy Baldwin –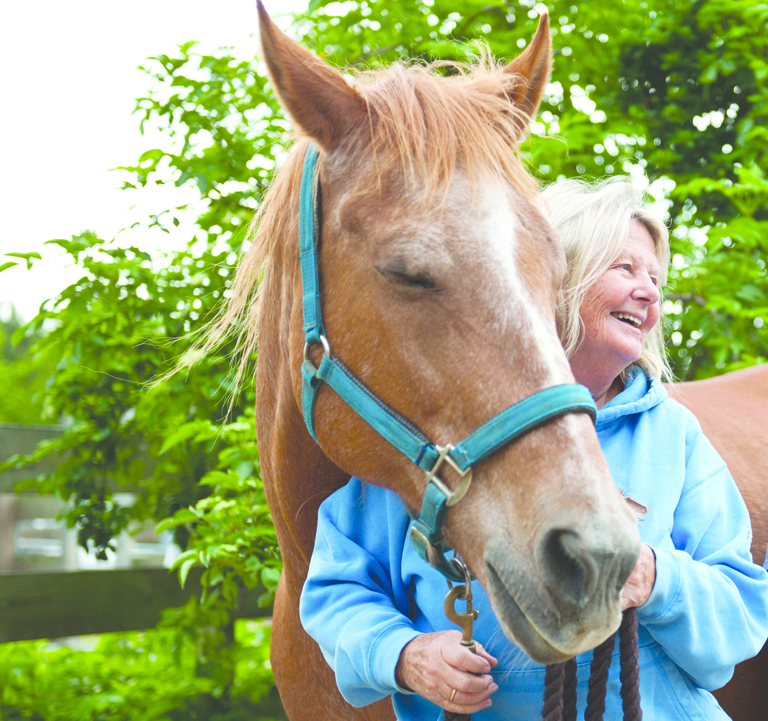 Natural Style and Savoir-faire
Maggie Cox has a gentle way about her. Her voice is soft—the tone almost lyrical—with a blended British and Australian accent. She ends most sentences with "Love". Her eyes are warm and her smile genuine. And on the day we meet she's heartbroken.
Her beloved black lab is very ill and won't make it through the day. "I had a rough night last night, love," says Maggie, as she tells me she spent the night by her dog's side. She's close to tears at times during our conversation, and takes a few calls from her husband Jeff and the veterinarian. Maggie's love for animals runs deep; in addition to her dogs, she's a champion of the local SPCA, and shares a stable of seven horses with her dear friend Caroline.
I've known Maggie for years, and I've always been curious about her story. She's had a string of fascinating careers, launched several successful businesses, lived in numerous countries and traveled the world over. Yet she's most comfortable caring for her horses or doting on her granddaughter Kirra.
Born in Scotland to a downed Australian WWII Spitfire pilot and his nurse, even Maggie's birth started her off down an unusual path. The family moved back to Sydney, Australia, where they raised Maggie until her adventurous spirit took hold. "When I was 21, I went on a grand tour," says Maggie. She settled in London and found work as a nurse.
Eventually she took a job at the famed, high-end London department store, Harrods. The higher ups noticed her style potential and sent her to school to study Persian rugs, Swedish glass and how to pair antiques with modern furniture—tools that she would find very useful later on in life.
Still finding her way in the world, Maggie switched careers again. "I cooked and worked in the store at Cranks (a wholefoods vegetarian restaurant)." Cranks was a hugely popular London restaurant, and is credited for having a major influence on the popularity of vegetarianism. "I showed Yoko Ono and John Lennon what types of food to buy," recalls Maggie.
On a vacation in Corfu, Greece, Maggie met her husband Jeff. He was in the Air Force, stationed in Pakistan at the time, and also on vacation. Their love of traveling made them a perfect pair: the two spent an entire year to explore the world. "We went from Australia over land all the way to London," she recalls. "We went through all of the countries you can't get to now." After what Maggie calls a "short courtship" the two moved to the United States, first to Annapolis and then to Charlottesville.
"I got into the restaurant business in Charlottesville," says Maggie. "I owned the Blue Moon Diner and managed The Virginian in its heyday."
It was in The Virginian that Maggie had a chance encounter with a J.Crew distributor and a business was born. "In the early days I sold it (J.Crew clothing) out of the basement of The Virginian," she recalls. Before long, business was booming.
She named her stores Barr-ee Station. "It's an Australian Aboriginal word for mountains, and I had a dog named Barr-ee," says Maggie. "We had two Barr-ee Stations in Charlottesville, Charleston, Harrisonburg, Norfolk, Virginia Beach—ten stores at one time."
Just three days after her son Colin graduated from high school, Maggie and Jeff packed up and moved to the Outer Banks to focus on Barr-ee Station in Duck. The Waterfront Shops are her domain; at one time she owned Duck's General Store, Island's, The Kid's Store and The Ice Cream Store.
In recent years Maggie has downsized the scope of her business ventures. I ask if the economy has been to blame. "No, I've really been able to ride out the economy," she says. "I closed most of the stores by 2010 because I was tired of traveling. I wanted to be home on the Outer Banks."
These days Maggie tends to Barr-ee I and Barr-ee III. Her son Colin owns Barr-ee II in Kitty Hawk, which is a surf and skate outlet. Barr-ee I, her 23-year-old store in Duck's Waterfront Shops is now a boutique with clothing, shoes, swimwear and brand names like Eileen Fisher. Barr-ee III has recently moved from Poteskeet to the far end of the Waterfront Shops. Maggie likes to keep Barr-ee III as more of a clothing outlet that also carries eclectic furniture and gifts.
She's loved her adventurous life, but now—nearly at retirement age—Maggie's finally considering settling down. "I need more beach time!" she laughs.
As our time together comes to a close, Maggie stands up and bids me good-bye. "Do you really think there's enough interesting stuff to write about, love?" I just smile and tell her not to worry.