Jug Tucker Live—A Review
By Kip Tabb –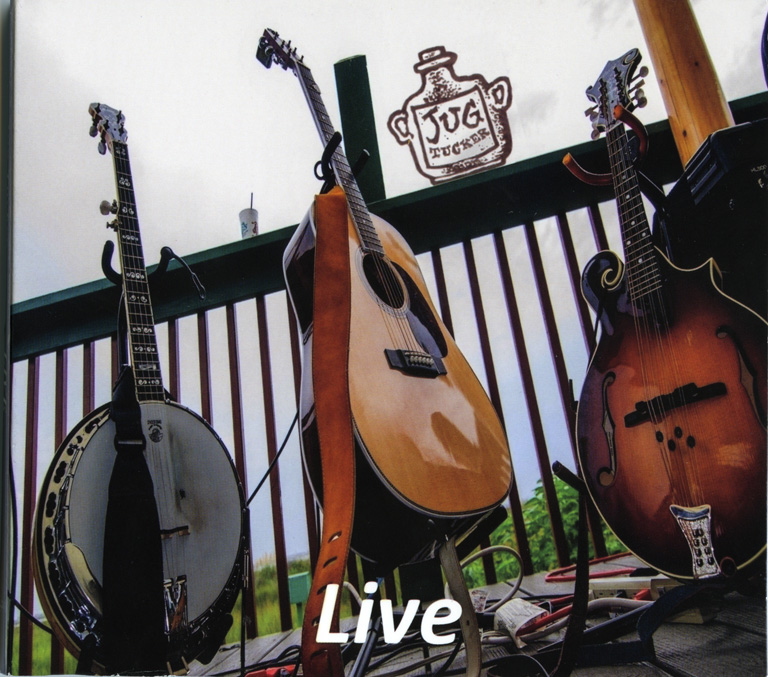 Over the years I have discovered that I do not have a favorite type of music—well opera gets on my nerves sometimes, but other than that, I really don't have a favorite. What I do look for in music is skill and innovation, and it doesn't hurt if the musicians seem to enjoy what they're doing.
Which is probably why I like Jug Tucker so much. And everything that is best about them comes out on their latest CD, Live . . . recorded live, interestingly enough, at Pamlico Jack's in Nags Head.
Definitely a bluegrass band with a little country thrown in, the trio (just three of them) genuinely seems to be having fun. At Pamlico Jack's, front man, Mark Criminger, kicked the evening off telling the audience they were recording for their new CD and to "clap and what not and punch the guy next to you and tell him to clap a whole lot." Followed with, "If necessary, we'll buy him a beer if that will help him do that."
The real draw to Jug Tucker, though, is just how good they are. The band consists of Mark Criminger on guitar, mandolin and lead vocals, his wife, Sherri, on upright bass and vocals, and Ed Gee playing banjo, guitar, mandolin and vocals.
In some ways, bluegrass is a musician's music. The melody lines tend to be fairly simple and straightforward, it's what is happening behind the melody that makes this music come alive.
A song like "Ginseng Sullivan" is about as traditional as it gets, but with a wonderful mandolin lead framing the verses it becomes a story of loss and longing. Then there's "Hot Turkey" which Mark describes as "Turkey in the Straw" in a minor key—and it is.
There are always going to be some favorites on any compilation and that is the case with Live.
"Cold Pickles" really appeals to me, probably because I play a mandolin, and in my dreams I could pick something as fast and clean as Mark plays the piece.
Caricatures of bluegrass have always made bluegrass out to be simple music stuck in some 100 year old time warp, and it has never been that. "Alabama Jubilee" with Ed Gee's classic banjo picking played over a series of jazz chords from Criminger's guitar is a great indication of what can be done with bluegrass music and the direction in which it is headed.
The thumbnail description of the CD then? A great example of bluegrass music with a little twist and a lot of fun.
Jug Tucker will have their release party tonight, April 5,  at Kelly's Outer Banks Tavern. Should be a good time.