Joe Papp in Five Acts
Review by Kip Tabb –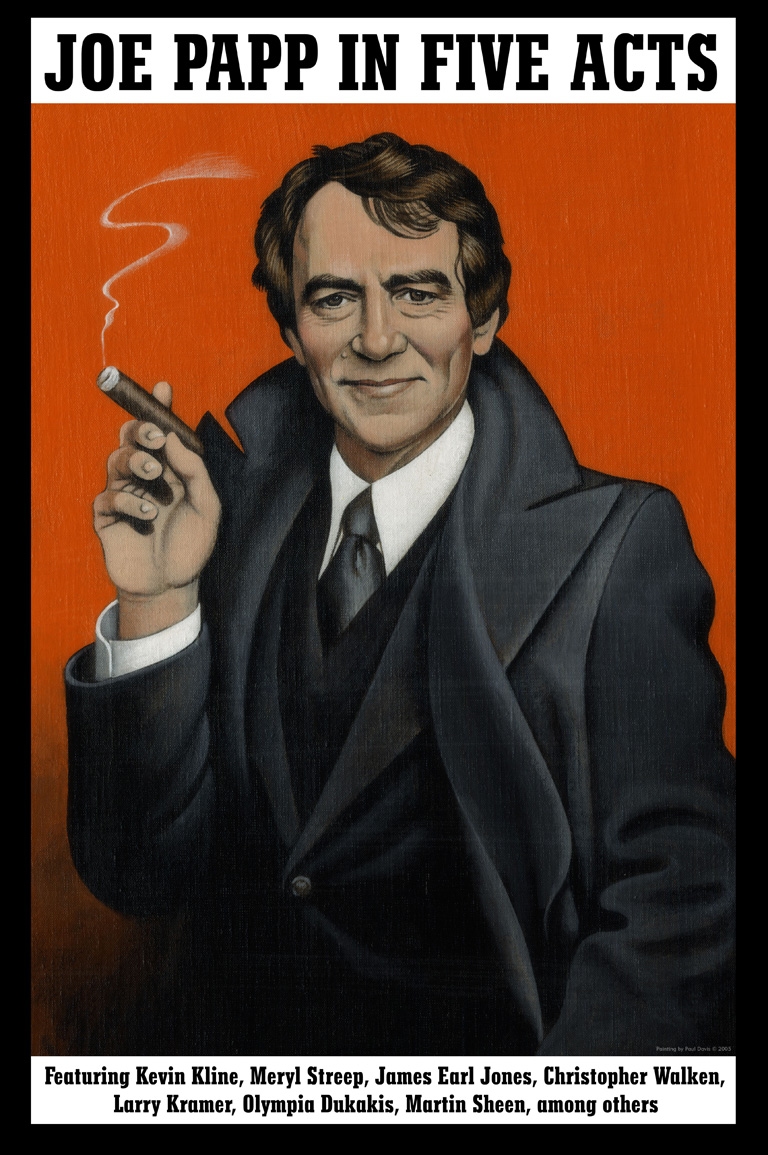 Opening tonight, the first film in Southern Circuit Film Festival sponsored by the Dare County Arts Coucil, Joe Papp in Five Acts is a compelling, fascinating examination of a man who was at once heroic yet extraordinarily imperfect.
The movie is documentary in style and biographical in content, yet it moves  with the intensity of a well-paced psychological thriller.
Joe Papp emerges as a man driven to create free theatre for everyone in New York—a man who takes his concept to almost all of the boroughs of the city (there's no mention of Staten Island). He fights City Hall and wins. His dream expands and it grows beyond even his wildest imaginings.
At the core of this success is a man who recognizes the importance of theatre in every day life—how it is transformative and how it informs and entertains. "Joe understood Shakespeare from the neck down," Meryl Streep says in the film. And a clip of her performance as Kate in Taming of the Shrew bears that out. The clip is bawdy and risqué—fast paced and fascinating.
Yet beneath this success was a man in denial of who he was and a childhood lived on the teeming slums of Brooklyn.
He affected a British accent through the first years of his success; but that façade fell before withering criticism of anit-Semitism when he cast George C. Scott as Shylock in the Merchant of Venice.
It was then that he told the world something even his closest friends did not know—that his real name was Joseph Papirofsky, that his parents were Polish and Lithuanin Jews and that he was Jewish.
Producers Tracie Holder and Karen Thorsen go beyond image—take viewers past the veneer of Papp's success and show a man who at times seems almost fearful of the accomplishments surrounding him.
Because he gave playwrights a place to work, his workshops became fertile ground for some of the mainstays of American theater—Hair, For Colored Girls who Have Considered Suicide when the Rainbow is Enuf and most significantly Chorus Line.
Yet as he became more successful, Papp would destroy the very relationships that created the success. He was, in many ways, a character of one of the many plays he produced. "The thing that made Joe great was that he was flawed," playwright Liz Swados says.
Perhaps that is, ultimately, the message of this movie and perhaps the message that comes through so clearly in the plays that Papp produced—that we are all flawed yet capable of greatness.
Joe Papp in Five Acts will be presented tonight at the Roaoke Island Festival Park Theatre at 7:00 p.m.