Jazz for a Good Cause at Kelly's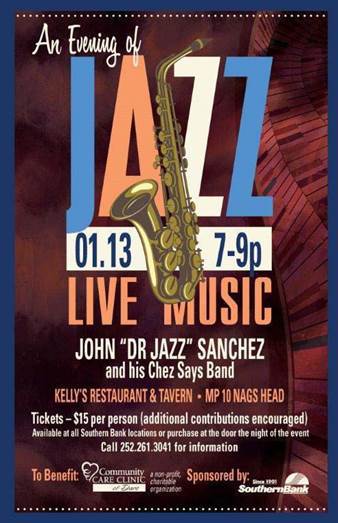 Good music for a great cause…that's what's coming to Kelly's Outer Banks Tavern this Friday night, January 13, from 7:00 to 9:00 p.m.
It's the fourth time now that Dr. Jazz and his Chez Says Band have preformed at Kelly's in order to raise funds for the Community Care Clinic of Dare County.
Dr. Jazz is actually Dr. John Sanchez, a family care physician in Nags Head, but when he's not pulling fishhooks from fingers and making sure families are healthy, he's Dr. Jazz, trumpet player and leader of the Chez Says Band.
The Community Care Clinic is there for the residents and workers of Dare County who, for whatever reason, have fallen through the health care cracks and do not have a health care plan.
"We're a free clinic," explains Rick Gray, Community Care Clinic Executive Director. "We're providing basic care. We're not specialists. We're like the family doctor."
The services that the clinic offers are often the lifeline that allows patients to continue to be a part of our community.
"Two thirds of our patients have an illness that takes ongoing treatment and medication. Diabetes, thyroid conditions. That's a big part of what we do," Gray says.
"There's no one else doing what we we do," he goes on to say. "We only see the uninsured. We are the gap for them."
The Community Care Clinic has been around since 2005, and although it has some paid staff, it also relies on volunteer services from health care providers.
"Dr. Sanchez volunteers one night a month," Gray says. "He's been doing it since we started in 2005."
The Community Care Clinic is not a government agency, and it primarily relies on the generosity of donors to fund its mission. Dare County does provide some funds, but most of the clinic's operating funds come from grants and private donations – and grants are becoming a much less reliable way to pay for the clinic's services.
"Some of our grants have been cut in half. Some by 10%," Gray says. "It's a tough world for nonprofits right now."
Due to the increased difficulty in obtaining grants, fundraisers like this Friday's event with Dr. Jazz and his Chez Says Band at Kelly's are more important than ever, and that's something Gray finds worth noting.
"Dr. Sanchez volunteers his time, and this is the fourth time doing this," he says. "I can't sing his praise enough."
Tickets to this Friday's fundraiser are $15 per person. They're available at all the local Southern Bank locations or can be purchased at the door on the night of the event. Additional contributions are encouraged, and people are welcome to call (252) 261-3041 for more information.
For those who may not be able to attend the event but would like more information about the clinic's services, the Community Care Clinic has two offices. The main office is in Nags Head next to Peak Services at 425 Health Center Drive. Office hours are Monday and Wednesday from 9:00 a.m. to 2:00 p.m. and evening hours on the second Monday of each month from 6:00 p.m. to 9:00 p.m. There is also a Community Care Clinic in Frisco at the County Offices that's open on Tuesday evenings from 6:00 p.m. to 9:00 p.m. Additional information about patient eligibility and registration can be found on the clinic's website.