Hail to the Queen. Bee, That Is.
By Amanda McDanel-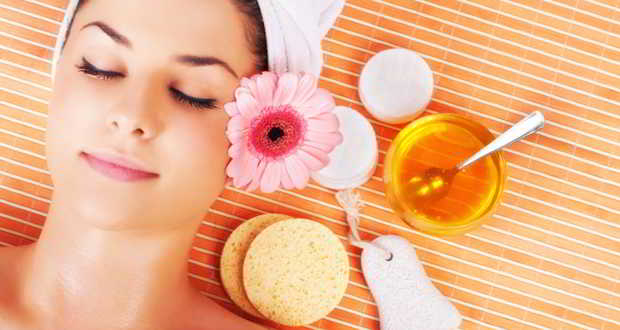 When I was a little girl, I longed to be a princess. So much so, that I got into a long discussion with my mother on how I could actually become a princess in reality: where in the United States do you find an actual titled prince? What were your duties besides sleeping on 12-layered mattresses? If I really kissed that frog in the pond, would I get both warts and a prince? Yet, now that I am a sort-of grown up, I find that it may be more desirable to be a Queen. Specifically, a Queen Bee.
As you have gathered in this edition, we have several Outer Bankers who are colonizing these social creatures in hives and selling or sharing the fruits of their labor in the form of delicious local honey. The Queen, you see, runs the hive—she takes lots and lots of visitors in the form of male bees and the result is the production of a syrupy sweet elixir that has a multitude of uses. (Okay, let's steer this in another direction quickly!) For thousands of years, humans have used honey for its medicinal purposes as well as antimicrobial properties. Whether soothing wounds or curbing seasonal allergies, honey can be the household cure all. The same is true of its presence in the kitchen.
In the South, many people limit honey's uses to that cup of Lipton tea, but in actuality, it is a chameleon of flavors that can swing from sweet to savory depending on the usage. Add a squirt of honey to some apple cider vinegar, Worcestershire sauce, mustard and lemon juice and you have a great BBQ sauce for grilled pork or chicken. Mix a couple of drops of honey into a vinaigrette for a sweet complement to a salad that will have your kids asking for more. Dab a little on hot cooked carrots to create a sweet glaze. Making chili or a spicy soup this fall? Finish it with a drizzle of honey to take it to a whole other level!
One of my favorite uses is so simple that it requires no recipe—simply mix honey into sweet butter: it provides a pleasant, sweet background that highlights the food's flavors. It can be used on sweet potatoes, cornbread, biscuits, pancakes, muffins and even broiled white fish.
Yet, I can't leave you with a non-recipe recipe, can I? How extremely callous would that be of a Queen Bee to entertain all of these bees, I mean ideas, and leave you wanting more? As a gesture of good will, I offer you the most delicious scone recipe that is customizable not only to your preferences, but is also screaming to be topped with a pat of honey butter that will slowly melt and drizzle its goodness down the sides. They are perfect with a spot of tea on your porch while you watch the bees buzzing, the air cooling and say, "Well, hello…" to fall!
Simply Scrumptious Scones

1 cup sour cream

1 teaspoon baking soda

4 cups all-purpose flour

1 cup white sugar

2 teaspoons baking powder

1/4 teaspoon cream of tartar

1 teaspoon salt

1 cup butter

1 egg

1 cup mix-ins (see below)

In a small bowl, blend the sour cream and baking soda, and set aside.

Preheat oven to 350 degrees F. Lightly grease a large baking sheet.

In a large bowl, mix the flour, sugar, baking powder, cream of tartar, and salt. Cut in the butter. Stir the sour cream mixture and egg into the flour mixture until just moistened. (Do not over mix!) Mix in the mix-in combos.

Turn dough out onto a lightly floured surface, and knead briefly. Roll or pat dough into a 3/4 inch thick round. Cut into 12 wedges, and place them 2 inches apart on the prepared baking sheet.

Bake 12 to 15 minutes in the preheated oven, until golden brown on the bottom. Let cool slightly and top with a pat of honey butter.

My Favorite Mix-In Combos:

1. 1 tsp orange zest, 2 T orange juice, 1 cup dried cranberries

2. 1 tsp ginger, 1 tsp cinnamon, 1/2 cup- 1 cup canned pumpkin

3. ¼ cup diced onion, ½ cup crumbled bacon, 1 cup shredded cheese (reduce sugar to 1/3 a cup for this combination)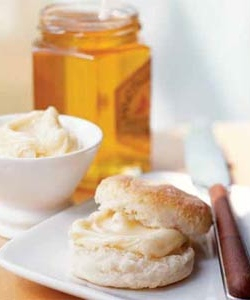 Honey Butter
2-3 Tablespoons of local honey
1 stick of softened butter
Mix room temperature butter with honey until thoroughly incorporated. Wrap in plastic wrap, shape into a log and place into the fridge until ready to use.