Great Music for a Good Cause
By Kip Tabb – 
The number of amazing musicians on the Outer Banks is completely out of proportion to the population. With a population of less than 40,000 including Ocracoke and southern Currituck County, the area somehow has become home to Tim Reynolds and TR3, Ruth Wyand who has won a number of national and international awards for her guitar work and Mojo Collins who, during the 1970s toured with a virtual who's who of rock 'n' roll legends and has been recognized on both a state and national levels for his work in preserving the blues.
And that's just scraping the surface of Outer Banks musicians.
So when the Dare County Arts Council (DCAC) and local radio station WVOD, the Sound, came up with the idea of giving local musicians a night to perform at Kelly's Outer Banks Tavern, it seemed like a natural progression.
The once a month performances were a tremendous success and with money from the North Carolina Grassroots Grant Program, the DCAC and WVOD decided to produce a CD of the local musicians.
The CD, Outer Banks Sounds, is an extraordinary mix of styles and arrangements. The tracks are studio recordings, and for the most part, these are home studio productions. However, with a couple of exceptions, the recording quality is remarkably good.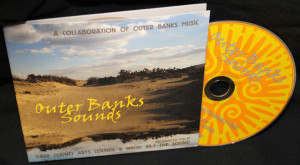 With 20 tracks, it's not possible to review every recording, and an artist or performance that I might highlight or think is outstanding or noteworthy, may be a piece someone else would pass over without a second thought. That being said, I'll take a stab at some of the ones that stood out for me.
Three of the women who appear on the CD as solo performers are truly outstanding.
Ruth Wyand's voice is at once powerful and lyrical and it is those qualities that grabs the listener's attention in There Is No Turning Back. The song is sort of swinging bluesy piece, and although the vocals are wonderful, it is the intricacy of the guitar work and the arrangement that make the piece stand out.
Bourbon, by Natalie Wolff is uncompromising in both its vocals and its message. A thought provoking and, perhaps, troubling view of romance and alcohol, it is a great example of a musician taking a hard look at life. The guitar work. driving and slightly discordant, merges with Wolff's voice to create a compelling piece of music.
Outer Banks fans of Kim Kalman are probably familiar with her acoustic guitar work, but in Life's Too Short, she picks up the electric. Filling the track with a rocking, bluesy sound, the song is just plain fun to listen to as she pokes a stick into the pompous attitudes of the corporate office.
Mojo Collins singing Sam and Omie Shuffle and David Neal with Only in America stand out as well.
Collins manages to at once evoke an image of the Outer Banks as it once was and what it is now—and does it all with great guitar work and a great voice.
David Neal was one of the driving forces behind the Outer Banks Sounds concept, although he dropped off the selection committee early in the process because he felt it would be a conflict of interest. Luckily for everyone, Neal survived the selection process.
When his CD, "Speak the Truth", came out last year, I gave it a great review, and he gets a great review again. Only in America is an in-your-face protest song bringing back memories of the 1960s and 70s. The lyrics are a burning indictment of government secrecy and military might, and he sings the song with an emotional content that gives meaning to his words.
Although most of the CD is acoustic, there are also some fantastic electric selections. Typical of  their style and presentation, Oh By the Way, from the Hound Dog Family Band is a fun piece of music, building in complexity as the arrangement develops. Matt Hoggard of Formula does some great lead guitar work with Formula in Rollin'.
These are just examples that I felt were exceptional. I did feel some tracks were better than others, but nothing seemed out of place or weak. Overall, a great first effort, and hopefully more to come.
The CD, offered through the DCAC is $20.00. Because production costs of the CD were covered by a North Carolina Arts Council Grassroots Grant, all the proceeds will benefit the DCAC Community Music Program . . . a chance to create even more great music in a good cause.