Gourmet Thanksgiving Feasts at OBX Restaurants
By Kip Tabb –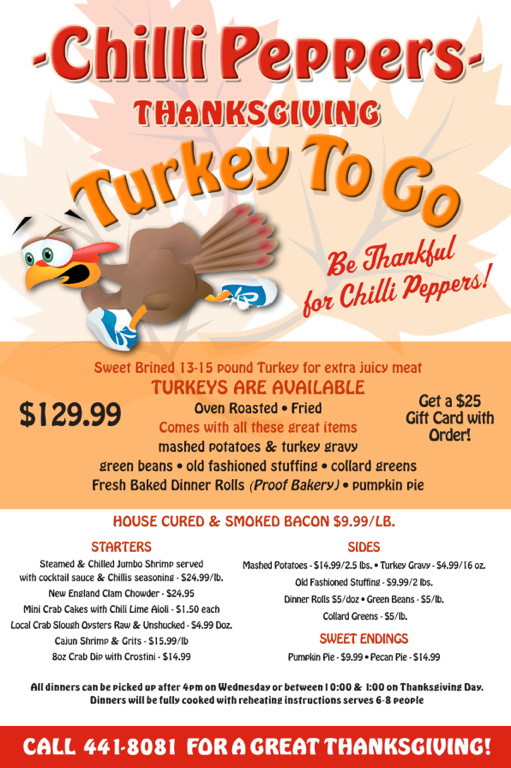 Thanksgiving week on the Outer Banks is a remarkable time. We seem to explode with traffic, people and families—sort of a final farewell to summer before winter sets in.
Not that the weather is summer-like—far from it. This year especially, it's looking very Outer Banks fall-like with a coastal storm forming to our south and forecast to track up the coast Wednesday and Thursday. The storm track does call for the worst day to be Wednesday with Turkey Day looking like it's going to be windy and cool, but not a bad day at all.
More than any other holiday, Thanksgiving is all about family, and somehow when everyone is gathered together if the stuffing isn't perfect or the dinner rolls got burned, it doesn't really matter. Actually, that's the stuff of family memories and even if it seems like a disaster this year, by next year its memory is greeted with laughter and joy.
However, with so many families coming to the Outer Banks to celebrate the holiday, for many of our visitors time is going to be very compressed and it may be difficult to create that perfect Thanksgiving dinner.
No need to be concerned . . . there are plenty of restaurants that will do it for you, and looking over the menus, it's safe to say there are some gourmet feasts out there. We did some research and tried to include as many Outer Banks restaurants that we could find that are whipping up a family holiday feast, but it is possible that we may have missed one or two.
If a favorite eatery is not on the list, call and make sure it wasn't missed.
Some of the dinners are prepared for home cooking, those would be the "Pickup" dinners; buffet and dinner will provide table service.
Thanksgiving restaurants (Restaurants are listed North to South):

Duck/Southern Shores

Coastal Provisions

 (Pickup( Wednesday/Thursday 252-480-0023

Kitty Hawk

Kill Devil Hills

Chili Peppers

 (Pickup) Wednesday/Thursday 252-441-8081

Nags Head

Mulligans

 (Buffet) 252-480-2000