Goodnight, Dammit: An Open Letter to My 3 Year Old Daughter at Bedtime
By Lindsey Beasley Dianna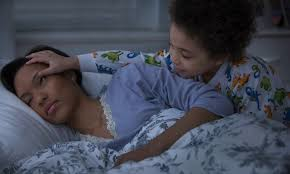 In retrospect, the title was inspired by one of the greatest never suitable for children books out there, Go the F*@! to Sleep, by Adam Mansbach. If you're not offended yet I'd highly suggest you download the audio version narrated by Samuel L. Jackson. You can thank me later!
Darling Girl,
I'm typing this on my phone while you hold me captive in a dark room- my laptop and water are out of reach, and I don't dare move for fear I will prolong this Bedtime Bonanza. And since you can't read, I feel fully justified in taking this full throttle knowing I can share it with you when you're ready to appreciate it. As I tap furiously on a tiny Qwerty keypad, you bang your big beautiful noggin into my cheek, then flip to burrow a foot in my ribs claiming it's the only way you can get comfortable sprawled out in the infamous T position. When the sun comes up in the morning and you see the goose egg forming, you will ask me if I got hurt with such sincerity and concern that I'll use my nicest, most soothing voice to accuse you of parental abuse and threaten to call social services, as I make you breakfast while mumble-cursing my way through making coffee like always. After stories, my first "goodnight" signals the beginning our nightly dance. It goes a little something like this:
Me:     I'm only letting you sleep in here tonight, got it? Tomorrow you sleep in your own bed again. And no funny business, I mean it.
You:    Yes Mama, I close my eyes.
Me:     Your mouth too.
You:    I want pretzels. And Michael's dart gun.
Me:     I want a manny. And a money tree, so nobody's getting their wishes granted tonight. Now go to sleep.
You:    I'm closing my EYES, MAMA!!
Me:     Close your mouth and your eyes at the same time. I love you, goodnight.
You:    Can you stay with me? Can you read me more stories? I need the kitties. I ate peanut butter and jelly at school today. I have unicorns on my jammies.
Me:     I ate a big red candle. Oh sorry, I thought we were both just saying random stuff.
You:    Be careful, mama. You can't eat them, you burn your mouth.
Me:     You're right. I was kidding. No it's not funny. Wait, why are we talking? Close your eyes! Go to sleep this minute! I've had it! Just shush and no more talking, do you hear me?!?!?
You:    I love you, Mama, you're the best.
Me:     Grrrr, your mama is a sucker. And I love you too.
You:    I have to go potty so bad, so bad, so bad. And milky. I need milky so bad, so bad.
Me:     NO!! You had your chance, for heaven's sake. NO! WHY ARE YOU DOING THIS TO ME?!?
You:    (tears/wailing/indecipherable complaints)
Me:     ALRIGHT LET'S GO, HURRY UP, I'M NOT PLAYING AROUND.
You:    Thank you mama, you the best. Good job, mama. I need you to put fire on the candles and then I will can rewax, pwomise pwomise pwomise I close my eyes.
Me:     (no appropriate words left, lights candles, and looks inward for some zen)
It's like performance theater in pajamas, really- and some nights we run extra, extra long. It wasn't always like this. You practically had a halo for your first two full years of life; you never wanted anything to do with me at bedtime after stories and songs and snuggles. Some nights I remember that I can walk away, that nobody's tying me to the bed, not to mention that you have a room- your own room, and a nice one at that. While I wait for to finally succumb to The Sandman, even as you get quiet I see you peek at me and I play dead immediately. I wonder if you might grow up thinking I'm a narcoleptic or just pass out a lot, but hey- it's been working for me so far. I get it. You don't want to miss anything, none of us do.
No doubt your status as the baby of the family has extended your period of welcome in my corner of the king sized bed. There are exactly 12 years, 6 months, 21 days 12 hours til you can drive me around…but you'll be dating, probably, so I can wait for that extended panic attack. I'm not wishing these years away, but a girl can dream of the future. Dream without sleeping, because someone snores and flails and randomly sits up in the middle of the night screaming random things like "I SAID I DON'T LIKE THE BLUE ONES!!!" and "BUT I WANT TO ZIP IT MYSELF!!!" with such ferocity that it's a wonder I'm not the one wetting the bed. You're freaking hilarious and adorable- and that, my dear, is what saves your sweet cheeks most days. Sweet dreams, you beautiful mess.
Love,
Yo' Mama