Couture by the Shore: High Fashion for a Good Cause
By Kip Tabb –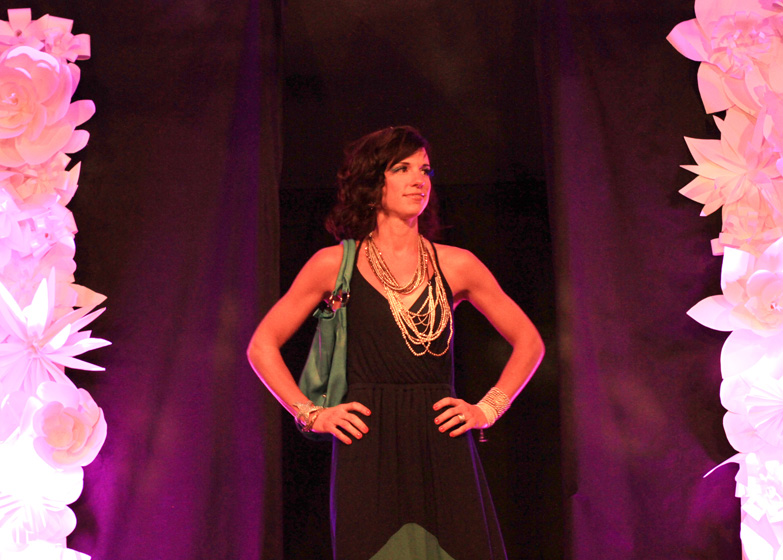 Between multiple jobs, kids, paying the bills and just living, it's easy to forget what an extraordinary place the Outer Banks is. And then an event like Couture by the Shore comes along and all those things that are best about this community go on display.
A fundraiser for the Outer Banks Relief Foundation, this year's event was the most successful yet, according to Jill Bennett of Birthday Suits who has been promoting and organizing it. "We exceeded last year. It was very successful," she says. "And everyone had a really good time."
Featuring high fashion Outer Banks style, Couture by the Shore is truly a community effort featuring local models, fashion and style donated by local businesses and make-up courtesy of Hairoics in Kill Devil Hills. "Hairoics just went above and beyond," Jill says.
Held at Kelly's Outer Banks Restaurant and Tavern on Saturday, the event included lunch and a silent auction. "The silent auction was amazing, too," Jill adds.
Contributing retailers were Amity, Birthday Suits, Charlotte's, French Door, Gray's, Jewelry By Gail, Lady Victorian, Luxury, Plum Crazy, Sun Shack, and Whalebone Surf Shop, and Hairoics Salon & Spa.
Additional sponsors were Towne Bank, Awful Arthur's, Coldwell Banker Realty, Waldt Construction, Seaside Physical Therapy, Joan and Doug Brindley, Albemarle Carpet Cleaning, Pirates Cove Realty, Sharp Michael and Graham, The Outer Banks Wedding Association, GR Little, OBX Hospital, and Beachmart.