5th Annual Surfing for Autism Huge Success
Story and Photos by Kip Tabb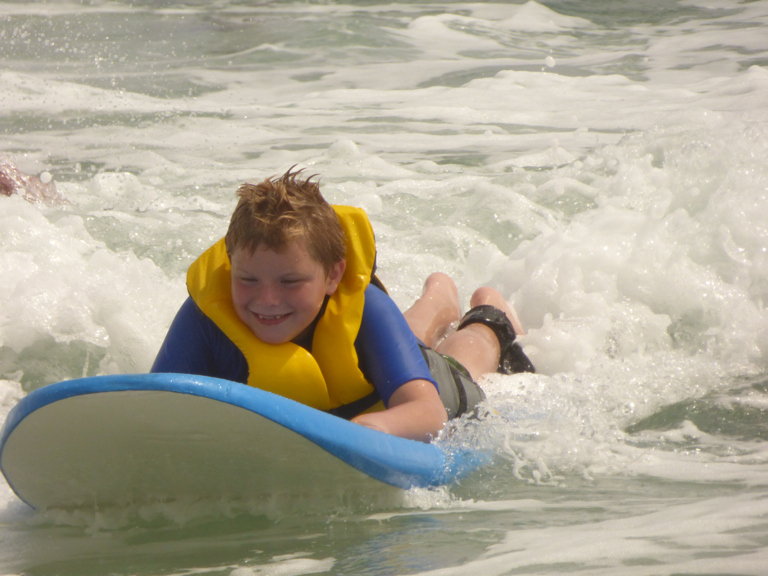 The 5th Annual Surfing for Autism was held today at Jennette's Pier in Nags Head. According to organizers, it was the best attended yet, with a few more than 80 families participating.
It is a free event, as it has always been. Citing the extraordinary expense of raising a child with autism, the organization, Surfing for Autism, outlined their philosophy on their website. "Because raising a child with autism today has been shown to cost $3.2 million, we also wanted our event to be offered at no cost to participating families."
Those are facts, and they are important, but the facts cannot convey the sheer joy of the day. The sound of laughter is everywhere; there is a sense of triumph and accomplishment and shared experience that fills the beach for 300 or 400 yards south of Jennette's Pier.
The weather seemed to cooperate fully this year. Air temperatures were in the mid 80s, intermittent sunshine with the water temperature listed at 75. There was little bit of chop to the water, but some nice small rideable waves were coming in 20 or 30 yards off shore.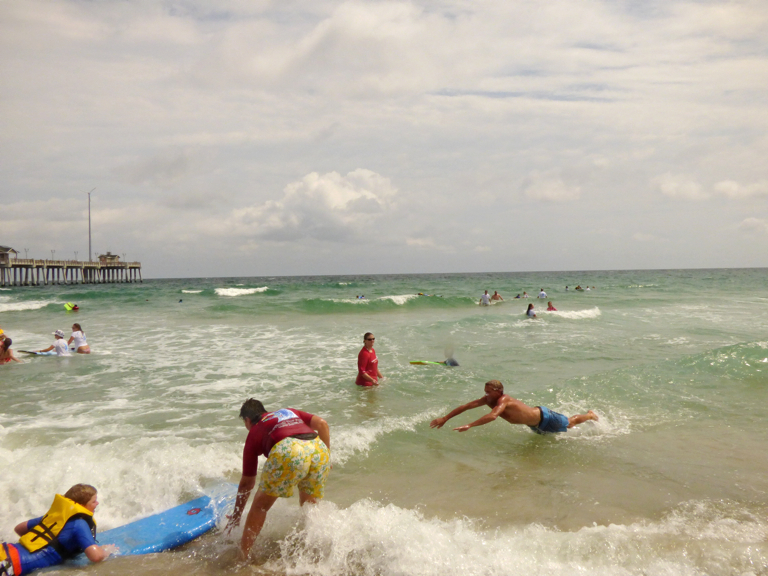 Everywhere lining the beach were parents, siblings and friends celebrating achievements that many thought would never or could never happen. Kids with the distinctive yellow Surfing for Autism lifejackets riding waves—most of them using the surfboard as a body board but everywhere up and down the beach kids popping up on a board as they try to stand . . . and some of them riding a wave to shore.
In our day to day lives, we bear witness to the infinite variety of pettiness and cruelty that surrounds us and the temptation to believe that is the norm is so strong. Then an event like Surfing for Autism comes along and it is a reminder that what is truly normal is the spirit of giving that is within us . . . that when given the opportunity to be generous and to fill the world with joy, we will go to great lengths to do so.