25th Artrageous Promises to Be Best Yet
By Kip Tabb –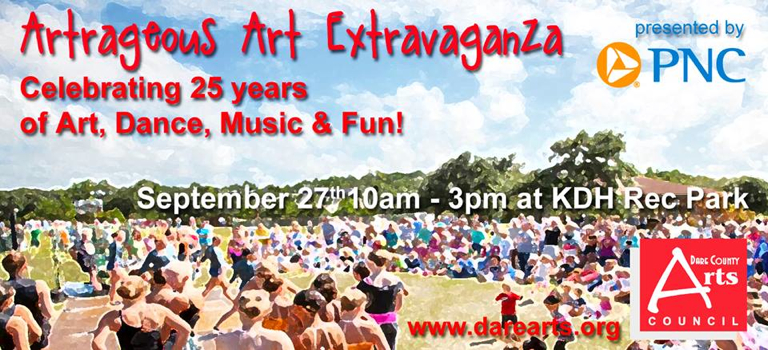 Twenty-five years of art . . . and amazing art it has been. The 25th Anniversary of the Dare County Arts Council's Artrageous coming up this Saturday may be the most spectacular yet.
It's always been geared toward the fun of art and over the past few years kids have been at the heart of what it's all about. But this year—still keeping kids in focus—to celebrate the heritage of this amazing and truly distinctive Outer Banks event, organizers have reached into the past.
"It's so exciting, the fact we're bringing in retro activities," Ginny Flowers, owner of Cloud 9 in Nags Head and one of the Artageous committee organizers, said. "We're going back to our roots."
The roots they are going back to is an artist challenge called 10×10. A simple concept but a real challenge for the artists involved, the 10×10 gives ten artists ten blank canvasses and lets them begin painting. Ten minutes into the process, everyone stops and the canvas is passed to the next artist.
A real treat, Glenn Eure, one of the original organizers of the DCAC and Artgageous. will be participating in the 25th Anniversary Artrageous 10×10 event.
"Glenn Eure is art on the Outer Banks,"Ginny says.
In a poignant tribute to one of the original 10×10 artists, the estate of Don Bryan—an extraordinarily gifted artist—has donated much of the materials being used.
There is even more to Artrageous 25.
North Carolina Humanities Road Scholar John Santa will be on hand for musical entertainment.
Forget the word scholar when thinking of John. He is knowledgable, he's personable—an amazing raconteur—and when he plays music, it is fun!
John can talk, and he'll be the first to admit that. "You will learn, I'm genetically incapable of a short story," is how he describes his style.
But beyond his storytelling, John, who is a working bluegrass musician. has mastered 18 different stringed instruments. His main instrument is guitar with some forays into mandolin, but whatever he is performing, he brings with it a sense of joy and adventure that engages the audience in wonderful ways.
The 25th Anniversary Artrageous will be held at Rec Park in Kill Devil Hills on Saturday, September 27. For more information contact the DCAC at 252-473-5558.