16 (Plus 20) and Pregnant
By Lindsey Dianna –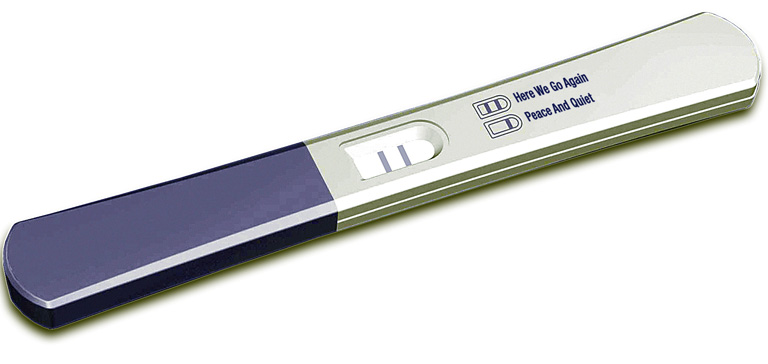 Unplanned but not unwanted–Lindsey Dianna was not expecting to be pregnant again at 16 (plus 20).
"Hello, this is Brenda."
"Oh Brenda, thank God you answered, I need some answers STAT. Are you ready for me? Sorry to bother you, but I'm freaking out and didn't know who else to call."
(Silence filled the next few seconds but I'm pretty sure I could hear her eyes rolling.)
This was not a mother-daughter moment, not a snippet from a private conversation with a friend, nor a talk with a medical professional. I was certain I was experiencing one of those white whale scenarios, and I was in the .04% that kept pregnancy tests from bragging about 100% certainty.
After divulging quite a bit of personal information, ranging from my sex life to my upcoming plans for the weekend, Mrs. 1-800-CALL-EPT was giving me some tough love.
In one breath I pleaded with her to give me a false positive diagnosis—because you know that's possible—and explained how we were set on adopting siblings in the near future and my husband was putting a huge music festival that weekend and it had been decided that this body might not be able to take on another pregnancy and…honestly I don't know what else I told her because I was still in the denial phase.
"Girl, if the stick says 'pregnant', then you probably are."
"But the tests are wrong, sometimes, right? Right? False positives happen, right?  RIGHT?!?"
"Let's face it, honey, unless you're in menopause, you're pregnant."
Her best suggestion was for me to buy more tests. What a racket.
I was already running late to meet a friend for a few drinks, but I made time for a quick trip to my local drug store. My legs moved independently of the rest of me trying to catch up with what in the hell was going on, but my facial expressions were "deer in headlights" with a hint of panic attack.
Swooping into the pharmacy, I grabbed a Smartwater. After all, this was no time for Average Intelligence Water. I began chugging it as I made a beeline for the "family planning" aisle, quite aware of the irony of my named destination. (Like hell this was planned!)
Store brand tests? Not this time. Circle vs. straight line?  One line or two? I'm in a crisis, and the last thing I need is any more room for doubt. PREGNANT or NOT PREGNANT- yup, that's me.
The box promises more than 99% accuracy, and with quick math I figure that getting the 2-pack should leave no room for doubt. Bottoms up; I guzzled water like it was a beer bong. I then hurled credit card along with empty bottle and EPT 2-pack at poor register girl, and proceeded to make a mad dash racing to the ladies' room. I open both tests, pee on both sticks at the same time, and make a quick call to my friend letting her know I'll be about 3 minutes plus drive time.
The calling from a drug store bathroom was not out of character, but for some reason it struck her funny that A.) I would be calling while actually taking the test, B.) that I bought the extra tall Smartwater in order for maximum impact, and C.) that I was taking the "2 for 1" approach a bit far by peeing on 2 at the same time.
And then…bam, bam…just like that, I was 198% sure that we'd be having another baby. "Um, Kelly, go ahead and order me a freaking water, I'll be right there."
Recently, they changed the term to describe pregnant women 35 and older from "Geriatric Pregnancy" to "Advanced Maternal Age". Oh yes, that's a much better way to tell us 30 and 40-somethings that we are O-L-D. At any age, pregnancy is a big deal.
A "surprise pregnancy" can happen at any age—I didn't think it was possible to be surprised as a married mother of (then) two. Don't worry, my close girlfriends have since sat me down for "the chat", similar to a remedial "Our Bodies, Our Selves" class. I think I might have a better idea of how this keeps happening now.
If, by chance, any of you are still in the early stages of this quandary, I recommend a doctor's visit in lieu of 1-800-CALL-EPT; they will, at the very least, be able to clear up any unsolved mysteries in person. Oh, and our Happy Accident? She's AWESOME, and I wouldn't trade her for all of the beers and rock stars in the world.