You'd Better Watch Out . . .
By Lindsey Dianna –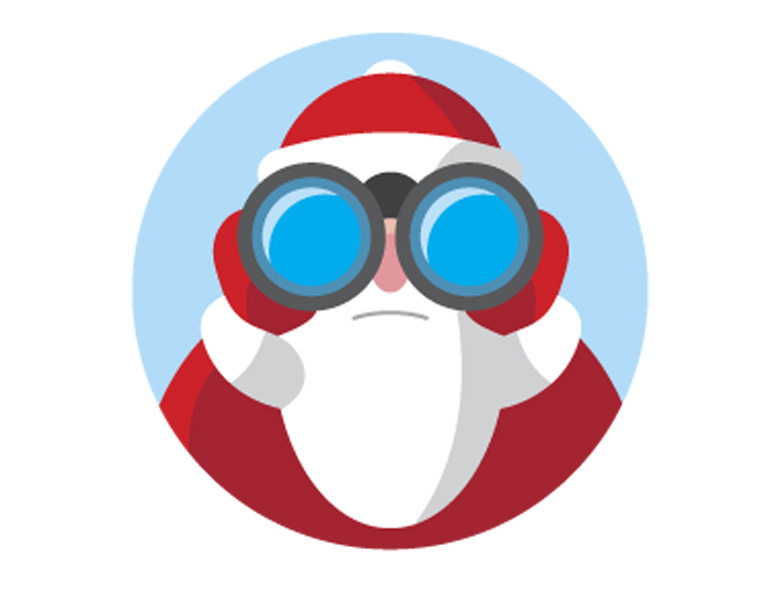 You'd better watch out, you'd better not cry, you'd better not shout I'm telling you why: Santa can sense ungrateful children all the way from the North Pole and won't hesitate to deposit coal in your stockings if you don't get it together.
Ah, the holidays are fast approaching, and this year I am resolved to not pass up a single opportunity to implement my favorite parenting tool: leverage.
I know, tisk tisk. Bribery and threats are usually listed as big players on the "Parenting Don'ts", which is cool with me, since I find most of my most effective tactics on those lists anyway. I'm busy trying to raise some good citizens over here, and before there can be Peace On Earth there will be Peace In The Family Room, Peace At The Dinner Table, etc. Not only will there be Good Will Towards Men—and Women, too!—there will be Good Will Towards Mom (and Dad and One Another). So this holiday season, let some of these tactics become your guilty pleasures by turning some of those infamous parenting "Don'ts" into "Must Dos" to help your days be a little more merry and bright.
There are so many wonderful kinds of leverage with which you too can "control" (haha) your kids. Let's start with threats—oh, let me count the ways. Whether it's preying on their fear of the dark (if you can't stay in bed, then I'm closing the door!), or just something fun to say like "Tattlers will be sold to the circus!" your options are unlimited.
"They" say the problem with this approach is that you eventually have to make good on them or the threat loses its perceived power. I say no problem! Stay away from threatening to sell them into child slavery or "tanning their hide" (or violence of any kind, of course) and you should be just fine as long as you are prepared to make good on your threats.
Exercise caution; if you have a kid that likes to call your bluff, it's more like high stakes poker. Be willing to go "all in" if you want to succeed, but don't get cocky or next thing you know you'll be throwing away an entire bin of perfectly good Play-Do with smug little eyes watching. If any of your children are precocious, take care not to let the student become the master too early.
Sweet, sweet bribery is SO under-rated. Many of us already employ the "Santa is gonna find out who's naughty or nice" tactic. It's fun if you sing this song in a menacing tone when witnessing errant behavior. But wait, there's more! If you aren't already "in the know" about Elf on the Shelf I'm delighted to share.
Elf on a Shelf is a book that comes with a tiny elf that lives in your home, possessing magical powers which allow him to track all of the children's behavior for the day, fly to the North Pole to tell Santa and be back by morning. Genius! Just as they know through impressive demonstrations that I have eyes in the back of my head that can see all, they also now know that the Elf never sleeps.
He's like a babysitter. If I am out of the room for 15 minutes, come back and hint that the Elf has just ratted them out, this usually elicits a full confession from one or more parties. No longer need I try to solve household mysteries like "The marker just drew itself all over the couch by itself like magic!" or "Who was the last one in this bathroom?!?" Have no fear, the Elf is here!
It's nice having Santa as your ace in the hole for as much of the year as possible. If my family didn't celebrate Christmas, I'm pretty sure by now I'd have invented a comparable figurehead to coax out the more civilized side of my young. Holidays get crazy and the kids sop up any tension like wicked cute sponges. Let leverage be your ally, your friend, your saddle on the wild pony ride that is the holiday season.