There's a Chameleon in all of us
By Donna Baum –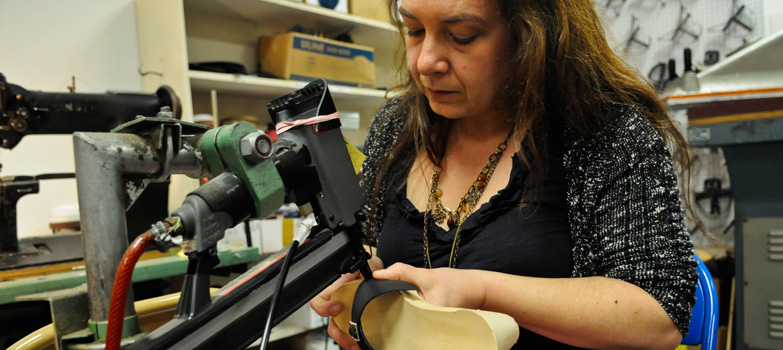 "I create shoes that make people happy," Rabiah Hodges, owner and visionary behind Chameleon Clogs, proclaims. Scrolled across the front window her mission is clear, "To create a clog as unique as you are."
Whether it's matching a favorite handbag or jacket or just perusing the boutique for inspiration, there seems to be something for every personality—low heel to high heel, wooden or rubber composite, narrow or wide sizes and straps, ribbon and hardware. This is a store that translates personal choice into one-of-a-kind fashion.
Rabiah brings passion and creativity to her craft. "The fact that I am an artist is directly related to my parents support," she explains.
Her mother, a local handbag designer for 40 years, was always encouraging her to explore opportunities. Her father, whom she often accompanied on buying trips to Turkey, the proprietor of an artifact museum/textile carpet business, was also a source of inspiration. With support from her high school teacher, Rabiah attended the North Carolina School of the Arts and went on to graduate from ECU with a BFA in Textile Design.
A peek in the back room is a little like Santa's workshop with tools and templates filing the room. Raw material awaiting a new purpose: ribbons, buckles and various clog bottoms, large canvases of cowhide and leather, pack the area. Stacks of painted leather uppers, some flown in from her business partners at Dala Clogs in Sweden, with traditional brush strokes on them, others painted locally with an array of tourist oriented to contemporary motifs, create a collage of design.
The loom sits behind the store window. Textiles are made in patterns that represent Rabiah's 20 years of experience as a weaver. On the counter, her dolls prove another outlet to her creativity. Various fabrics of her own hang on the walls, from clothes to scarves and purses.
When Chameleon Clog approached Rabiah in 2004 to make fabric uppers for their clogs, she was training weavers for Endless Possibilities, a community initiative she founded that supports Outer Banks Hotline by repurposing unsold clothing and material into rugs, handbags and other items. Four years later, in 2008, she became the sole owner of Chameleon Clogs.
In October 2010, Rabiah opened her premier location in Nags Head after partnering with Dala Clogs—a partnership that has allowed her to learn more about the art of making clogs and gives her access to more fabric and leather selections. Her company, Chameleon Clogs LLC, is the umbrella company manufacturing Dala, Brasko and Chameleon footwear in the United States.
An artist by inclination, Rabiah has become a successful owner. "I have learned to balance the right and left brain, the creative with the business," Rabiah notes.
With a website, clogs4u.com, selling retail and wholesale items and an eye toward franchises in the future, she seems on the right track.
Notable customers, such as Tim Gunn from Project Runway fame, and Iron Chef Mario Batali, are sporting her original clogs. With a write up in Oprah magazine, talks with QVC about a ready made shoe line and a deal with National Geographic to put her sandal style clog on their website in April, the world seems to be embracing her ingenuity and her couture-like, ergonomic clogs.