Soiree Secrets and Social Sense
By Marie C. Russell of Bordeaux Events and The Outer Banks Wedding & Etiquette Library –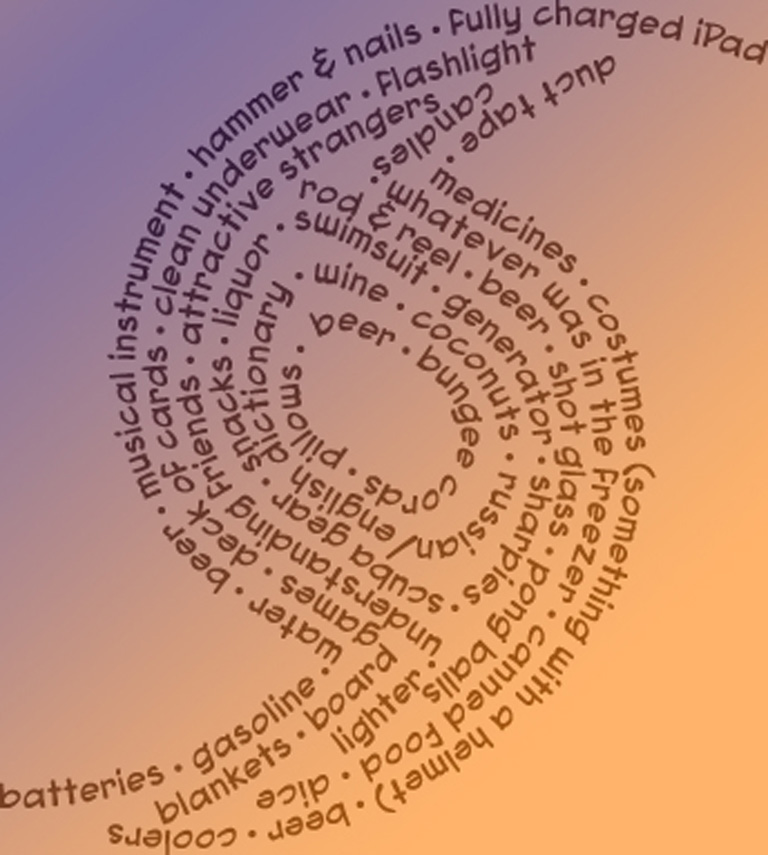 You may have heard about them, you may have longing memories of them and if you're like me, you're ready to go to them. We don't always know when they're going to show up, but when we get that warning, the locals here get to' planning. I'm talking about the infamous hurricane parties of the Outer Banks.
Local lore states that they can never be recreated from days past, and much like Fight Club, you do not talk about the "hurricane party". I was luckily able to coax a few long time locals into giving me some anecdotes of some of the best hurricane parties ever thrown here on the Outer Banks:
A surfer's perspective:
"In the old days, cooperation and socialistic planning went a long way in the outcome of your hurricane bash. It was a thin minute between sluggishly flipping between the TV's 2 antenna stations or commanding a fun bunker wall with beer case boxes. Pretending that you were going die in a blast of high wind and rain always got the drinks poured quickly. Poker games during the long approach on an unpredictable hurricane became quite dangerous. The 7-card stud pots devoured IOU's, surfboards and rent money. A poker game among storm friends lasting for days did more collateral damage than a class 5 spinner's eyewall bulls-eyeing the Albemarle sound from an inland hooking southern track."
A born and raised local's perspective:       
"Always buy more liquor than you think you'll need. It comes handy in the winter months if you don't use it all. Make sure to see the storm on the way in, not out. You could ruin a perfectly good truck trying to see the end! And window covering is more useful as billboards than actual protection."
A local business owner's perspective:
"When my mother and father-in-law owned Sweetwaters and a hurricane was coming, back in the day, the whole island would lose power. The food was going to spoil and the kegs were going to be no good so we would always run by the restaurant and pillage all the food and swipe all the kegs and throw a hurricane party. We never went hungry nor needed any booze!"
If you've read the above and feel like you've missed out, fear not, because below is a list of helpful hints and must haves to throw an awesome hurricane party!
Make it a theme! For example, a survival party theme and have guests dress up in costumes that may include a life vest or fishing poles:  Hint – Give fun-themed prizes like a first aid kit to the best costume.
Have everyone clean out his or her fridge and make it a potluck.
Have the following items or delegate your guests to bring them.
Sleeping bag/pillows for the possible overnight stay
Generator
Lots of toilet paper
Games, cards, solo cups (you know why!) and some cash for those poker games
Battery operated Karaoke machine, because why not?
Batteries of all sizes for radios, games and flashlights
Lots of water for that next day hangover and more!
Fun beach music, or have someone bring his or her guitar for a late night jam session
Beer, wine, liquor and as many coolers with ice as you can get for all those delicious drink recipes like the famous Hurricane cocktail. Hint: Serve drinks in coconuts to give it that "surviving in the wild" feel.
And make sure to buy a gas powered or battery operated blender for those frosty delights.
Now that you have all of your provisions, you may want to end the night with an oldie but goodie game: paint on whoever falls asleep first, because we never really grow up, do we? Now go have fun, stay dry and be safe!
 DISCLAIMER: The North Beach Sun, Bordeaux Events and the OBX Wedding & Etiquette Library do not endorse staying during a hurricane … Yada Yada Lawyer Speak … Yada Yada … This article is intended for the humorous use of our readers and is not meant to be advice on how to survive a hurricane. Yada Yada Yada, more legalspeak.