Pack & Go!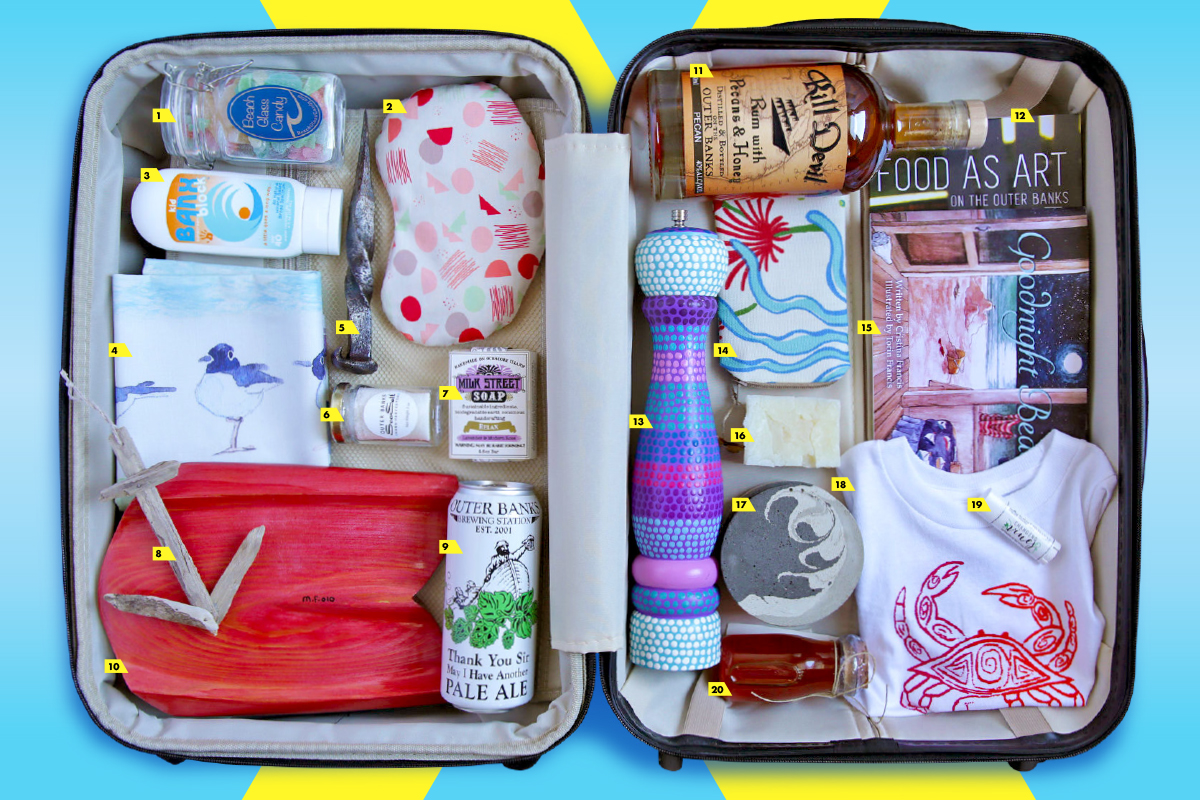 Ready to leave the beach (but not really)? Don't worry. The Outer Banks is chock full of locally made things that will remind you of everything you love best about this area – and many of them are just the right size to fit in your suitcase. Turns out, sand in your shoes isn't the only thing you can take home with you….
1 Treat yourself to Beach Glass Candy, a hard candy that comes in a variety of tropical flavors.
2 Filled with rice and dried herbs, Hot Mess' hand sewn eyepads will help you relax and rest easy.
3 Protect your skin with BANXblock, a locally developed, mineral-based sunscreen.
4 Linen and cotton tea towels by A Good Catch feature local art that you can take anywhere.
5 Manteo Blacksmith transforms old railroad spikes into one-of-a-kind bottle openers/oyster knives.
6 Add some flavor with Outer Banks SeaSalt that's been hand harvested from the Atlantic Ocean.
7 Handmade on Ocracoke Island, Milk Street Soap may be habit forming…but with so many scents to choose from that's not a bad thing.
8 You'll want to hang these Wiggly William driftwood ornaments up all year round.
9 Outer Banks Brewing Station's four-packs of Thank You Sir, May I Have Another Pale Ale let you have as many as you have the space for.
10 HiFive Handplanes' meticulously shaped cypress handboards are perfect for body boarding enthusiasts.
11 Aye, that's authentic Kill Devil Rum – distilled and bottled right here on Roanoke Island.
12 Featuring some of the best food this area has to offer, Food as Art on the Outer Banks is a full-color cookbook that lets you recreate favorite local dishes from afar.
13 Shake (and grind) things up with a hand painted peppermill from Spinfinite Designs.
14 Colorful hand-sewn pouches by MLB Designs come in a variety of shapes, sizes and prints.
15 Written by Cristina Francis and illustrated by her son Torin, Goodnight Beach is a clever new take on a classic children's book.
16 Hollow Daze Surf Designs' Dog Daze is an all-natural soap for your four-legged friends (available only at Made in the OBX).
17 Style meets function with Opus Stone Concrete's handmade concrete coasters (set of three).
18 Soundesign Works has a full line of hand-painted children's wear – including t-shirts, onesies and rompers.
19 Give your lips some love with Changing Vines' all-natural chamomile lip balm – available in coffee butter, too!
20 Nothing's quite as sweet as pure raw honey harvested by Outer Banks Bees in Wanchese and Hyde County.
Special thanks to Made in the OBX and Modern Beach House for providing most of the items featured!