Planting the Seeds of Community
By Kip Tabb –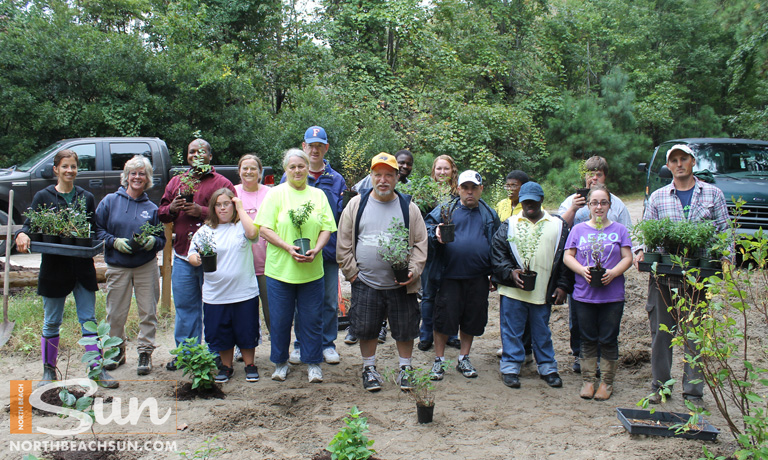 Planting the Seeds of Community
By Kip Tabb
The native plants of the Outer Banks are part of a delicate dance of nature that creates the beauty that surrounds us. It is an interdependent system—a system that depends on certain types of plants to attract certain birds or animals or butterflies.
It is butterflies that we're writing about today.
Through a Community participation grant from US Fish and Wildlife, the Monarch Beach Club of Manteo Monarch Lighthouse Club of Currituck and had a chance to transplant native species of plants to create a butterfly garden in Nags Head Woods.
The Monarch Clubs work with developmentally challenged adults to integrate them into the community, and the butterfly garden was an excellent example of that mission.
The original grant proposal was written by Aaron McCall, NE Regional Stewart for the Nature Conservancy, and Kate Murray, Nature Conservator at Nags Head Woods.
The plants were provided by the NC Aquarium at Manteo. "Part of our mission is to restore native plants and animals to the Outer Banks," Kathy Mitchell, conservation horticulturalist for the Aquarium, says.
McCall noted that the area being planted had been cleared the day before by NC Dominion Power.
Yet at the heart of the community effort was the participation from the Monarch Beach Club. Working with the NH Woods staff and Kathy Mitchell, club members planted a patch of native species that will create a butterfly garden for years to come.
Renate Macchirole, Community Inclusion Specialist for Monarch, looked over the work that was going on and commented on the impact community can have for good. "All kinds of different groups do this kind of work and reach out to the community," she said. "This is a result of everybody working together."