Once Upon a Time…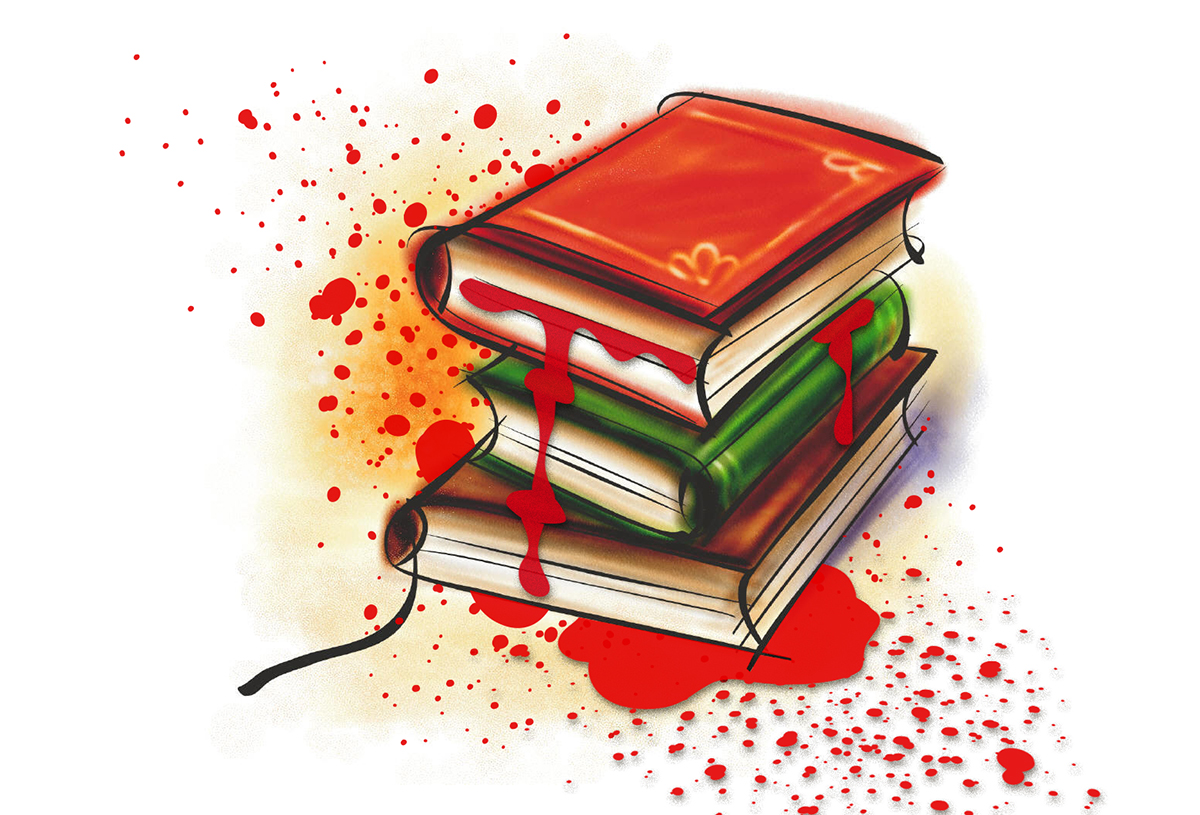 Once upon a time, we serenaded our children to bed with sweet, soothing melodies thinly masking disturbing images of violence, disease, starvation and more. Still now, parents recite fairy tales, nursery rhymes and other kids' classics of an incredibly macabre nature, all while trying to cushion their kids' intake with wimpy characters like Caillou, who would crumble in the face of a hangnail. Ironic, no? Let's take a quick look at the some of these not-so-sweet tales of yore that stand out.
The cradle rocking part of "Rock a Bye Baby" sounds sweet and relaxing right up until the part where the bough breaks and that poor thing comes crashing down in a situation that cannot possibly end well. I have amended the last line to "down will float baby, safely and all" because I just can't take it anymore. My youngest just loves that song, and I don't think she's going to take the real ending particularly well. Reality can throw some harsh truths at you, but I think a few details can wait. That is, of course, if big brother and sister don't spell it out for her first.
I really would like to know what was UP with Mother Goose. We have the Three Blind Mice who run because their tails just got chopped off, so it's not that sweet. Humpty Dumpty—splat. The London Bridge—take the key and lock her up? No wonder my lady was "fair"; I think they call that Vitamin D deficiency. After I did a little internet sleuthing, you can imagine my relief to find that this little ditty was not about child imprisonment, but about child sacrifice, based on an old superstition that burying children alive under a bridge would prevent it from collapsing. So, ya know, no big deal. In "Goosey Goosey Gander" they actually throw an old man down the stairs by the leg for not saying his prayers. An old man? Why? Just why?
But wait, there's more! "Ring Around the Rosie": "Ashes, ashes, we all fall down!" Because of THE PLAGUE. THE ACTUAL BUBONIC PLAGUE. Yes, everyone dies from it. No, you're not going to get it. Night-night, sweet dreams, baby. The old woman who lived in a shoe? I can identify sometimes, but even on my worst days whipping the children and shoving them into the "shoe" without dinner for bedtime is not on my list. You're welcome, children.
Mother Goose didn't corner the market on made-for-children horror stories. The words "fairy tales" conjure up magical innocence; the two greatest influences are Hans Christian Andersen and the Grimm brothers.
In Hans Christian Andersen's "The Little Match Girl," the title character is orphaned, poor, suffers neglect and exposure, begs for death and gets her wish. Most of his stories aren't much cheerier, including the Little Mermaid, who, in the original version, longs for a taste of life on the other side and so agrees to have her tongue cut out. The ending involves being rejected by the one she loves, and she plunges into the sea where she disintegrates into foam.
The Grimm brothers apparently felt a strong need to fulfill the literal interpretation of their surname. "Hansel and Gretel" spawned my only memorable recurring nightmare. Rapunzel, Cinderella, Snow White, Rumpelstiltskin, the list of terrifying tales goes on and on. Disney's interpretation may have softened the blows a bit, but I cannot think of a single one that doesn't involve tragic loss and unspeakable trauma once you look past the music and cartoon artistry.
While I never read the original version of Oliver Twist by Charles Dickens, I watched and re-watched the film adaptation Oliver with pickpockets, orphans and a hooker with a heart of gold who happened to be beaten by her burglar boyfriend pimp on a regular basis. I have pictures of my brother and I dressed as Bill Sikes and Nancy at fairly young ages, and I don't think my early obsession with the Artful Dodger ever really went away.
As my kids get older, I've been introducing them to the stories on page and film that I remember loving as a child. The books are easier to monitor, but as with the movies, there comes a time when you need more variety than the Swiss Family Robinson and Mary Poppins can offer. Maybe it's the old mom brain, but even when I think I'm picking non-scary crowd pleasers, HOLY. BLEEPING. BLEEPS. There have been awkward moments during unedited versions of Back to the Future, The Sandlot, A Christmas Story, E.T. and even Annie. In the first two minutes of the kids' movie Casper, we heard "son of a bitch" and "hell" and "damn" and my son was hollering at me that this is inappropriate for his younger sisters before I can even hit the pause or volume buttons. This kind of thing makes movie nights interesting around here.
As I typically end their nights with books, and some of the aforementioned tales are sometimes the last words they hear, suddenly the bedtime struggle makes a tiny bit more sense. I posit a slight correlation between the reading material and children climbing into their parents' beds. Sweet dreams, indeed.