Old Man Winter Barrels into the Outer Banks
By Kip Tabb – 
It's going to get cold on the Outer Banks . . . not cold like they're experiencing up in New Jersey where I grew up where the temps are going to dip to single digits tonight and the forecast calls for 8"-10" of snow.
But it's still going to be cold here on the Outer Banks. It's not forecast to climb above freezing tomorrow. That's cold.
We are supposed to get anywhere from 1"-3" over night, although all of the official forecasts seem to feel the lower figure is more likely.
As a service to our readers, we're publishing the National Weather Service Winter Weather Advisory. Below that are the forecasts for the Weather Channel, Weather Underground and Accuweather. Sometimes there's some differences among the three of them. Not so much this time.
Winter Weather Advisory for Outer Banks Dare, NC

From 7:00 PM EST, Tue., Jan 21, 2014 until 3:00 AM EST, Wed., Jan 22, 2014

Other affected areas: 

Martin, NC;  Pitt, NC;  Washington, NC;  Tyrrell, NC;  Mainland Dare, NC;  Beaufort, NC;  Mainland Hyde, NC;  Outer Banks Dare, NC

AM EST WEDNESDAY…

THE NATIONAL WEATHER SERVICE IN NEWPORT/MOREHEAD CITY HAS ISSUED A WINTER WEATHER ADVISORY FOR A PERIOD OF SNOW… WHICH IS IN EFFECT FROM 7 PM THIS EVENING TO 3 AM EST WEDNESDAY.

* ACCUMULATIONS… SNOW ACCUMULATION OF UP TO 1 INCH.

* TIMING… EARLY THIS EVENING UNTIL AFTER MIDNIGHT.

* IMPACTS… HAZARDOUS DRIVING WITH SLICK SPOTS ON AREA ROADS.

* WINDS… NORTHWEST 15 TO 25 MPH WITH GUSTS UP TO 35 MPH.

* TEMPERATURES… AROUND 30.

* WIND CHILL… AS LOW AS 8 ABOVE.

PRECAUTIONARY/PREPAREDNESS ACTIONS…

A WINTER WEATHER ADVISORY FOR SNOW MEANS THAT PERIODS OF SNOW WILL CAUSE PRIMARILY TRAVEL DIFFICULTIES. BE PREPARED FOR SNOW COVERED ROADS AND LIMITED VISIBILITIES… AND USE CAUTION WHILE DRIVING
Weather Underground
Five Day Forecast                                                                                                                    Hourly Forecast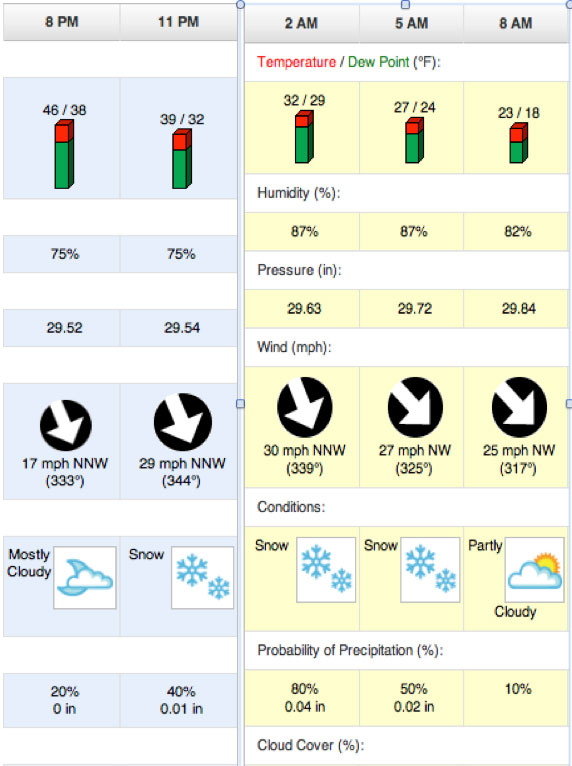 The Weather Channel
Five Day Forecast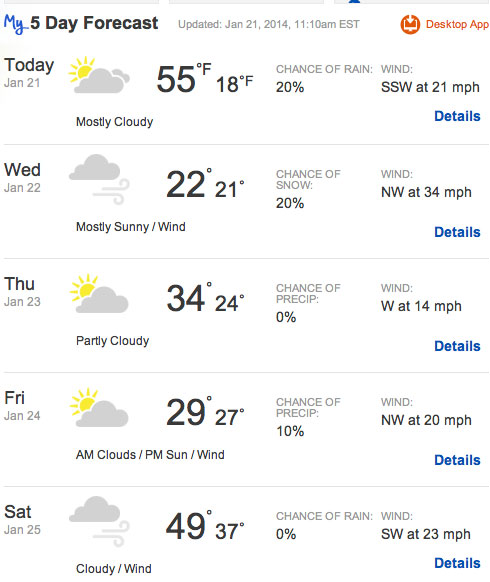 Hourly Forecast 

Accuweather
Five Day Forecast

Hourly Forecast