Musical Perfection at DCAC
When the Dare County Arts Council moved into the old County Courthouse, the hope was it would be come a centerpiece for downtown Manteo. That hope has been realized.
The latest evidence of that was the Surf and Sound Concert on Friday evening. Sponsored by the Don and Catharine Bryan Cultural Series, the concert capped off a triumphant week of music.
This was the second year the Bryan Cultural Series has brought the Surf and Sound Concerts to the Outer Banks and the 2016 version featured four evenings of world-class performances.
The locations were All Saints Episcopal Church in Southern Shores, the Duck Amphitheater, the Blue Point in Duck and the DCAC Gallery. No matter where they performed, the music was exceptional, but the sound quality at what was once the County courtroom was by far the best.
The four principal musicians—most of their music was performed as a quartet—were Katy Hyun and Elizabeth Vonderheide, violin; Luke Fleming, viola; and Jacob Fowler, cello. Monday evening Amanda Halstead was on piano, performing a classic Mozart piano quartet and Cafe Music, by American composer Paul Schoenfield that was absolutely wonderful. Laura Seay sat in on viola for a quintet on Friday evening.
The performance Friday night highlighted the Gallery as one of the best small venues on the Outer Banks to hear music and the the extraordinary talent of the musicians.
Playing two 19th century pieces, Debussy's String Quartet in G minor and Brahms Quintet No. 2 in G Major, the compositions challenged listeners and musicians.
The Brahms piece in particular is not performed very often—probably because it's a very challenging piece of music. According to Fowler, who talked a little bit about the piece before the performance, Brahms intended it to be his last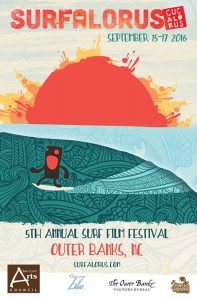 composition. Incorporating all the elements that Brahms is noted for—hints of folk music, powerful chordal patterns, constantly moving shifts in points and counter points, it was music that truly does lift the spirit.
What really seemed to enhance the experience was the acoustics in the courtroom.
Next up for the DCAC major events is Surfalorous, which, if last year's festival is any indication, will feature some very interesting surf films. Surfalorous is a multi-venue event. Check out the schedule below.
Surfalorus Film Festival Schedule

Thursday, September 15- Outer Banks Brewing Station
Doors: 7pm Screening: 7:30pm
Films:
The Man & The Sea
MAR
Austin Keen Wakesurf
Creators: Leah Dawson
Salt Boys
Yeti Presents: The Malloy Brothers
The Wild
Surf N Turf
Feature Film: Psychic Migrations- 9pm

Friday, September 16- Dare County Arts Council
Screening: 7:00pm
Films:
ApeShapes
Dark Waves
Taking Shape
Southeastern NC Surfing
Feature Film: It Ain't Pretty- 8:30pm

Saturday, September 17- Front Porch Cafe in Nags Head
Screening: 4:00pm
Films:
The Adventures of Nasasa
Forbidden Trim

Saturday, September 17- Outer Banks Brewing Station
Doors: 7:30pm Screening: 8:00pm
Films:
Thaw
Bruhwiler Country
@415plumber
A-Frame
Junk in Public – H2O Patrol
Light Therapy
Beauty and Chaos
Lunar
Seal Sessions
The Joy of Surfing
Cold Outside: Surfing Winter
Takk
Pipe Dreams
The More Things Change
Feature Film: The Zone- 10pm