March of Dimes Chef's Auction-Best of OBX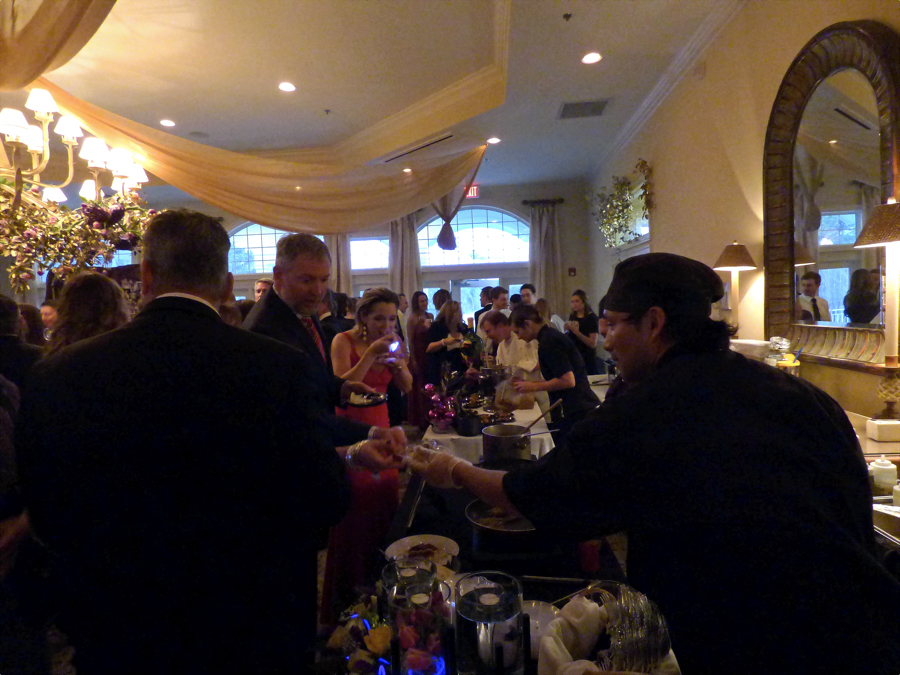 The glamour of a special evening at Duck Woods Country Club, the amazing food from ten of the finest Outer Banks chefs, the generosity of the Outer Banks community, all of it came together last night at the 15th Annual March of Dimes Signature Chef's Auction.
It was an amazing night. The food was truly magnificent and somehow judges and the chefs managed to select some favorites.
The chefs picked the Salt Box Cafe's local white perch with lemongrass and basil on North Carolina sweet potatoes prepared by owners and chefs Amanda and Randolph Sprinkle. The People's Choice award went to Mike Dianna of Mike Dianna's Grill Room for his crab cakes.
It's really tough to argue with either choice. Or with any choice that would have been made. I personally really liked Chef Joey Russo's of the Duck Woods Country Club pork butt reduction over ravioli . . . although from Ocean Boulevard Donny King's duck tenderloin over sweet potato was really good. And the Korean tacos from Budddha'licious: wow! But making any choice is like choosing your favorite child. You love them all, just for different reasons.
There was joy in the music that Phil Watson played, and the beauty of the decorations from Dorothy Morris and her crew at Bells and Whistles was wonderful. This was the 15th annual Chef's Auction–and the champagne came out in celebration.
Yet it was a backdrop to the real reason for the event, something that Ambassadors Megan and Mac Gray described with heartfelt and beautiful words that Megan spoke.
Their son Ivy was born 10 years ago and was 15 weeks premature. The health issues continue to the present.
"He has literally fought through life since the beginning with only an initial chance of surviving at less than 20%," she said. "He has been through an astonishing 25 surgeries. As parents we are exhausted and sometimes even overwhelmed by the medical world we live in. But the moment we begin to feel the slightest bit overwhelmed Ivy never fails to show us he can and he will move mountains."
She talked about the miracle of the treatments that came about from the research the March of Dimes has sponsored, and then described how each moment in his life becomes a miracle and a moment of celebration.
"I want you to put yourself in the shoes of parents like us," she said. "Picture not being able to hold your baby for a month. Or not even being able to see him for hours after he was born. Picture seeing him through a plastic wall for months praying that he'll survive. Try to visualize how it would feel to not hear them cry until their two-and-a half months old. Or even sit up for the first time when they're three years old. Picture them finally learning to crawl when they're seven years old. Or picture longing for the day they walk."
Speaking to the parents in the room she finished saying, "May you never take for granted the miracle witnessed in the lives of your own babies."
It is the miracle of life that the March of Dimes hopes to preserve—that the research the organization sponsors will help to preserve the life of children like Ivy and make it an even more rare occurrence. Or the Ambassador Pitts family whose twins were born premature but because of the progress medicine has made, today the children are healthy, active 11 month old babies.
The final donations are still trickling if from the evening but according to Stephanie Baker—who deserves huge kudos for going way over and beyond in organizing the event—over $57,250 in donations make this a record setting event.