It's the Infamous Pumpkin, Charlie Brown!
By Amanda McDanel –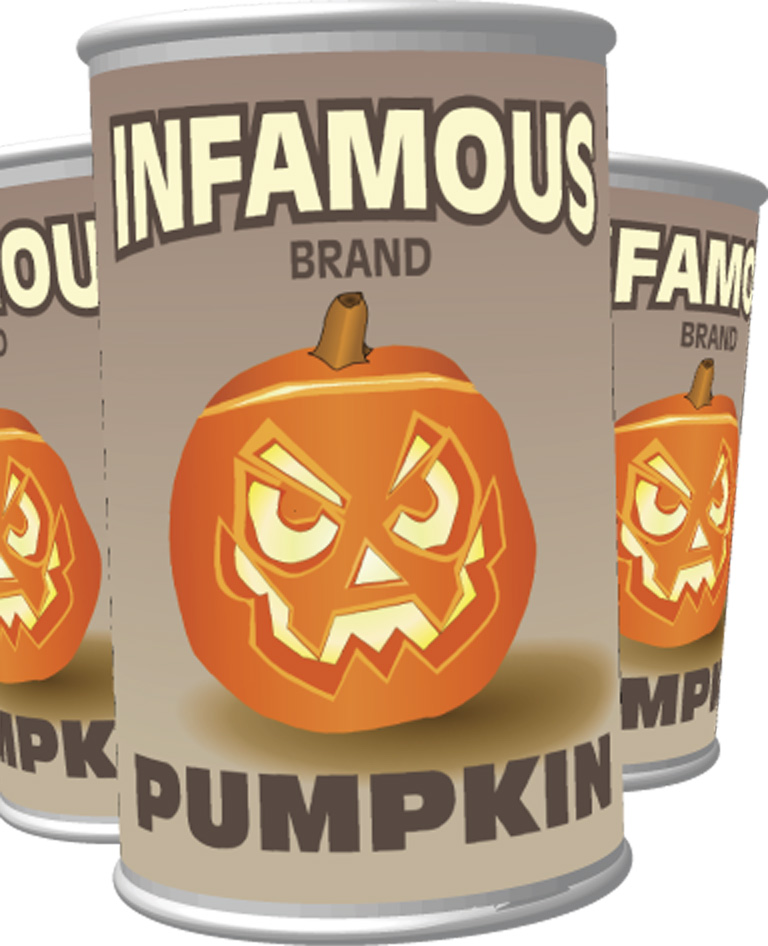 If you have read my column before, you may recall that I referred to my dad's tastebuds as similar to a four-year-old's: chicken fingers, French fries, honeybuns. Strangely enough, I developed what I would consider rather refined tastebuds from such humble beginnings and I can trace it all back to one moment in graduate school about the time I started dating my husband.
I was attending the University of Georgia and studying to get my Master's Degree which meant lots of time reading, writing extremely boring long papers and most aptly, procrastinating. My roommate was a Foods and Nutrition major and we were researching, cough cough, new food ideas by spending hours in front of the television on this new channel called "The Food Network." Besides the outrageous chefs with their battle cries of oregano, there was a young lady named Rachel Ray who had a concept that we could identify with-30 minute meals.
Though we were not busy moms or career women, we had little time to prepare meals (see above writing comment), few kitchen utensils, small amounts of cash and even smaller kitchen skills so this quick meal concept fascinated us. We would practice making recipes together during the week and when my future husband came to visit, I would prepare one of the gourmet delicacies that I had mastered during the week. There were a few good ones in those years, but the more memorable ones usually ended up in the recycling pile more than the recipe box.
Fast forward a few years and the Food Network expanded its programming, thus, I expanded my skills and culinary repertoire. While I made no claims to be a Julia Child protégée, I had advanced leaps and bounds from "Chicken Curry in a Hurry."
Summer turned to fall, which brought my favorite cooking season of the year-homemade soups, stews, lasagnas and my favorite ingredient of all, pumpkin.
I adore it.
I mix canned pumpkin in oatmeal, bake it into breads, make savory soups, create pumpkin cookies, and most memorable of all, devise the recipe that will live on in infamy in our house as the single most tragic kitchen experiment I have ever conducted: The Pumpkin Strata. Even now, 11 years later, if I even mention the words, my husband, who is a tolerant man, snarls his nose and blurts "Gross!" in the most juvenile way that 40-something men somehow can. "It tasted like a vegetable angel food cake without the sugar that hadn't really been baked," is the kindest recollection he can give it.
Yet, patient as he is, he has tolerated many other pumpkin recipes since then, including this Pumpkin Black Bean Soup, which he claims is one of the best soups he has ever had. I can always see a small glimmer of fear when the weather changes and I reach into the pantry and pull out a can of pumpkin, but I like it that way. It keeps him guessing.
Recipe:
Savory "I Can't Believe it's Pumpkin" Soup
3 (15 ounce) cans black beans, rinsed and drained
1 (16 ounce) can diced tomatoes
1/4 cup butter
1 1/4 cups chopped onion
4 cloves garlic, chopped
1 teaspoon salt
1/2 teaspoon ground black pepper
1 teaspoon cumin
4 Cups reduced sodium chicken broth
1 (15 ounce) can pumpkin puree*
1/2 pound cubed cooked ham or leftover ham (optional)
2 tablespoons apple cider vinegar
Directions
Pour 2 cans of the black beans into a food processor or blender, along with the can of tomatoes. Puree until smooth. Set aside.
Melt butter in a soup pot over medium heat. Add the onion and garlic, and season with salt, pepper and cumin. Cook and stir until the onion is softened. Stir in the bean puree, remaining can of beans, chicken broth, pumpkin puree, and vinegar. Mix until well blended, then simmer for about 25 minutes, or until thick enough to coat the back of a metal spoon. Stir in the ham, if using, and heat through before serving.
*Be sure to buy 100% canned packed pumpkin or pumpkin puree NOT pumpkin pie mix/filling, unless you want an infamy all your own.