I'll Give You Something To Be Embarrassed About!
By Lindsey Beasley Dianna-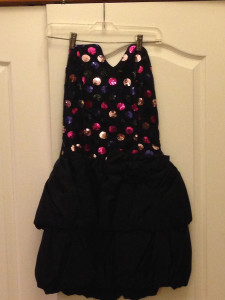 *This is my junior prom dress. I hang it in our coat closet and present it to the children when necessary. Why? Allow me to explain…
B.C. (Before Children), I was pretty sure that being perpetually mortified by your parents' sheer existence was a tween/teen phenomenon. Wrong again, Lindsey! Somewhere around the age of five, the "Ugh, Mooooooom, you're embarrassing me!" stage begins. Once you've survived the initial blow to your ego over the idea that you might not be as cool in the eyes of Junior as you thought you were, it's time to look at this in a different light. With just a bit of reframing, this can be the best thing that ever happened to you as a parent – better than Elf on the Shelf, I swear it!
When the "parent shaming" phase first hit my house, the initial "offense" was something super horrifying, like me telling the sitter that my son liked the color red or that he needed a bath. The look he gave me could have turned a city to stone. At first I honestly felt bad, and for a short while I vowed to make an effort to be somewhat less embarrassing with the hopes of minimizing future therapy bills. But the list of incriminating acts grew longer every day. Don't hold his hand in public because he's not a baby, you condescending human! Hugs and kisses in front of friends? Just back off, Dad, because who can even breathe with that kind of stifling overkill? No pet names—why are you trying to ruin her life? Singing, laughing, breathing—no, no, and how dare you, you parental buffoons?!?
I attempted to interview my first and third grade children for this article several times with unoriginal results. Excited by the opportunity to verbalize their grievances with Adults in General, they shouted their answers at the same time in screechy voices, which included all of the aforementioned sins and lots of other things that didn't even make sense. To sum it up, Parent + Public Everything = Probably Embarrassing. My son tried to explain this golden rule of cool, which apparently is to BE awesome without trying too hard. "Except on vacation," he said. "Then you really need to get your awesome on. But not 'mom awesome,' just, like, regular awesome." So there you have it: "cool parent" is an oxymoron. Don't waste your time trying to figure out how NOT to be embarrassing. It's futile, and you're looking at this all wrong anyway.
I've seen some marvelous examples on the internet of parents who show us how it's really done. There's a video of a mom driving in a carpool who responded to being disrespected by singing at the top of her lungs, and a dad who wore "short shorts" in public to drive home his dress code expectations. Never before have there been so many outlets with which to mortify your offspring. Calling someone to relay scandalous info is SO 1983. You can now FaceTime, Facebook, Instagram and Tweet that business for all the world to see in the blink of an eye. Bonus leverage if you happen to have a blog or a parenting column (wink wink!).
A practical application of embarrassment used as a parenting technique sounds something like this:
"Remember, do NOT beg or whine for stuff in the grocery store or any other funny business. Cross me, and I'm picking you up from school tomorrow in a full clown suit, singing 'Let It Go' at the top of my lungs all the way to the car."
The result? Pure magic. About once per aisle I'd say something like "tutu" or "clown shoes," or mention Amazon's overnight delivery service of said costume and bam…halos appeared over their adorably horror-stricken faces. I have shared the joy of this technique with friends, relatives and our babysitter. You don't have to say much more than "clown suit" around my kids anymore without instant and glorious results.
The great irony of this situation is that these people you're trying not to embarrass are the same ones who at times seemed hell bent on doing the same to you from the very moment they arrive in your lives. In the early days, there are ill-timed blowout diapers and casualties of incompetent breast pads and nursing bras. They graduate to loudly mispronouncing "fork" or "sit" (you get the picture), and progress to heinously offensive observations about people's differences in appearances.
I've had my skirt pulled up and pants pulled down in public (almost always at school functions), and have lost count of the number of conversations I've tried to hold with a baby's hand on my boob or finger in my nose. The last time I was on an airplane with my children, my daughter lost her stuffed cat that she (of course) named "Titty": "Oh no! Where's my Titty? Mister, have you seen my Titty? Help me find my Titty! WHERE IS MY TITTY?!?! I'LL DIE IF I DON'T FIND MY TITTY RIGHT NOW!!!"
Like their mother, my children are over-sharers, and delight in divulging details that once upon a time I would have considered private. Karma is a clown suit children, and I'm ordering a special one today.