I Wanna Tech You Up   
By Lindsey Beasley Dianna
(It's by Color Me Badd (kind of), and now it's in your head- you're welcome! Singing old school pop songs with inappropriate lyrics out loud around your children deserves it's own story.)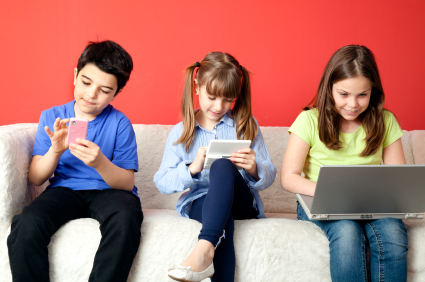 This isn't going to be a rant about how technology is killing society and manners and probably baby pandas too, turning us into a modern day zombie apocalypse society with the rotting being only slightly less literal.
No, I'm not going to try and fight the tide. I'm old enough to get the magical innocence of the old school rotary-dialed days of my youth, but young enough to embrace the many wonders of iPods, iPhones, computers, apps and more apps, YouTube, Google, Netflix, Minecraft, and all that jazz.
I'm so evolved that I got my oldest children their own apple Ids so that they can text me when they're away from home if need be, and also so they can do this without accessing my own texts to my friends about how they won't go the beep to sleep, or other not suitable for children tidbits. We have our share of tech-free time for sure, but there's no doubt that we are inundated with technology that poses new questions and quagmires for us daily.
So what are the rules? Sure, advice on how to manage technology for or information I should be aware of as a parent is more than abundantly available, but I put more stock in my ability to hawk-eye their habits and smell trouble a mile away than I do in the myriad of "helpful" information floating around.
I fear that my internet safety chats are akin to a techier version of the only sex chat I recall from my mother: "Lindsey, you know about…dis-EAS-es…" I'm not withholding any details there, honest- while I specifically recall her voice trailing off at the end and not another blessed word uttered by either party after that, it's entirely possible there was more that I've blocked from memory. My version of internet safety in the beginning of their days on the computer went a little something like this:
 "So, you guys know that you never EVER give out any personal information to anyone on the computer- like ever- right? Because some people are tricky out there, and not everyone is good, and there's a really good chance that the kid who says he's your age popping up on the chat feature of that Minecraft server is actually a scary toothless 75 year old man still living with his mother in Texas."
With wide eyes they proceeded to ask me 99 follow up questions that I fumbled through, and oh yes- this most definitely came back to me through one of my children's in-school writing assignments. I can only imagine what in the world the teacher thinks is happening over here, but that's nothing new for me.
Fast forward a few years to where both children are doing school assignments on laptops, and we've graduate to the challenges of Google and YouTube. There was that time the kids were watching an early release trailer for the new Star Wars, but it turned out to be a gag featuring a naked woman. Or the time I found "How to terrorize your sister" in the Google search history. Or when I tried to pull up a clip of Madonna for the kids and got we all got an eyeful of Justify My Love before I could make it stop. Live and learn, people, live and learn.
What I cannot and don't care to understand is the appeal of watching videos of people playing as opposed to actually playing yourself. Watching people play Minecraft is perhaps the most perplexing of them all to me. The names Jen, Pat and Dan TDM are infamous in my house- loved by the children, loathed by me. If you're not familiar and want to know what I'm talking about, torture yourself with 30 seconds of this, I dare you. Jen, a Minecraft gamer famous on YouTube was the inspiration for my "No YouTube before my coffee in the morning or when I'm generally irritable or stressed or even just breathing" rule. Generally speaking, I don't do hate, but Jen- I might have a little bit of hate in my heart for you. Your voice is like nails on a chalkboard, a hideous sound my children may actually never hear first hand. Dan TDM? Just stop it already, hearing you prattle on I can actually feel the lot of us getting dumber, British accent or not. For a time, my nephew spoke with a British accent in random spurts- this was particularly confusing to his South African mother and New Jerseyian father, until they realized it was courtesy of a mild obsession with Dan TDM.
OK, I may have slipped into rant territory there for a minute, but I'm unplugging you, YouTube gamer people. When the children protest, in my best imitation of Jen's voice, I say "Leave a message at the beep, kids."