Gunboat – Taking Aim on Wanchese Plant
By Owen Hassell –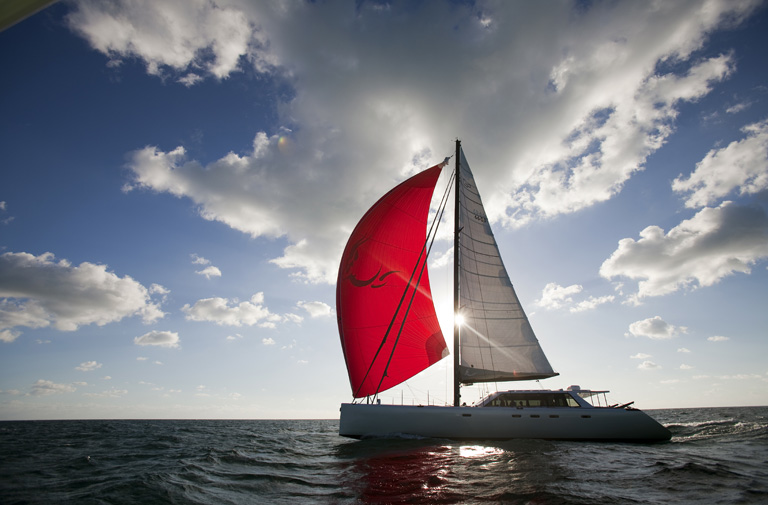 After Buddy Davis died last year, no one knew what would happen with Davis Boatworks, but thanks to a high-end catamaran builder, his former facility has a new lease on life.
The building that has been dormant for months reopened in May with a new tenant with a new flair for boating excellence.
Unlike the facility's former owner, who built high-end yachts in tune with fishing, Gunboat is in the high-end sailing catamaran market. These boats are built for luxury as well as performance, founder Peter Johnstone said.
"The buyer of a Gunboat really fits a psychographic more than a demographic," Johnstone said. "The owners are passionate sailors who want the absolute best yacht money can buy, but a Gunboat is not just bling to the owner. Gunboats are actively used year round for exploring the world. The Gunboat becomes a central activity in the owner's life, and that of their family. A typical Gunboat will sail 10,000-20,000 miles a year and visit several countries."
With a shipyard that spans 36,000 square feet, the Rhode Island-based company was able to secure a location that met its needs for the wide base of catamarans. Two lanes are available for production, as well as overhead cranes, wide doors and high ceilings.
It's not the largest building amongst the Wanchese brands — Mann and Spencer to name a few are larger— but the facility's length does match well with the Gunboat brand needs.
Johnstone began Gunboat in 1993 as a holding company for his investment in Edgewater Powerboats. Once Edgewater Powerboats was built up and sold, Gunboat became exclusive for catamarans by 2001.
Increased costs of plants in other countries, such as China, made Gunboat look at American locales to set up a new shipyard. With an ideal location for catamaran migration routes, as well as a labor force eager to work in the industry, Wanchese became an attractive place.
"The history and tradition of high-end yacht building was a critical factor in our decision," Johnstone said. "This is one of the few locations in the United States that has a dedicated experienced workforce that can meet our high standards. The Tillett, Davis, O'Neill, and Croswait families created an excellent atmosphere to achieve quality and innovation. There is a 'can-do' attitude here that is essential with building highly complex yachts."
A state grant helped secure the deal to open the Gunboat plant by this summer. It also secured 25 manufacturing jobs, which should double by the end of the year, Johnstone added.
The company is going with the path of gradual, but solid growth. Gunboat will make only 4-5 high performance catamarans this year, which will make up its 55-foot series — at a starting cost of $1.8 million.
Within three years, Gunboat expects to make two series of catamarans in Wanchese, and plans to grow its staff to around 80 people.
The Gunboat 55′ series sounds inviting enough and spacious, albeit the smaller of the company's four main boat models. Owner and guest cabins, Italian-style sofas, speaker system, refrigerator and freezer drawers and showers make these high-end sailboats customized for living on the water in style.
Builders have come to expect a market on the Outer Banks for sportfishing yachts, yet this brand of luxury sailing has its own set of consumers. In that sense, Johnstone believes there is no direct competition with other yacht companies.
If nothing else, it only pushes his company to raise its game to stay on par with the brand names and boating excellence people have come to expect from Wanchese — even from the facility's first owner, Buddy Davis.
"Wanchese and the surrounding area is a special place. We do not feel in competition with these builders," Johnstone said. "They build gorgeous sportfishing yachts. We build high performance world cruising catamarans. In 12 years of building Gunboats, we have only sold one Gunboat to a sportfisherman. The two worlds rarely cross paths. We feel the opposite of competition. We are very grateful for the generations of boat building here, and we are particularly grateful for the high level of quality and finish amongst the current builders. The local boat building labor know the finish we require."