Fab Under $50-Like Sand through the Hourglass . . .
By Amanda McDanel –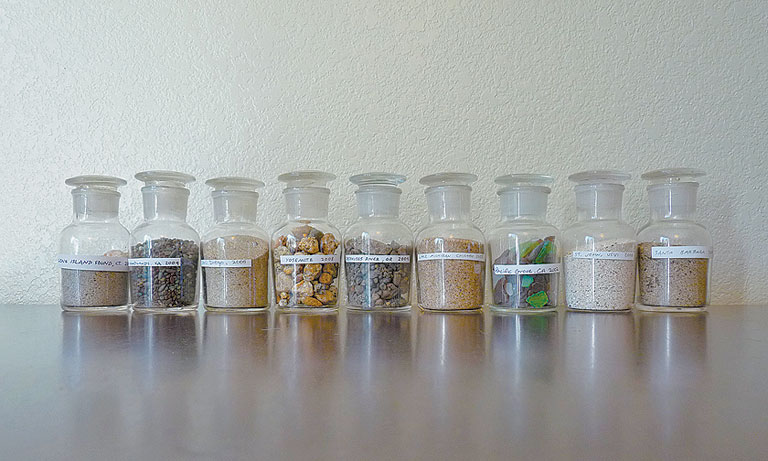 It's amazing how slowly the days can go by—especially when you are in the "breakfast, drop off, work, laundry, dinner, bath, bed" routine—yet, the years seem to pass in the blink of an eye.
When I first moved to the Outer Banks in college as a summer transplant, I remember being heartbroken to leave this little strip of sand to move back inland for school.
I went to one of the big box stores on the bypass, bought one of the cheesy little jars of "beach in the bottle", dumped out the contents, and refilled it with fresh sand from my favorite sunning spot on the beach. I put the bottle in the ashtray of my car and there it remained for years until I found my way back to the Outer Banks permanently. It was my small reminder of where I had been and where I was going.
Fast forward a few years to my third wedding anniversary—my husband and I are suckers for giving each other creative gifts following the traditional anniversary suggestions. We each try to outdo each other with a unique twist on the concept, which was glass this particular year.
That night when I opened my gift I knew that he had won hands down on what would still be one of my favorite presents ever: one that was tied to my past but rooted in my future. Inside a beautiful large wooden box were twelve empty small glass canister jars and twelve paper tags—it was a beach time capsule. I could fill each jar with sand, shells, sea glass or trinkets from wherever we had traveled and label it with a pretty paper tag and the date.
Whatever container you choose to use, it's easy to create your own beach time capsule. You can purchase glass spice containers inexpensively at a kitchen store. You can use larger mason jars, wrap them with raffia ribbon, and fill them with sand and shells from your favorite beach. A shadowbox can be configured to hold sand and pictures, postcards or perhaps fishing lures from a special family vacation.
Grouping the series of containers together can provide a conversation piece as well as fill a dead space with something innately personal. Take the unused space above your kitchen cabinets for instance—take down the baskets, artificial ivy or collection of alcohol bottles and replace with beautiful jars full of memories. Replace or intermix pictures and candles on a mantle or bookshelf with a mixture of large and small jars to create a visually interesting display.
It became the highlight of my vacations to collect a small container of beach paraphernalia to add to my collection. There is a jar of sand from the South Point of Ocracoke where we rent a house each year. A jar filled with teeny tiny shells from Sunset Beach on the North Shore is sitting beside a canister of the smallest seaglass you will ever find from Glass Beach on Kauai. Broken pieces of ceramic tile intermix with shells plucked from the wire bulkheads in Isla Mujeres that fill with trash washed in from the ocean on the west side. Black volcanic sand from the base of the Pitons in St. Lucia provides a stark contrast to the jar of rare blue sea glass plucked from our own beach during many weekend walks.
Each container represents a memory: a visual representation of our life together—where we have been and where we are going. When you take a moment to slow down and hold each grain of sand from your one precious life in your hands, it tends to slow the hourglass down just a bit.