Curiosity and Culture
By Laura Martier – 
Not long ago I attended a professional theatrical performance for local high school students that the Dare County Arts Council funded. I had the chance to observe the student's behavior and reactions during the hour long presentation and noticed that many of the students struggled to pay attention and remain silent and still during the performance. With all of the distractions of our fast-paced, technology driven world I wondered as I sat there, are we losing our ability to concentrate on the subtle; a sublime movement of music, a profound piece of theater like we were watching that day, written and spoken word, a conversation?
When I am engaged in a conversation, how often do I find myself anticipating what the other person is going to say, formulating my responses before they are even finished, and then interrupting with my urgent all-important response? I see this happen when I am with friends, at meetings and especially with family! The interactions are often times without space or breath.
A recent article in my Sunday NY Times Magazine (the delivery a gift from my dear children) featured an article about a young man, a "sound catcher", who was in search of a place where the natural soundscape was free from any manmade din. "Quiet", he said "Is related to openness. The quieter it gets, the listening area increases and your ability to hear farther away increases causing an expansion of space."
Space. Where can we find this space, this place to expand our ability to listen and perhaps become a little more connected to our experiences, environment, the present and each other?
The practice of Yoga encourages slowing down and listening but also teaches compassion for yourself when your mind is running a mile a minute and you think it will never quiet, and compassion for others when you realize we are all on this journey together. My path, I have discovered, is not so different from the person sitting quietly beside me.
I maintain a fairly regular yoga practice schedule and have for many years. On a recent evening I entered the Outer Banks Yoga and Pilates Studio in Kitty Hawk to practice with Mary Jo. The adjacent business was quite loud that night, the sounds of people talking and kitchen activities permeated the quiet of our yoga space.
As yogis our focus is on the breath which in turn quiets the mind. We practice turning our attention inward letting any distractions fall away one by one. As I sat and breathed, the distractions from next door gradually faded and it occurred to me that the practice of yoga is one thing in which we can participate to better prepare us for the challenge of finding absolute quiet in our hectic world.
There are magical places in our community that do bring us closer in touch with the sounds of silence and nature; walking in Nags Head Woods, a stretch of deserted beach, Pea Island or a sunset from Jockey's Ridge. But as we are catapulted into an accelerated pace and ever-changing world, the quiet and peace we are going to need in order to strike a balance with all of the distractions and din, the peace that we will need to cultivate in order to stay in touch with ourselves, our surroundings and most importantly each other, are going to need to come from within.
A Note About Yoga on the Outer Banks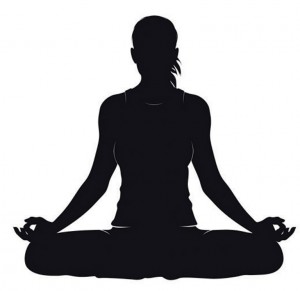 If you are breathing, you can do yoga. On the Outer Banks there are many choices for those wanting to explore or maintain a yoga practice. There are two yoga studios here, both beautiful and personal spaces and also the YMCA and the Outer Banks Sports Club. There are many trained yogis teaching and practicing here on the Outer Banks making the local yoga community rich and varied.