Check Yourself Before You Wreck Yourself
By Lindsey Beasley Dianna-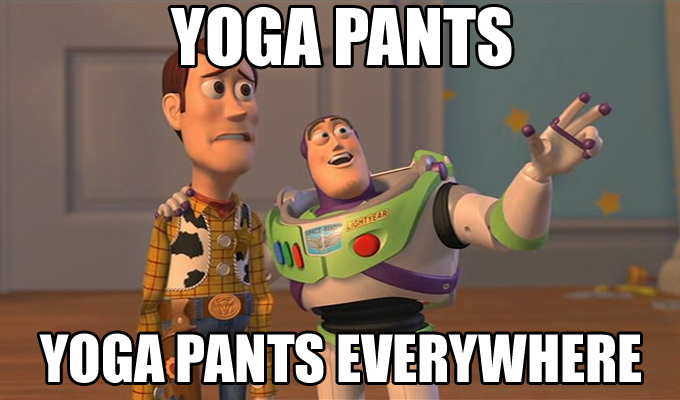 This is an intervention. Granted, it's aimed specifically at myself, but perhaps some of you can relate?
My wake-up call came in the form of a question from a precocious kindergarten fashionista (which to her means that glitter makes everything better, stripes and plaid AND polka dots should always be worn together, and color matching is for wimps); "Mama, WHY are you wearing sweatpants—like, all of the time?" Now for the most part, I have developed a resistance to the types of curiosity-driven and insulting questions that only young children can hurl at you and get away with. I was secretly relieved that she wasn't asking about the middle-aged pimple on my chin, or why I don't shower more regularly. Piling my three wee ones into the minivan for the early morning joyride to school, I caught my reflection in the window—crap on a cracker, she was right.
In the back of my mind I started to murmur excuses meant only for me, such as. "But it's not even 7:30 yet!" and "I specifically changed out of my jammie pants to avoid this kind of harassment!" And finally, my go-to excuse that would serve as a catalyst for some earth shattering changes. "But these are my cute sweatpants!"
With that last thought, and some crappy pop song on the radio that the kids were "singing" along to drowning out further queries, I began to dig deep and ask myself the tough questions. Why AM I wearing sweatpants most of the time? Is there really such a thing as "cute sweatpants"? Some of my friends call them "Give Up On Life Pants." Wait, suddenly that's not funny anymore! What about yoga pants? DEAR GOD, not my yoga pants! Does this mean it's time to pass down my children's sized t-shirts to actual children? Black was white, day was night; it was time I check myself before I wreck myself, hoping against hope that there was still time change my ways.
There were warning signs along the way. Though I try, I'll never forget my oldest coming into my room one evening after I had showered and put on a "cute" nursing gown—no make up, and my hair still soaking wet. His eyes widened, he beamed me a smile and said "WOW, Mama! You look so beautiful! Are you going to a wedding? You should get fancy like this more often."
At the time, I was so wacked out from the sleep deprivation that comes from having a newborn plus two small children (and a puppy) that I took that as A) an unexpected compliment and B) license to feel Glam in my Jams. Years later, I'm attempting to revoke that license, and it's HARD.
In the reality I had entered, a stay-at-home parent didn't need to get all spiffy and cute unless there was a specific purpose—you know, important things like coffee with friends, stopping by the office, maybe even a trip to the fancy new grocery store. When your only true observers are nose pickers who still haven't mastered the art of wiping or flushing a toilet and also quite probably the reason you have applesauce in your hair, the "dress for success" mantra is stifled.
Soon after the "Sweatpants All the Time" incident, I approached cleaning out my closet with renewed purpose and determination.
I realized several things in the process; for one, even my dressy or dress-casual clothes were extremely comfortable; in everything but shoes, this was a mandatory prerequisite. The same fact also dramatically lessened my argument for targeted comfort clothing (yoga and sweat pants, guilty again) in lieu of their more attractive counterparts.
In accepting my transition to fulltime motherhood, I had gone down a shady path in an attempt to assimilate. I was an overachiever in this department; not only did I have a number of yoga and sweatpants so ridiculous that I'd never divulge it (29!), but they had their own categories. "Just around the house pants" were totally different from "cute sweatpants", and best of all there were one pair of sweatpants and two pairs of yoga pants I deemed appropriate for dressy occasions when paired with something nice on top and maybe some earrings. Having blurred the line on one too many occasion, it was time to rethink things and up my game.
After rooting through my closet and donating more than half of my prized "comfy collection," I am most likely now in the Acceptance phase of grieving . . . "It's for the best- look good, feel good!" or even the Anger phase. "There's no way in hell I'm getting rid of one more pair!"
One thing is for certain, I am thankful the warm weather has arrived. Swimsuit season banishes the Special Occasion Shower season, and I defy you to tell the difference between my sundresses and nightgowns!