Changes in Latitudes, Changes in Attitudes
By Amanda McDanel –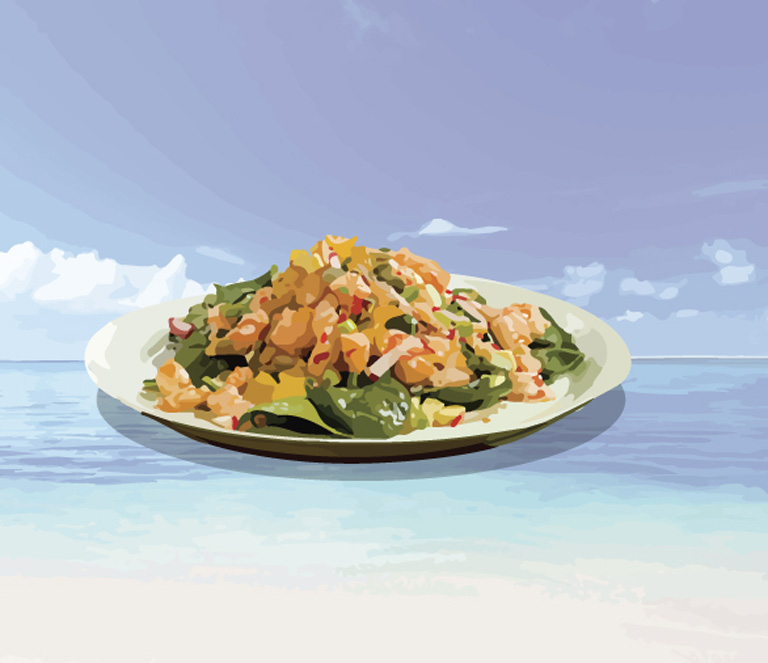 As I stepped onto the sailboat, I felt the trade winds sweep through my hair and ruffle my sundress as it carried the sweet salty sting of seawater. The sun was warm on my skin, the azure water went on for miles and with my love by my side, it was a picture perfect day. Sailing out from a port in the Virgin Islands, the day stretched before us with our worries anchored safely ashore.
The captain regaled us with stories from the sea—snorkeling holes at the Indians, watering holes at Jost Van Dyke, full moon parties. As he took the helm of the boat, his wife worked below deck to prepare a simple lunch for us. After sunning ourselves on the upper deck, we went around to the stern to a crisp white linen tablecloth set with flowers and china. The pop of the cork ("the call of my people" as my husband says) and a crisp white wine complimented the stunning views. As the chef appeared with plates in hand, I truly thought the day could not get any better—then came the salad.
I know, I know—a salad? You set the story with a beautiful boat, Caribbean waters and you are going to tell me about a salad??? Why yes I am, dear reader. Indulge me for a moment for I know most people do not dream longingly for a plate of lettuce. I also know I have been referred to as a "foodie" or someone who "eats healthy".
I don't deny either of those claims—I simply like good food. Whether a fried pie or tomato biscuit from a country gas station or tuna belly sliced rare off a boat, I don't discriminate against good food or judge it by pedigree. It simply has to taste good.
That being said, I have been known to use monikers to describe my friend Courtney's "Baptist cooking", my dad's request for "simple food" (aka hamburger), or "fake Chinese food". The titles don't imply a distaste or disrespect, simply a way of categorizing the myriad of flavors and taste experiences I have enjoyed.
Food is amazing in that respect—one bite of Bomb pop and you are transported back to your childhood summers with sticky red, blue and white syrup running down your hand. Cooking my grandma's praline recipe each holiday season, I can feel the warmth of her kitchen and the sticky sweet aroma of caramelized brown sugar. It's almost as if she is there guiding my hand while I stir, stir and stir the pot. That is why recipes are such treasures to me—they bring happiness with each bite, connect us to the past and allow us to relive experiences that make us who we are today. Call them a telepathic photo album if you will.
Now back to the boat. The salad was a simple preparation that the chef created using ingredients that she had aboard since she had not been to port for several days. None of the ingredients required cooking so it was a perfect meal for a warm spring day. On a bed of spinach lay the strangest but most wonderful combinations of flavors . . . shrimp, mango, avocado and radish, all wrapped up in a lime and chili ribbon. Even being a lover of radishes, I was skeptical, but it was love at first bite. The bright citrus, spicy chili punch and buttery avocado came together in a way that almost made the scenery melt away. It transformed the way I regarded a salad. The chef was gracious enough to share her story and her recipe with us, which became my telepathic connection to this time in my life. The time a salad rocked my world.
So if you are not yet convinced of the magical powers of this recipe, let me share this with you—there was no boat, no salt spray, and no warm sun on my skin. There was a Cooking Light magazine article in 2008 about a woman and her husband who wintered in the Virgin Islands on a boat. They chartered sailing excursions and served this salad to their guests, all of this is true. The exception is that when I tasted this salad for the first time, I was in my dining room in Kill Devil Hills with a glass of white wine and my love by my side. But boy, did I ever feel the wind in my hair with the first bite…

Caribbean Shrimp Salad with Lime Vinaigrette
Cooking Light, January 2008
Ingredients
4 cups chopped cooked shrimp (about 1 1/2 pounds)
5 tablespoons seasoned rice vinegar, divided
2 tablespoons chili garlic sauce (such as Lee Kum Kee)
1 1/2 tablespoons olive oil
1 tablespoon grated lime rind
1/4 cup fresh lime juice (about 3 large limes)
1/2 teaspoon paprika
1/2 teaspoon ground cumin
2 garlic cloves, minced
Dash of salt
8 cups fresh baby spinach
1 cup chopped peeled mango (about 1 large)
1 cup julienne-cut radishes
1/4 cup diced peeled avocado
1/2 cup thinly sliced green onions
2 tablespoons unsalted pumpkinseed kernels
Preparation
Combine shrimp, 2 tablespoons vinegar, and chili garlic sauce in a large bowl; toss well. Cover and chill 1 hour.
Combine remaining 3 tablespoons vinegar, oil, and next 6 ingredients (through salt) in a small bowl, stirring with a whisk.
Place 2 cups spinach on each of 4 plates; top each serving with 1 cup shrimp mixture. Arrange 1/4 cup mango, 1/4 cup radishes, and 1 tablespoon avocado around shrimp on each plate. Top each serving with 2 tablespoons green onions and 1 1/2 teaspoons pumpkinseed kernels. Drizzle each salad with 2 tablespoons vinaigrette. Serves 4.