Bravery on the High Seas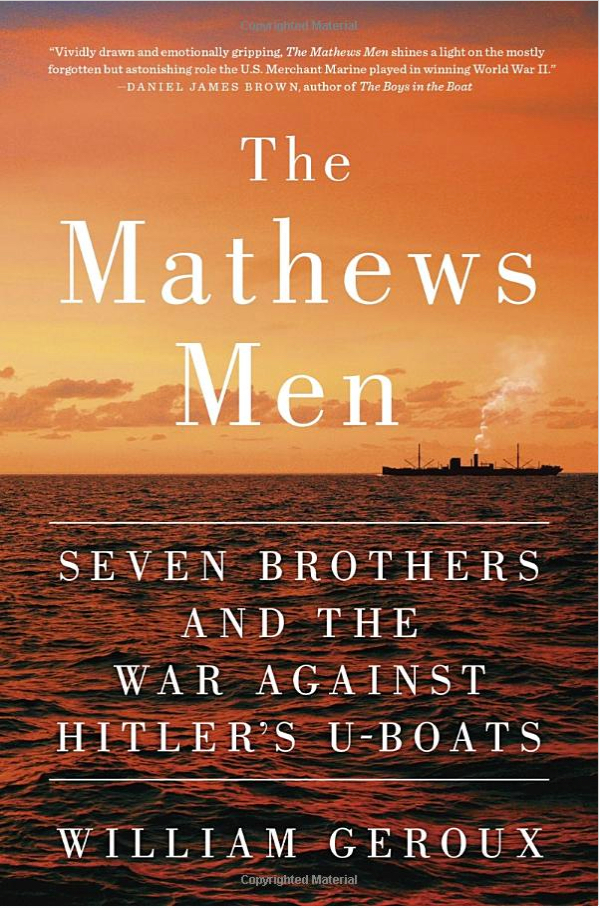 As German U-boats ravaged Allied shipping in WWII, the Battle for the Atlantic raged just off the Outer Banks coast. March of 1942 was the deadliest month of the war for Merchant Marines who plied the seas of off North Carolina as 30 ships were torpedoed and sunk.
William Geroux in his book, The Mathews Men, Seven Brothers and the War Against Hitler's U-Boats, tells the human side of the story, recounting the tale of a Hodges brothers, a remarkable family of mariners who hailed from Mathews, Virginia, a town north of Norfolk on the Chesapeake Bay.
Bringing home the horrors of war and the sacrifices that were so often made, his presentation about the Merchant Marines, WWII, the Battle for the Atlantic and the Hodges family was part of the Coastal Studies Institute's (CSI) Science on the Sound series.
Isolated and almost surrounded by water, the first choice of many of the residents of the town, was a life on the sea; but for the Mathews men, a life on the sea was time on the deck of a merchant ship hauling food, medicine, arms and oil, not sailing the seas with the Navy.
Two of the brothers, Dewey and Leslie, never came home.
The fate of Dewey was learned in a bizarre and perhaps gruesome way as Geroux recounts the tale.
Dewey, the captain a tanker, was wearing a large, recognizable signet ring when he was torpedoed and lost at sea off the coast Cuba in July of 1942.
"Sometime, thereafter, this ring along with some human remains was discovered in the belly of a big shark. The ring was returned to Dewey's family . . . and unfortunately caused more pain and confusion than it did anything else," Greroux said.
The book Greroux wrote and his discussion focused on one family in one town during WWII, yet the real story he recounted was one of remarkable bravery and sacrifice that existed in the Merchant Marines. Although the casualty rate of the Merchant Marines was the highest of any service group in war, they were never recognized as part of the military and did not qualify for any benefits after the war.
"At the end of the war, we sort of forgot about them," Greroux said. "They helped save the world . . I hope reader will come away with an appreciation for what these Merchant Mariners and their families went through."
The presentation was part of the CSI's "Science on the Sound" series, once a month topics of interest to the Outer Banks.
The Mathews Men is available at Downtown Books in Manteo and Duck's Cottage in Duck.