Bonner Bridge-Closed for Repairs . . .
By Kip Tabb –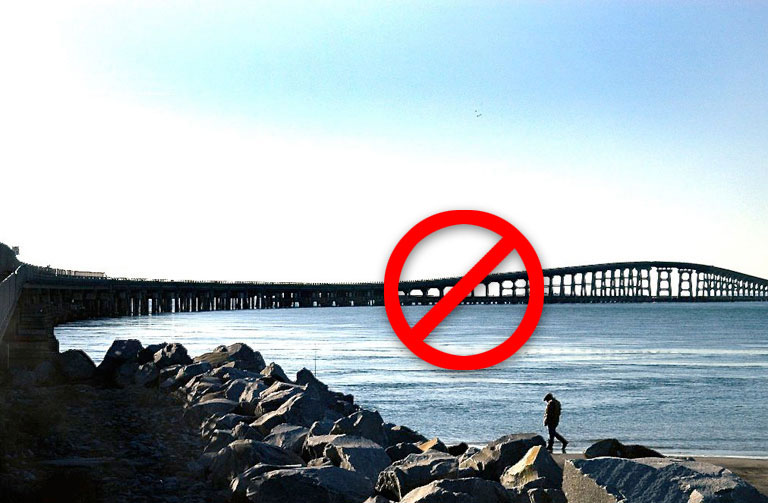 Saying, "I made this decision," NC Secretary of Transportation, Tony Tata, outlined the steps being taken by NCDOT to mitigate the effects of the sudden closure of the Bonner Bridge linking Hatteras Island with the northern Outer Banks. Secretary Tata made his remarks at a Tuesday afternoon press briefing in Manteo.
The closure was necessitated by an engineer's report and confirmed by eyewitness sightings by divers that one of the support structures on the southern part of the span had so little sand holding it in place that continuing to use the bridge posed an immediate danger.
The Ferry Division of NCDOT has already begun service between Stumpy Point and Rodanthe. Starting at 5:00 a.m. and running until 9:30 p.m. there will be 10 runs per day. The times from Rodante to Stumpy Point are 6:00 a.m. until 7:30 p.m.
In his capacity as Secretary of Transportation, Tata was able to declare a disaster and the normal bid procedure for this type of repair was lifted and a contract was awarded today to Carolina Bridge Company.
The rapid southern migration of Oregon Inlet caused the complete scour of bent 166—a bent being the support structure beneath the bridge. Of the 10 pylons supporting the bent, nine had significantly less than 20' of sand and sediment covering them. In describing how critical that finding was, Jerry Jennings, NCDOT Division I Engineer, indicated the weight of the bridge alone could be enough to cause a collapse.
The repairs will consist of pumping sand to the pilings, compressing that with sand bags and then repeating that process until the pylons are stabilized. A concrete sleeve will then be installed that will force the scour away from the pylons.
At this point in time there is no specific time frame for repairs. Noting that the contractor has not yet had a chance to assess the scope and complexity of the repairs and that equipment is not in place yet, Secretary Tata felt it would be three to four weeks before actual construction can begin.
This type of repair has been done before successfully—specifically last year to stabilize the bents to the north of bent 166.