Are You Connected? Social Media Apps for Travel
By Kathy McCullough-Testa –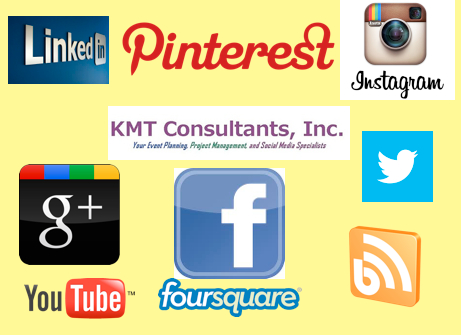 The internet and smart devices have revolutionized travel. Gone are the days of lugging folders full of travel brochures, weather printouts, and restaurant listings. Today, everything can be accessed from a smart phone or tablet device in an instant. Whether you are looking for airport, gate, or rental car information; lodging advice; restaurants; shopping; events; or attractions, there is an application for you!
We recently booked a trip from the Outer Banks to Washington, DC and used TripAdvisor to find a hotel within our budget, in the area of town closest to our event, and with good online reviews. We booked directly through TripAdvisor and were also able to use our frequent guest card to receive a few more perks during our stay.
We then searched Yelp to find restaurants in the area based upon type, price range, and recommendations. Once we decided where we wanted to eat, we used OpenTable to make online reservations. When we arrived at our destination, all of the information was at our fingertips on our smartphones, making the check-in process at both the hotel and the restaurants go much more smoothly.
There are a host of applications that you can use when you travel. Here are a few of the more highly rated ones:
TripAdvisor: Currently, TripAdvisor is the world's largest travel site. Its goal is to help travelers plan the perfect trip based upon factors that are important to them including price, location, and online reviews. It features sections on hotels, flights, vacation rentals, restaurants, and travel specials which can be booked directly from the application. TripAdvisor can be accessed through an application downloaded to your device, via its website, or through Facebook and Google+. You don't have to be a member to read or write reviews and become part of the discussion.
Yelp: Yelp is an online hub for local business reviews. It can detect your exact location information automatically based upon the GPS location of your iPhone, Android, iPad, or other smart device to provide you with restaurant or business information within your immediate area. Restaurants and businesses are rated on an easy five-star system and feature information on type of cuisine, price range, wheelchair accessibility, takeout or delivery availability, ambience, and preferred attire. You can even make reservations through this site via a link to OpenTable. Yelp is one of many restaurant review applications that can be installed on your smart device. A few other top applications that you may want to check out for restaurant reviews include Zagat to Go, Urbanspoon, and Gayot.
OpenTable: OpenTable is an online, real-time restaurant reservation application. It has seated over 400 million diners since its inception in 1998, and has more than 27,000 restaurants from which to choose. You can join OpenTable separately, or link to it through your Facebook or Google account. OpenTable is normally used by mid-range to higher end restaurants so not all restaurants will be listed. The majority of restaurants that participate in OpenTable take reservations up to the last minute and are fairly liberal in their cancellation policies. A few of the trendier, hard to get into restaurants require a reservation deposit which you could lose if you cancel. You can also inform the restaurant of a special event like an anniversary or birthday through the reservation process.
TripIt: TripIt is great for keeping tabs on your travel plans. By sending confirmations to TripIt, you can store all of the parts of your trip including hotel, airline flight times and confirmation numbers, car rental information, restaurants, weather, etc. in one place to create a master itinerary. The app can be linked to your Google, Facebook, Yahoo, or LinkedIn account for ease of access. Your TripIt itinerary can also be synced to your Outlook, Google, Lotus Notes, or iPhone calendar.
GateGuru: GateGuru provides airport maps, gate information, and wait times at security checkpoints, as well as updates on restaurants, shops and services near your gate. You can even reserve last minute rental cars! GateGuru can be linked to your TripIt, Facebook, Twitter, and FourSquare accounts.
A few words of caution:
not all sites are created equal
recommendations are helpful, but don't rely on them blindly
not all restaurants, venues, or events are listed on each site; applications are constantly changing and evolving so make sure that you use the most up-to-date version
keep up on the latest travel applications by searching for articles online
and of course, you don't have to use them all, use only those that work best for you!
We also recommend visiting individual accommodation, restaurant, venue, and locality websites to gain in depth information about a particular destination.
Happy travelling!
For questions, additional updates, and online resources visit our website: www.kmtconsultants.com; blog http://kathymcculloughtesta.tumblr.com/; Facebook, Twitter, and Pinterest: KMT Consultants; and Instagram and Flickr: kmtthebrand. You may also contact either Kathy McCullough-Testa or Gregory Testa at mail@kmtconsultants.com or at (866) 619-2823.